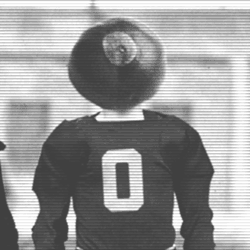 CDUB26
---
MEMBER SINCE October 07, 2016
Recent Activity
The big ten will be fun to watch this year...WOW
I don't mean to in awe but carlton iin his vids looks like a man among boys, and is only playing at half speed...either he is that good or the talent is that bad, I can't tell. But, with that said, he fits the mold of what the Buckeyes will lose when Chase is gone.
DON'T WANT TO HEAR ABOUT HOW" CONFIDENT" THEY ARE..... FANS WANT TO SEE A BIG WIN SATURDAY AND WHEN PENN STATE COMES TO TOWN.......THE LAST TIME THEY WERE "CONFIDENT" ........ PURDUE........IOWA..........MICHIGAN STATE.......LETS HOPE THIS GAME IS NOT INSIDE THEIR HEADS ALREADY............
Great article.......like my uncle used to say about good cooking...."you put your foot in this one"......
The Nebraska vs Colorado on Boulder, is a game to watch to compare what the bucks will be seeing saturday, and from what I'm seeing Moore is good but Martinez is the straw that stirs The Husker's offense... their defense is suspect in the secondary and if the bucks play their offense into the second level of their D, they will move the ball well. the one on one coverage in the secondary is what the bucks should be worried about, in comparison to whom they have played already. Big test for the secondary this weekend.
Remember, he is a recruit for 2021. what happens between now and then with his game and his weight will change some, but the potential is through the roof, and with the NBA doing away with one and done, he could go straight to.
ALL RIGHT BUCKEYE NATION LETS TALK!!! is Zo(Alonzo Gaffney) to be the next Zo(ALonzo Mourning ( G'Town circa 89-91)?
or someone "different"?
sorry, that is Jaedon LeDee.......
Colin, didn't they have a player like this in Jadeon Lee, from Texas? and he eventually transferred out.
If he becomes the next J. Tate, I'll be good with that. Or even a utility player, eventually. He is a developmental for the 3/4 spot. And if his jump shot improves, that will help get him some playing time. He can become a solid edition in helping with the rebounding on the weak side. Undersized, but hopefully his heart is not.and hoping he can contribute there right away.
If he becomes the next J. Tate, I'll be good with that. Or even a utility player, eventually. He is a developmental for the 3/4 spot. And of his jump shot improves will help with the rebounds on the floor. Undersized, but hopefully that is not his heart and will be able to help there right away.
From 3-man -weave.. good article on this year's B-ball team...https://www.three-man-weave.com/3mw/ohio-state-basketball-2020-preview
A quote from so in 2006 that may pertain to Justin Fields this year"His performance in the Fiesta Bowl last season—racking up 408 yards of total offense and outplaying Notre Dame's Quinn in a 34–20 Buckeyes victory—put him in the Heisman picture. If Smith stays there, it will be because of his ability to turn broken plays into big ones, a la Vince Young."
so sorry to see a Buckeye Great leave the program, but, for the future of him and his family( which includes his son's recruitment) it is probably for the best....with the NBA exposure, it will open many more doors for him and his son.For that I'm happy, that he came over with coach O'Brien from Boston College, and made a life for him and his family in C-bus.This next chapter will only make things more interesting ... I will and hope many fans stay tuned......
Tre' looks more of a North/ South Runner....can be the Thunder for the team( a three down back) but they still need the lightning for the run game. That may be covered this season, but by the time (and that is if he does commit) he reaches the Bucks will need to go to the Transfer portal or find another back that may want to commit from another class...(a Donovan Edwards 'w. Bloomfield MI or Audirc Estime' Montvale N J Jaylen Anderson 'Perry OH or Evan Pryor Cornelius NC all in the 2021 class),
Read Lathan's column on why he chose Ohio State here...https://tucson.com/sports/highschool/lathan-ransom-this-tucson-kid-is-ready-to-announce-his/article_4df1f170-a5c3-56e3-ae19-a7c174524e8f.html
I'm sure he is happy, but......smh the jazz?! if he would have just waited 10 more days............
Damn good article regarding how Chris Holtmann uses analytics to determine who may take the court in the upcoming season.....This is the way they also do this in the pros as well....based on the chart, I see the three four and five spot in serious need to improvement to bring more flow offensively.....
Gary Williams had a tough schedule one of his years at tOSU, but not a schedule that almost matches a tourney run.....Chris wants to make the most of his coaching tenure. sort of like Belein when he was at Michigan. I just hope they are confident enough to endure the schedule... Freshmen hit walls, players have slumps but GOOD COACHING makes the difference.......
Kaleb needs to improve his body strength and proportion from the core out to improve his movement on the floor. defensively, he seems to be a step behind when he goes to take a charge or set a screen. Also, his ability to run up and down the floor in transition needs to improve, to fill the lane offensively, and assist on weak- side defense, all this comes from improving his core strengthening. He clearly has the tools to lead this team deep in a tourney run. And this team will only go as far as he can take them. With the addition of Ibrahima Diallo( and hopefully he will be able to give quality minutes when on the floor)in the paint, this may allow Kaleb to expand the front line responsibilities in the 4/5 spot, and bolster the frontline defensively, where the buckeyes failed against quality opponents last year. Kyle Young owns his spot whenever he is on the floor. He too though needs to improve his offensive arsenal. has the potential to be a leader in the future. His aggressiveness will be needed against quality opponents this coming season. The guard play can improve by a better studying of film on the opponent and bringing that to practice. A leadership concern was evident last year due to how stagnant the offense was and how lack of communication on defense allowed opponents to have easy layup and dunks on the interior last year. If this team can clean up these things,. this team can win the B1G east and possibly the B1G tournament.
Looks like a freshmen backcourt. Jeremiah Francis & Vernon Carey vs. Luther Muhammad & C J Walker(former ACC/Florida State point guard) Armando Bacot vs. Ibrahima Diallo and the Wesson Brothers. In the Dean dome this will be a tough game, but a seasoned veteran team can win this
Damn another one?!.........welcome aboard..........
Its only year three and the basketbucks are putting themselves in a good tourney with great programs....will be a great measure for the rest of the season
Osusteveb5875...I can espacially if you're brought up on something more nutritious.....seafood and more natural (paleo) like food is better than cheese and more cheese.....I'm a pizza lover myself...
so what I'm seeing is chris is wanting someone young who has Ohio roots that can make a impact on the ohio borders with current and upcoming recruits... This will free up Ryan & Terry to recruit nationally.... makes sense..........