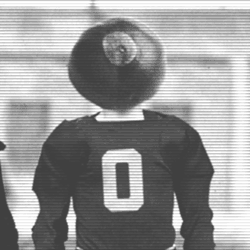 cdsperr
---
Member since 09 January 2012 | Blog
Recent Activity
Is there one where right before the top it banks sharply, you hurt your elbow, and then you plummet to the bottom and stay there for what feels like eternity and when you think it's the worst ride ever, it TOTALLY REDEEMS ITSELF?!?!
Road to the Final Four? Where we're going, we don't need roads
I feel bad for the recruit who accidentally gets a Petrino Snapchat meant for an employee
Felony prosecutor here who has done second chair on two rape trials....
1. Regarding charging others, I'm assuming party to a crime here would be based on a lookout. She went to the bathroom, which I presume is the hallway bathroom unless these freshmen players have their own bathroom. That seems most likely scenario if more than 1 person is charged
2. Regarding this nonsense about "biting"...use your common sense. Here is the model jury instruction on rape in my state:
The lack of consent on the part of the alleged victim is an essential element of the crime of rape, and the burden of proof is on the State to show a lack of consent on the part of the alleged female victim beyond a reasonable doubt. If the State fails to prove such beyond a reasonable doubt, then you should acquit the defendant. However, consent induced by force, fear, or intimidation does not amount to consent in law and does not prevent the intercourse from being rape. Consent to sexual intercourse obtained through a present or immediate fear of serious bodily injury to the female involved is equivalent to no consent at all.
3. Let's not burn anyone at the stake as it is still just an ongoing case that hasn't even resulted in any charges or arrests yet. That includes the woman as well. Some of the posts have me sick to my stomach.
Relax. Depending on the facts, they could be facing a life sentence. Your comment seemed a decent place to point out what that actually meant for anyone who was interested in what kind of time they may be facing. Sorry if I rained on your joke bro
A life sentence is usually far less than 30. For example, in Alabama a "life sentence" is eligible for parole after 10 years or after serving 1/3 of an inmates remaining life expectancy, whichever comes first. Sorry, the ADA coming out of me.
I think the best division names are "Woody" and "Bo", but that would only work if OSU and scUM were in different divisions. Black and blue not only contains the two colors in the B1G logo but also is an homage to the physical style of play associated with Big 10 football
What I would like:
Black: Northwestern, Wisconsin, Michigan State, Nebraska, Rutgers, Purdue, Iowa
Blue: Ohio State, Michigan, PSU, Minnesota, Illinois, Indiana, Maryland
Reasoning: Can keep the OSU vs. Michigan game as last game of year without a rematch the next week in title game. With weak B1G and UM and OSU the best bets at a national championship the next few years, beating the other and then winning the B1G game is a nice 1-2 for making a case to be included in top 4 for playoffs even with a regular season loss. PSU is going to sink into mediocrity as sanctions/scholarships take hold so having those 3 historic programs in same division isn't as big a deal as it may appear. MSU and Michigan can have a cross-division rivalry game. In other division, allows for Wisconsin to keep recent rivalry with MSU and also build a rivalry with Nebraska. I'm a big believer in Hazell and NW could be dangerous every now and then.
Hey there 5-star recruit with a 610 SAT score....want some candy?
Bodog right now has a prop bet for Thomas at 16.5 points for this game. Considering how has been playing and having a height advantage/zone for his second opportunities I think 11W could reach its 25k target if it bets everything
I wonder how Brady Hoke feels about Ohio stomping Michigan and somehow winning the MAC in the same night
Bosabombing QBs into the 15th row
BAH GAWD! THAT'S WILLIAM BUFORD!
Credit goes to OmegaBuckeye on the 247 boards but this should help clear up questions on our scholarship situation (looks accurate to me)
Seniors (14)
Nate Williams, Zach Boren, Ben Buchanan, Zach Domicone, Reid Fragel, Garrett Goebel, Jordan Hall, Adam Homan, Travis Howard, Orhian Johnson, Storm Klein, Etienne Sabino, John Simon, Jake Stoneburner
Juniors (17)
C.J. Barnett, Drew Basil, Adam Bellamy, Jamaal Berry, Corey Brown, Corey Brown, Christian Bryant, Chris Fields, Kenny Guiton, Marcus Hall, Johnathan Hankins, Carlos Hyde, Corey Linsley, Jack Mewhort, Andrew Norwell, Jordan Whiting, Jamie Wood
Sophomores (21)
Darryl Baldwin, Michael Bennett, Jeff Heuerman, Braxton Miller, Steve Miller, J.T. Moore, Verlon Reed, Brad Roby, Ryan Shazier, Devin Smith, Roderick Smith, Evan Spencer, David Durham, Curtis Grant, Chad Hagan, Joel Hale, Doran Grant, T.Y. Williams, Antonio Underwood, Brian Bobek, Kenny Hayes
Redshirt Freshman (7)
Tommy Brown, Chris Carter, Conner Crowell, Chase Farris, Bryce Haynes, Ron Tanner, Nick Vannett
Incoming Freshman (22)
Warren Ball, De'Van Bogard, Jacoby Boren, Bri'onte Dunn, Patrick Elflein, Frank Epitropoulos, Cardale Jones, Roger Lewis, Najee Murray, Josh Perry, Se'Von Pittman, Tyvis Powell, Luke Roberts, Tommy Schutt, Ricquan Southward, Noah Spence, Blake Thomas, Michael Thomas, Adolphus Washington, Taylor Decker, Joey O'Connor, David Perkins
It all adds up to 81 currently on scholarship.
Possible transfers/discipline/medicals/decommits
Jamaal Berry
Jordan Whiting
J.T. Moore
T.Y. Williams
Rod Smith
David Durham
Chad Hagan
Chris Carter
Tommy Brown
Ricquan Southward
My thoughts on the possible transfers/medicals/decommits: Obviously Berry sticks out and don't think he will be part of team next year. Hagan should be a medical hardship. Carter's weight could very well push him out. I don't think Southward should be on there as he had a 22 ACT, but he may go elsewhere. There are a few members of incoming class that might not qualify academically, such as Lewis. Hope this helps as it def. helped me in counting numbers.