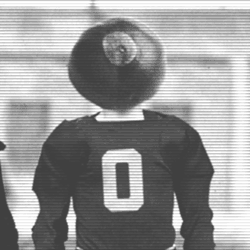 CC
---
MEMBER SINCE April 12, 2012
Favorites
SPORTS MOMENT: Wisconsin Win 2011, rushing the field.
Florida vs. Georgia Southern game 2013
2014/15 National Championship Game in Dallas
COLLEGE FOOTBALL PLAYER: Chris Speilman / Eddie George / Joey Bosa
MLB TEAM: Phillies/Orioles
Recent Activity
Blue 42, hot route, hot route!
Agreed, but my thought being more along the lines of which one would you rather have vs. what could have been.
Not really, I would trade Joe's last 2 years for the Haskins and Fields years without question. The Heisman and NC will do that.
If you listen to them a lot you'll understand they believe good passing attacks stay good vs good passing defenses but rushing attacks don't hold up vs. good rushing defenses.

Fortunately we have both.
I was thinking 31-0
or 59-0
While I do not disagree, what makes sports more specialized now than they were in the 90's?
First when Bo and Deion were kids it was the 80's, so that's nearly 40 years ago.
I played in the 80/90's and my kids play now. It's much more specialized because most/many youth sports are no longer seasonal. My kids played high level soccer, lax and wrestling and all of them are year round which precludes you from playing the other sports simply from a scheduling standpoint.
Lastly, I stink people are closer to reaching their potential in a given sport because they play all year round. My kids are much better than I was at that age, so to be that good in > 1 sport means you have to be that close to your potential will less time. It seems really unlikely.
So if you were a DLineman you could get Larry Johnson level coaching anywhere?
It's not the same everywhere.
To date, it's not close in terms of who has contributed more though.
Meyer
Hoke
Rodriguez
Harbaugh
I like how they show the real record for the 2000s, but then have the % with the vacated games.
Hard to believe OSU has not lead in any decade.
If you buy round trip tickets, jumping off on the first leg will cancel your return trip.
Actually that's not the way it works unless, Wofford and Charlotte are in the P5.
Some may argue the ACC isn't in the P5.
Keyser... strict like the posted 40 times in the Woody? And yes I did play past HS and yes the number people throw around are padded.
LBs not so much? You may want to do just 5 seconds of research on Clemson's LBs.
They are defining themselves which is totally anecdotal.
i bet they all have clothes, food, a roof, indoor plumbing, cell phones TVs and cars, yet call themselves poor.
ask my grandfather what "poor" was and he'd have a very different definition.
You're not going to sell me that millennials are poor. I had to make sacrifices to go to Ohio State games when I was young too, that's life. I'm a gen Xer and the Boomers had way more money than us, but they should have. They had all the experience, had done the work, had built things, I hadn't. Now I have and it's annoying to hear young people bitch because they don't have money.
The "wealth gap" and "income inequality" are terms for losers. Go out and get it and stop bitching because other people have it. Newsflash, nobody is going to give it to you! You need to earn it.
The bottom line- literally- is that our younger generation has less discretionary income to spend on events like CFB games.
thats not how I read this. % of wealth is relative to the rest of the population. It could be that the people who got whipped by the Great Depression didn't have much but theirs kids (boomers) started to. It's a %.
Having a lower % does not necessarily mean they have less $, it just means they have less relative to the other people in the population.