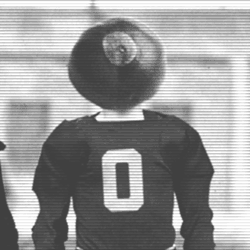 CC
---
MEMBER SINCE April 12, 2012
Favorites
SPORTS MOMENT: Wisconsin Win 2011, rushing the field.
Florida vs. Georgia Southern game 2013
2014/15 National Championship Game in Dallas
COLLEGE FOOTBALL PLAYER: Chris Speilman / Eddie George / Joey Bosa
MLB TEAM: Phillies/Orioles
Recent Activity
Awesome, tons of playing time. The defense is always on the field.
I'd be interested to ear the ten coaches currently at power five schools who are as bad as Willie T. He honestly seems like the least competent power five coach oe at least in the running.
I correlated Baker's change to the coaching change
Funny I've been there a lot but not the last 2 seasons, literally never remember seeing it. Section 7AA(I think near the entrance in the closed side0
Josh Myers hasn't started a game and I already feel like he's a 3rd year starter.
The empty parking lot at Popeyes vs. the lines wrapped around CFA tell a different story.
To finish that way as a freshman at that weight is pretty amazing. You're giving up like 20% of your development vs. a senior. The larger weight classes often have the older more developed wrestlers. There aren't many seniors in the lowest weight classes by comparison.
I've never seen him wrestle but he must be an absolute monster.
They were voted the best teams and he took them apart, I'm not sure why the need to diminish that.
At this point I can't imagine he wouldn't win the spot over fields. The guy was the best true freshman QB I've ever seen.
Maybe it's because we don't have to play him.
I just don't see Franks even in the conversation by mid October.
That's what everyone said about Navy and ND.
All of a sudden Navy has 4 wins against ND in the last 11.
Well when they weren't losing to Alabama they were losing to Florida. They have made it close against Florida in the last decade, but they are 8-28 since 1990.
Tress, Paterno, Carr, Dantonio, Fitz
If Urban didn't win it in 2011 then OSU coaches are ineligible.
That's right next door in Texas.
There is no marquee home game this year and there hasn't been for a few years now. OU was the last.
You don't think there is a correlation between people playing and people watching? I disagree but we'll see.
While I agree on some level, the fact that they have 4 OOC games and a FCS game is pretty lame.
With that said, it works so why change it?
I don't understand why it would be just post-season. In theory the rules apply all season no?
There's an app for that :)