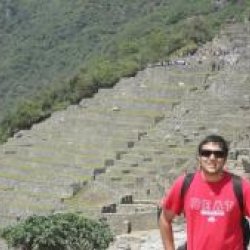 cbusbuckeye
Columbus Ohio (via Powell Ohio)
Member since 05 June 2011 | Blog
Favorites
SPORTS MOMENT: 2002 Fiesta Bowl
COLLEGE FOOTBALL PLAYER: Archie
NFL TEAM: Patriots
NBA TEAM: Lakers
MLB TEAM: Tigers
Recent Activity
We got 'em!!! Go Buckeyes! O-H!
S/This used to be such a great country
+1 for the info! Here's hoping for a truly nasty D-line come September
Any word on Tracey Sprinkle? If I remember correctly he still had eligibility remaining after his injury last season but have not heard his name since. Will he be on the team and able to contribute this fall?
What are the odds they sell Ohio craft beer and not Bud/Bud Light?
Never knew he had an Ohio connection, though I have heard that Urban and Belichick are close off the field (as close as anyone can actually be to Bill).
This. I want no part of hearing about Jake Butt scoring TDs on throwbacks come late November.
UV for you my man, all in good fun.
TL;DR, Ohio State is primed!!
Earning the respect of the slobs as a blocker will pay huge dividends in that they'll put in that much more effort when they are blocking for him. Zekes attitude and determination are first class.
Urban has also said he expects freshman to start immediately...and since most frosh don't arrive on campus until June it would be a little hard for the depth chart to be completely set in the Spring.
I've noticed this as well. Take me back to the days when 90% of the ads on this site were of those awkward models wearing the rediculous t-shirts.
If Dantonio pulled this off intentionally I'm very impressed, it's incredible execution. Speaking in front of recruits in your home state knowing that the best coach/recruiter in college football is following you on the stage...I wouldn't have given up that mic for anything, well played Dino.
1. Sunday
2. Yes
3. $75.00
I love it. First in...last out. The Buckeyes don't quit until the job is done! #marines
Those tears, they're delicous.
I forgot how great this was. All poor Tim wanted was for Buckeyes to call in and listen to his nonsense, bit off a lot more than he could chew.
1 = No. 1, as in OSUs position in the final polls.
Kiffins Krimson Korner, KKK, in Alabama...am I the only one that finds that messed up?
That could be a problem...but it goes against everything Meyer sells about his program to fans and more importantly, to recruits. His philosophy is simple, the best player will play, those that find themselves on the bench are only there because they are not good enough/not working hard enough. If we lose a few recruits due to being worried about playing time thats fine with me, I would rather have a bunch of angry, motivated players that work their a**es off to get on the field.
Go Bucks!
Ill never forget the time in high school when I told my dad I was going to a friends house to watch the Super Bowl "You're not going to watch it here?"
Five years later I am a senior at OSU and I just sold my ticket (first home game I've ever missed) so I can go home and watch it with pops, Tress's quote definitely resonates.
Friend of mine (recent grad of the football team) said that Carter could be an absolute monster if he could put it together. He said the staff preaches playing to your "genetic potential", that walk-ons who play their a**es off get rewarded over those who are more athletic but do not maximize it. He told me Urban loves guys who try, and completely ignores those who do not play/work to the fullest of their potential. My guess is he realized he isnt going to see the field consistently with his current play, and is deciding to hang it up. Apologies for the "he said this, he said that"!
USC plays at the coliseu*, not the Rose Bowl, would be great to see it for The Ga*e
Not a football expert but this is how I've always understood it. The wildcat is essentially a numbers game, every defender is accounted for but one, with the assumption being that the shifty player taking the snap able to beat that one unblocked player.