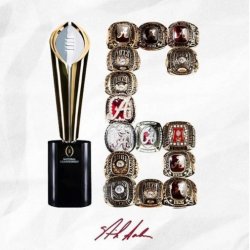 Catch 5
Alabama
MEMBER SINCE October 25, 2011
I'm a Bama fan looking to expand my knowledge and experience beyond the South. I mostly read the articles but will occasionally spout off to defend SEC country or question the perveived evils of oversigning.
Favorites
SPORTS MOMENT: 1992 Sugar Bowl, when Langham stripped the ball. Awesome.
COLLEGE FOOTBALL PLAYER: Current: Barrett Jones All time: Mark Ingram
COLLEGE BASKETBALL PLAYER: N/A
NFL TEAM: Atlanta, I guess. No real affiliation
NHL TEAM: Philly, but I dint know why.
NBA TEAM: N/A
MLB TEAM: Braves
SOCCER TEAM: Manchester United
Recent Activity
It's all good. If Urban can win 2 more, he can win 3 more.
This is not correct. Any recruited player must be on scholarship if he enrolls full time to a school that recruited him.furthermore any person enrolled full time has that time counted against their 4 to play 5. A greyshirt player does pay his own way but is not enrolled full time until they can be put on scholarship - and they cannot practice or play with the team until that time.
Taking on eight ranked teams with four is not likely to yield good results
But at least a couple of those teams were only ranked because of SEC biased, right? That's what you would think from reading a lot of the commentary around here about Florida and Tennessee anyway. And don't forget that Nebraska spent most of the year ranked - and a few of those weeks (in the middle of the season) in the top 10.
Still haven't
I assure you I've looking into this much more than the average Joe. I ran a study for 4 years (didn't continue it last year as I just didn't have the time). When you take into account those NFL early departures, JUCO signees, and 4-year graduates etc., Alabama's attrition rate (transfers, medical hardships, dismissals) is actually less than the B10 average (29.8% to 32.1%). In fact, most teams from both the B10 and SEC had very similar attrition rates right around 30-32% though there were a few outliers - Northwestern was very low and Michigan, Iowa, and Tennessee were all over 40%. OSU was 34.4%, though the numbers for the 2012 class (had I completed it) looked like it was going to be over 50%. Bama's highest during that time was 35.7%.
True, but the dynamics all change with a contender in PSU. I could be wrong (wouldn't be the first time), but if PSU were in, OSU suffers enough to allow UW in. On the surface, that doesn't make much sense - but much as the SEC effect ya'll like to bemoan, the best team in the B10 will get a favorable bump - especially this year with such a strong showing. If PSU were the best team, OSU wouldn't get that bump - or at least lose enough of it to allow UW (a conference champion) to pass them.
PSU lost to Pitt. If they win that game, they are likely in the playoffs and OSU is the one left at home. PSU didn't get passed by Washington, they got passed by the Buckeyes.
Urban Meyer's 5 recruiting classes (including 3 with reduced scholarships to work from) are 25, 24, 23, 27, and 25 (125 total). Is that much different? If not, why?
OSU has what, 6 scholarship seniors this year and how many are expected to be in this class? 22? 23? How are ya'll getting that many?
If the SEC champion got left out of the playoffs for a team like Washington, Greg Sankey would've immolated himself on Capitol Hill to draw national attention to his case.
SEC Champions don't lose to Pitt. If they did, I don't think he would have an argument either.
Bama hasn't signed more than 30 players since 2008, Saban's 2nd full year. They have signed more than 26 only once in that span - 27 in 2009.
I see 3 teams on that list that I would concede are in the SEC footprint: Houston, AR State, and UCF (though for 2 of those games, the distance was over 800 miles). That's a far cry from half. And like you said, the discussion is OOC road games - November cupcakes is a different discussion that some of yall will inject into anything. Yes, they suck. No, it really doesn't matter - get over it.
That's from one signing class. Yall are going to need 8-10 total transfers (at least) if this year's class gets to 22.
Bama played at Duke (2010); LSU played at Syracuse (2015) and at West Virginia (2011); Auburn played at K State (2014); Arkansas played at TCU (2016), at TX Tech (2014), and at Rutgers (2013); Tennessee played at Oklahoma (2014), and at Oregon (2013); Georgia played at Colorado (2010); Mizzou played at West Virginia (2016), at Arkansas State (2015), and at UCF (2012); South Carolina played at North Carolina (2015); Vandy played at Houston (2015), at UMASS (2013), at Northwestern (2012), at Wake Forest (2012 & 2011), and at UCONN (2010). This doesn't count the yearly rivalries (Ga-GA Tech, SCar - Clemson, Fl-FL State, Ky-Louisville), a couple other games at Clemson and other teams in the same state, - and is not comprehensive. You may need to watch more SEC games.
SEC teams have also recently played at Indiana, Duke, West Virginia and Syracuse as well as several road games to B12 and P12 territory so while road games to B10 stadiums is rare, road games in general are not as bad as you like to portray.
The problem with your argument is that B10 teams play OOC games in November as often as SEC teams travel north. Ya'll play all your OOC games the first 3 or 4 weeks of the season and keep the colder weeks for conference games, so even if Bama were to schedule another game with a B10 team it would again be in September.
Just for the record as it is quite old - Bama used to play Penn State pretty much every year before they joined the B10. Sometimes late in the year and their record doing so was quite respectable.
That's a different conversion really - and one I won't really disagree with. The SEC schedules both the easiest opponents and the toughest. This leads to the question of which is harder: playing two mediocre to bad teams, or playing one tough team and one really bad team? I say the latter, which is the same reasoning I use to say the B10 is the best conference this year.
You have your record. You have played an impressive schedule and your only loss is not bad. You beat OK who went on top won the B12 and while not always looking the best have beaten several top 15ish teams. You guys deserve to be in over PSU who, despite winning the B10 have two losses - neither particularly good.
True, but I didn't list UNC, BYU, UCLA, GA Tech (x 2), VA Tech, or W Virginia. What would you consider your best wins? Oklahoma and LSU? Who else impresses you this year? SEC teams beat USC and Louisville. After that I would say Va Tech is still impressive. The B10 is clearly better this year, but the SEC had a better OOC schedule
True, but this community used to be full of people who hated that ruling and the feeling here used to be that the playoff should be for conference champs only. Funny how perspective changes things.
Look, the B10 had been the better conference this year - but don't make this argument. Sure, the record is better, but against who? OSU'S win over OK is very good, and the winds over LSU and Colorado are decent but after that, what wins are good? Where else were teams even challenged (well, except for Pitt I guess who now can claim the B10 championship? ) SEC teams played USC, Wisconsin, Clemson (twice), FSU (twice), Utah, Louisville, and TCU among others. Sure the b10 record is better but the schedules were not comparable.
Bama pretty much takes 24-26 every year so it's safe to assume they will this year.
With respect, I don't think you've watched much of Bama this year. They are effective at both stopping the run and pressuring the QB with just their front 4, which leaves the LBs free to pursue the ball carrier if he goes outside. Also, the LBs are built drastically different from 2014 as they are a little lighter but much faster.
Bama does give up the long pass. They play a LOT of 1 on 1 coverage so if you have an offensive line that can block that DL for enough time for a fast WR to get a step on one of the very good corners - and a QB who can stand in the pocket and deliver a perfect pass with a lineman about to crash into his chest, you have a shot. See the Ole Miss game and the 2nd half of Arkansas. There are long shots to be had - but a price to be paid to take them (your QB will take a beating).
Don't we all wish we were in the SEC, where you can generally avoid competing with other conferences...
UCLA, USC, TCU, Clemson (x2), North Carolina, Wisconsin, FSU (x2), BYU, West Virginia, Virginia Tech, Georgia Tech.
Is that what you consider avoiding competing with other conferences? That is an EXCELLENT OOC line-up. Certainly better than the B10's notable games this year (especially when you consider that many of these marquee opponents are not as good as they were hoped to be, though Washington helps - the fact it was Rutgers does not):
Colorado, Notre Dame, LSU, BYU, Oklahoma, Washington, North Carolina, Oregon,
You left off #9 Auburn.
If we were on 'Bama fansite (I just threw up in my mouth a bit)
Hanging out at another team's fansite isn't as bad as you would think.
I will admit, however that there isn't a Bama site comparable to 11W to send you to.