Carson
Columbus, OH
Member since 02 December 2013 | Blog
A lunch pail guy. High motor. Cerebral. Someone you'd love your daughter to date.
Favorites
SPORTS MOMENT: Attending the 1997 Rose Bowl with my dad in relief of my pregnant mother.
COLLEGE FOOTBALL PLAYER: Greg Bellisari
COLLEGE BASKETBALL PLAYER: Ken Johnson
NFL TEAM: Bengals?
NHL TEAM: #CBJ
NBA TEAM: Cavs?
MLB TEAM: N/A
SOCCER TEAM: #CrewSC
Recent Activity
well, it looks like the concept i designed in 2013 lives to see another day :/
That "Light Up Stadium O-H-I-O" was pretty cool!
As someone who works at Holy Cross right now, this part of today's Skull Session had my wide-eyed and excited
CHRISTMASTIME IS HERE!
MINE EYES HATH NOW SEEN SUCH BEAUTIFUL JERSEYS FOR THE SCARLET & GRAY.
DJ, you earworm-inducing SOB, great write-up and exceptional WMDs.
@614analytics....
Give us this before giving us black.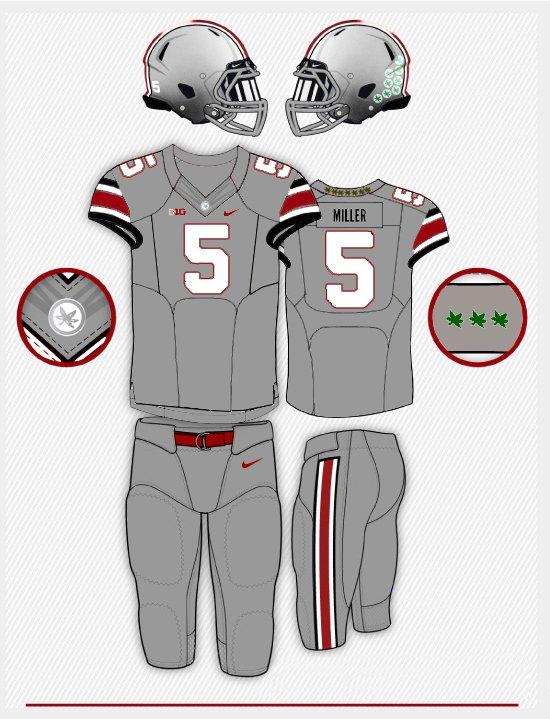 Thanks all for the help!
I'm looking forward to some more POSTERIZING by the Silver Bullets this evening.
2009 Ohio State vs. USC [sorry if you're now boiling with pain in recalling that terrible night].
My mom and I were sitting in C-Deck in front of crotchety older (mid-60s to low-70s) fans.
In the one of most raucous atmospheres to every descend upon The Shoe, we were told to sit down multiple times.
Luckily, this texting system wasn't in place, or else we surely would've been asked to sit or leave.
It was back in the late '90s, only a few seasons after Matt Finkes/Mike Vrabel/Luke Fickell graduated, that my dad and I (aged btwn 7-9) were throwing the football in the parking lot next to the ROTC Building.
Neutron Man approached us unsolicited and started chatting with us, asking me about the Buckeyes, who my favorite players were*, and wanted to take a picture with us.
A memory I'll cherish forever.
Thank you, Orlas.
* Dee Miller and Gary Berry
That's a shame because, like BucksFan, I prefer last year's helmet to this year's. How the design flows with the helmet structure is superb.
Reminds me of this scene in Disney's Hercules -> https://www.youtube.com/watch?v=Ju0DoYjHSW0&feature=youtu.be&t=3s (replace "if" with "or")
Mr.* Burke at Purdue has even grander plans for that section.
The beer garden will look more like a beer palace in a few years.
While the four-team tournament might occasionally exclude some the state's best teams from competing – the Ohio Bobcats made the Sweet 16 in 2012 – it's the best way to ensure quality matchups and peak publicity for the event.
While the MAC is not a power basketball conference, the Ohio Bobcats do have more wins over the past 3 years than Cincinnati, Dayton, and Xavier.
But you're right. In 2013, Ohio only had an average attendance of 6,900, while all others were over 9,000.
I come in with the mindset that the five-star stuff and high school really don't matter anymore
What an outstanding quote from him. With the success of 3-star guys like AJ Hawk and Bradley Roby (and countless others), I've seen star rankings as merely hype-inducers.
That being said, I can't wait to see who'll bring the juice this season!
Let me mark that space on my White Athlete Superlative BINGO card....
From Demetri Martin, a 224-word palindrome, "Dammit I'm Mad":
Dammit I'm mad.
Evil is a deed as I live.
God, am I reviled? I rise, my bed on a sun, I melt.
To be not one man emanating is sad. I piss.
Alas, it is so late. Who stops to help?
Man, it is hot. I'm in it. I tell.
I am not a devil. I level "Mad Dog".
Ah, say burning is, as a deified gulp,
In my halo of a mired rum tin.
I erase many men. Oh, to be man, a sin.
Is evil in a clam? In a trap?
No. It is open. On it I was stuck.
Rats peed on hope. Elsewhere dips a web.
Be still if I fill its ebb.
Ew, a spider… eh?
We sleep. Oh no!
Deep, stark cuts saw it in one position.
Part animal, can I live? Sin is a name.
Both, one… my names are in it.
Murder? I'm a fool.
A hymn I plug, deified as a sign in ruby ash,
A Goddam level I lived at.
On mail let it in. I'm it.
Oh, sit in ample hot spots. Oh wet!
A loss it is alas (sip). I'd assign it a name.
Name not one bottle minus an ode by me:
"Sir, I deliver. I'm a dog"
Evil is a deed as I live.
Dammit I'm mad.
Unbelievable.
I enjoy Urban paradoxes over Tresselisms.