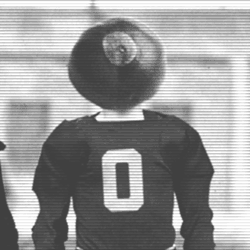 carmenohio88
---
MEMBER SINCE October 31, 2016
Recent Activity
He's being punished for settling for a burger while being a foie-gras-worthy player. #KnowYourValue.
I'd be interested in seeing new film on him to see how he goes about gaining those yards. According to 247, he runs a 4.6 at 180 lbs. Measurables aren't everything, but that 40 time is a little concerning unless he's got plus-vision.
I forgot to include the link to the AP Mid-season All-America team, so here it is: www.bing.com/amp/s/www.newsday.com/amp/sports/ap-midseason-all-america-team-burrow-taylor-lead-1st-team-1.37548789
Just play him, period. I know this board loves McCall for non-football reasons (as should we all after the dirt bike pic), but Gill is a better version of DMC, in my opinion. I know he's slated as the next H after KJ leaves, but I fear we could lose him to the portal if he doesn't get some real chances this season. I mean, he's not blind; he's seen how long it took DMC to get his chance, and I doubt DMC thinks it was worth the wait to touch the ball a few times a game after all this time. With the advent of the portal, it's Use 'Em or Lose 'Em now more than ever.
Often I find myself adhering to my personal rule that he who commits first shall win the day. I realize now that it doesn't, and probably shouldn't, work that way, especially if there is a noticeable talent disparity. With that, Stroud is the clear pick if the staff thinks they can get him and keep him. I assume Dayman, fighter of the Nightman, is being cautious with the offer because he doesn't want to end up with neither of the two just because he thought he could get both.
Zach Evans noted on Twitter today that he's decided where he's going to play next year. Whether this is related to AE's emoji post yesterday is for you to decide.
Crowley is the one to watch here, in my opinion. One cut and then he hits the hole with purpose. If your o-line has the advantage, that running style can be lethal.
All is not lost. With all the OL talent we have going forward, Al Bundy should be able to run for four touchdowns in the city championship game. For real though, relax. We have some horses in the stable who will carry the load just fine. Heck, I hope we run 3-4 backs a game, and do it right down opponents' throats, Alabama style. Looking at the size and meanness we're going to see on the d-line for the next 3-4 years, I wouldn't mind a similar offensive identity. Looking at the WR room we're going to have next year onward, they've already got that identity. Fleming, Scott, and JSN (and even Wilson, starting this season) are guys who sure as heck don't shy away from contact. And for those who don't know, Crowley, Chambers, and Teague are not going to be any fun to tackle. We may break some spirits over the next few years. I, for one, welcome the return of Bully Ball!
I hope that is a true indication that he's going to be used primarily as a RB. No doubt he has great receiving skills, but it's going to be hard to see significant time there with the the soon-to-be crowded WR room. I love Gill's talent and really want every elite Ohio guy to live out his dream in the Shoe.
If this gets Jaelen Gill in to the RB room, I'll call it a wash or better for OSU. If Gill follows the McCall route, I will be very disappointed in the program.
He's a mean runner, usually delivering the last hit. He'll fit in just fine in Ohio.
One of those replies asked if Victor is transferring. That would suck if true.
Holy shit, Schiano turned down the Pats to stay with the good guys.
No doubt Georgia is loading up to make a sustained run, but if this recruiting cycle has taught us anything, it's that you shouldn't count your chickens before they hatch. Who knows what could happen next year at Georgia on and off the field, and lord knows it's impossible to predict what effect those possibilities could have on Georgia's recruits.
At what point does the staff stash a few spots for next year?
Assuming we don't land Carman, I feel like the coaches can take solace in the fact that this was out of their hands from the beginning. The greatest recruiting tool in Ohio State's belt is the 17-18 years Ohio football culture spends encouraging kids to play at Ohio State if given the opportunity. Most top recruits (and wannabees like us who turn into super fans) buy in, but every know and again you're bound to run into an embodiment of a potent mixture of tremendous talent and a rebellious personality. When you do, do your due diligence and hope for the best. That's what Urban and the staff did with Carman, and he decided to go elsewhere. His life, his choice. Best of luck.
Slew of crystal ball for Carman to Clemson. Can't say I'm shocked. By all accounts, the kid doesn't like to do the expected. We'll survive if true, but losing out on Ohio's top prospect better be an aberration.
When you make your QB run the ball inside or near the hashes, it's always important to know who your #2 is.
I'm not taking sides on this issue broadly, but JT could stand to throw the ball harder on WR screens. Our guys have the juice to make up for it against inferior talent, but we have some teams on our schedule who will make the WRs pay for the fraction of a second longer it takes JT to deliver those passes.
I don't see Burrow coming back next year if he isn't all but named next year's starter soon after this season ends. He's just too talented to risk not being given a chance to start and possibly open a few scout's eyes. Then again, maybe I'm underestimating the number of people who want Tate to play sooner rather than later.
While I don't hate Herbie by any means, I don't like that he used his influence to blow this issue out of proportion. He went on the Danny Kanell show yesterday and defended his actions. Nothing inherently wrong with this. Problem is, it keeps this issue alive and continues to give it a much greater platform than one ill-advised tweet deserves. He just needs to drop it at this point.
I know Decker is trying to help, but piling on like this isn't a good look for the program, in my opinion; it makes it look like the program can't handle any criticism. If he does something else dumb, have at it, but at least give him some time to reflect and process this whole thing.
Maybe I'm just caught up in the moment, but I would not be at all surprised if Decker's tweet closes the door on this recruitment. All because some of our community, including former players, are so defensive. Don't get me wrong: I love the loyalty the former players are showing, but I highly doubt a teenager will see anything but red after being blasted over and again.
Two weeks from now, it's possible no one will care about or remember the recruits' initial tweets, but Jackson Carman probably won't forget the disproportionate (IMO) response he's received.
If the tweets bothered him so much, Herbie really ought to have voiced his displeasure in a more private manner. Even if I happen to agree with what Herbie wrote, I still can acknowledge that putting several 16-18 year olds on blast in front of his 1MM twitter followers was beyond the pale and, frankly, juvenile.
You flat out have to be better than that, Herbie.
I wouldn't call Carman a prima donna just yet. So far all he's done is take his time on his commitment and send out one regrettable tweet. He's a high school kid; let's give him a chance to learn from his mistake and move forward. And, if I'm being honest, the tweet wasn't anything crazy, and he's not even a commit at this point so I think muzzling him might be a bridge too far for me.