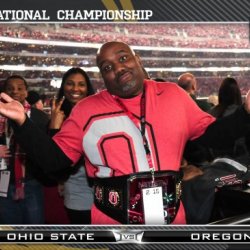 carence
---
Gahanna Ohio (via Columbus Ohio)
Member since 30 August 2010 | Blog
Favorites
SPORTS MOMENT: Every Bulls championship
COLLEGE FOOTBALL PLAYER: Tommie Frazier
COLLEGE BASKETBALL PLAYER: Maya Moore
NFL TEAM: My Fantasy Football Team "Buckwheat's Barber"
NBA TEAM: " " vs the Heat
SOCCER TEAM: Crew (Dare to be Massive)
Recent Activity
Eleven Warriors has lost a big fan and supporter today!
I got a pair from Dick's. They opened up at 9 and I was 3rd in line. They only got like 15 pair and I got the only pair of size 12. Stock is limited.
OSU destroys VT, how do I know? The "belt" will be in attendance!
I played against Esteban in a championship game in which we had blown out every team leading up to it. Long story short, they blew us out. There was a no dunking rule so he would jump up and politely drop the ball into the hoop.
Great day for the Buckeyes! On a sad note, although there is a no politics policy, gotta love how people just can't seem to follow the rule and sneak in little snide remarks! True hate!
After listening to Meyer last night at the game, I say to the dude complaining about the Reds honoring the Buckeyes, DEAL WITH IT! Urban is a UC grad!
Our front seven will give aide to this situation.
If I'm a GM, I will make sure Evan Spencer is on my roster. He wasn't used heavily for scoring but he has the skill set that would bode well for a team. Case and point, the Denver Broncos let Julius Thomas leave. They signed Owen Daniels and Virgil Greene. I have never heard of Greene but I read that he is a great blocking TE which was an area Thomas was suspect in.
He is an all around good guy!
Let her taste Cap City, she may concede!
Best meatloaf around! I just discovered their cinnamon rolls. I wanted to scream they're so good!
Major reason why I love OSU! I brag that the state of Ohio takes care of players after their playing days. You play for the Buckeyes, you can do well when your playing days are over!
I'm interested in Houston football now!
Spot on BCarp, and please stop saying he showed "Honor and Courage" by coming out. As a USMC veteran, the Marine Corps values are Honor, Courage and Commitment. Announcing your sexual orientation does not equate.
It's like Christmas in Feb.
Bryant won't be fully healed by then. If he is healed, he's probably not in the shape he needs to be. Hopefully he will be ready for the pro day.
Johnny who pissed in your cream of wheat this morning? Are you mad about something? Did your favorite show get cancelled? Are you tired of Sheldon playing hard to get with Amy Farrah Fowler? Still upset about the Red Wedding? Can't wait for the Walking Dead to come back on?
That was an intense rant!
Hmm, not sure we should wear "Dominance" uni's!
I don't get why the departure of Vrabel would impact Jones decision to stay or go. He wasn't going to be his position coach. I understand you establish a relationship with a recruiter but there are many more great coaches and even players you could establish a rapport with.
the what? yutes? did you say yutes Mr Gambini?
Yeah and no self-respecting Southerner uses instant grits!
I don't know how I feel about the Johnson hire. Not saying it wasn't bad or anything, I just don't know. With the exception of maybe 4 or 5 home games, I've gone to every Buckeye home game over the last few years. The 1 thing you would always see is right before the team runs out, Vrabel would race the assistants (mainly grad assistants) to the sideline and he always won. He was young and competitive and could match talent with the youngsters.
This summer my nephew came up from Texas to participate in an OSU day camp. He plays DE so guess who was right there in the mix, yep, Vrabel. He was getting down and showing proper technique, hitting the pads and running through drills. He's still young and agile so he was able to do that.
I guess I would favor a younger coach because we all know the landscape of football offenses and defenses have changed. Older coaches have habits and may be stuck in their ways and can be resistant to change.
I have faith in Meyer so clearly he believes in Johnson so I support the decision.
I agree. The more I hear about these other coaches getting jobs and nothing coming out of Columbus makes me nervous about missing out on some of these guys.
I'm glad this was written as I have had this conversation over and over again. I like Herman but I think he outsmarts himself. He is a genius and what is the biggest enemy of a genius? Himself/herself!
I think he got into situations where deep down he knew all he had to do was run Hyde but he 2nd guessed it thinking, it can't be that easy!
When we played Clemson and we ran a hurry up with Hyde, play after play and got great yardage on each run. What did we do on 3rd down? Not give it to Hyde and it hurt!