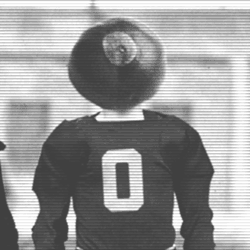 Captain Buckeye
---
Member since 30 August 2010 | Blog
Recent Activity
I'm a little pissed at Gene Smith. It is CLEAR to all athletes at Ohio State that they can't take money from anyone. In 1986 we were sat down and read through the rule book for at least an hour on the turf in French Fieldhouse. The players know. They just got caught.
Hey Terrelle, "I paid for my tattoos...Go Bucks." Paid for them with the money you got from your 2008 ring and gold pants.
Were those authentic or Fake Buckeye Championship Rings and Gold Pants?
What happened here is wrong. Period. However, there is something wrong in society when kids who come from tough backgrounds have a hard time getting spending money, when the universities and NCAA are profitting from EA Sports CFB 2011 and using players likenesses and selling #2 jerseys.
The kids are getting pimped out for $$$$$$$$$$$$.
I played baseball at Ohio State and was lucky enough to be a captain. I never one won a Big Ten Championship and would give my left stone for one and a Big Ten Championship ring.
This is really bad and is a dagger right in the heart. I have a pit in my stomach.
They all need to go for good.
Jim Tressel is a great guy, a great coach and has been great for our university. I know he tries to run a clean program. He needs to bench them for the Sugar Bowl too.
It's the right thing to do.
Two wrongs don't make a right.
They all need to be kicked off the team. NOW. If they play in The Sugar Bowl I will never watch another Ohio State game as long as they play for us. Jim Tressel will do the right thing and suspend them from the Sugar Bowl and the first 5 games of next season. Then they will sit the bench for the rest of the season.
This hurts and hurts the program badly. We knew what kind of kid Pryor was coming in and we got what we deserved. Adams has been a bum from day one.
Coach Tressel knows what the right thing to do is. Pryor a team player? I paid for my tattoos? Go Bucks? Go Bucks nothing. You sold your ring, gold pants and your Feista Bpwl trophy. What a bum.
I like douchebaggy the best.
Douchebaggy...good word! Will add it to the vocabulary right away.
Thanks for all of your work and dedication to providing the best Buckeye site out there. I can always count on the latest and most accurate updates. Nice!!