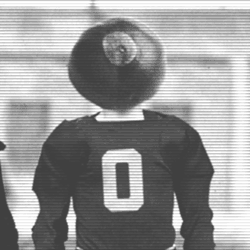 Canukbuck
---
MEMBER SINCE January 04, 2013
Favorites
SPORTS MOMENT: 2003 National Championship game with OSU beating Miami
Recent Activity
I think a simple, "F**k you", would have been sufficient .....
You Can't Spell - bang on observation .... our defense really didn't have an answer for Henry, but thankfully, Lane Kiffin can take full credit for trying to impress Urban with how many different plays he had in his offensive playbook, instead of using some sage wisdom from the Pop Warner league - run the play until the other team figures out how to stop it .... Ego cost Bama that game - thanks, Lane !!
Bama does win the game if Kiffin is sent to the dressing room by Saban after the opening kick off ....
Still trying to figure out why you believe that I think he's a "bad kid" ?? If playing close to home, in front of family and friends is the most important thing for him, then playing at TTUN is the way to go and he's welcome to that dumpster fire .... If he's looking to win championships, then staying home won't be a very good decision ....
So to answer your question, Bucks19, we'll find out whether his goal in life is to play in front of family, or to play at an elite level on an elite team - that's what we'll learn. If winning championships is not important to him, then coming to OSU would be a mistake .....
I think he's a good back, with pass catching skills, but for a 220 lb. back, I noticed him getting stood up and driven back by a DB in the first of the clips shown. The other clip, illustrating his power, was against a CB that was busy fighting off a blocker ..... Obviously, it's impossible to draw any conclusions on how well he'll do on the field against better defensive competition than the PAC-12 offered, but I'll reserve my judgement until opening day .... If the coaches want him, that's good enough for me ....
All depends on how smart he is ..... most people run away from a dumpster fire, but others prefer to stand there and watch it burn - we'll learn a lot more about the kid, based on his ultimate decision ....
I think Edwards may have slow-played this at a time when he should have stepped forward a little sooner, as he will quite possibly be left standing at the train station and end up traveling to Loserville on the Puke & Blue Express ..... wasted talent up North .... Too bad ...
Sorry, but Italy is a whole different animal …..
Italy has one of the oldest populations in the world (either first or second oldest in Europe) and as such, is seeing far more deaths per capita than other countries.
Add to the age issue, the fact that most of the aged population lives at home with the younger generations (who didn't take any precautions at a time when the virus hit) and you've got a recipe for disaster.
China had this virus in December and has already started to flatten the curve ….. If common sense prevails, this virus should be slowing down significantly by the end of April. I still feel very confident that the college football season will be played in its entirety to packed crowds.
Canada has almost 38 million people - we currently have a grand total of 20 deaths from the virus - I would suggest more people have died brushing their teeth this past year …. Not trying to minimize the danger of this virus to those in their 80's or those with underlying health issues (especially raspatory conditions), but time to put things in perspective …… the SARS virus had a 10% death rate …..
So, I assume that Spring practices are all cancelled and work outs in the weight room as well, since you can't have more than one person in a room at a time ..... Why don't we play it completely safe, cancel the 2020 college football season, come back in 2021 and give it a try (if it's safe) .....
I believe in being cautious and being smart about keeping hands washed, etc .... but, basically shutting down life is beyond ridiculous .....
Whelp, it's now gone to ridiculous .... I suppose we should just put life on this planet on hold until the middle of May .... Common sense needs to come to the front - wash your hands, avoid contact with people that are coughing a lot and do what you normally do ..... It may come as a surprise to some, but death does come to us all and there really isn't a time table ....
The first case of the virus was just discovered here in Ottawa today (40 year old man, traveled back from Austria, who is at home with mild symptoms) .... that should shut the city down until summer .....
I absolutely agree, Buck298 !! If cost is not an issue, then there's no reason the tournament couldn't be held, with or without fans. Allowing a virus to dictate every aspect of life is starting to border on insanity. Wash your hands, sneeze into your sleeve and refrain from licking the face of the fan next to you ... in other words, use common sense and we'll get through this .... it's a real sin to pull the plug on these seniors especially ....
At some point, someone has to call, bullshit .... Let's see, last year, roughly 13,000 people died in the U.S. from the flu and so far, there have been roughly 4,000 reported deaths from this virus world-wide .... Social media has hyped this virus beyond anything close to Sars, Ebola, Swine Flu, Spanish Flu, etc .... 85% of the people who get the virus probably won't know they did (it will manifest itself into cold or flu symptoms) ....
The big headline in Canada was that the first fatality of the virus occurred in British Columbia .... to a man in his 80's, with a pre-existing health issues ..... are you kidding me ???? While I feel for the family of this gentleman, I'm trying to figure out why this is front page news ??
This is the biggest Chicken Little saga I've ever heard - "The sky is falling, the sky is falling ..." !! I suggest the entire world go inside their homes and wait until March 2021 before stepping outside again .... that should take care of the virus .... Wow ......
Ha …... Just go empty set and put all of Zone 6 onto the field at the same time ….. no problem - we'll just have TD drives that eat up bigger chunks of yardage and shorter times between scores ….
Ahhhhh, finally, back to the field …… my withdrawal symptoms are ebbing from the lack of college ball ….
While not on the same level as the Miracle On Ice, I thoroughly enjoyed watching the hockey game on Saturday night between the Toronto Maple Leafs and Carolina Hurricanes. Both Hurricane goalies were injured and an amateur goalie and Zamboni driver for the Toronto Marlies (junior team) came in as the Emergency Back Up Goalie and not only played half the game, but ended up getting the win !! He gave up two goals on his first two shots, but then stoned the Leafs for the rest of the game.
At the end of the game, he was given the first star, was mobbed by the Carolina team and was in the middle of one of the best post-game locker room speeches that I've heard in a while - all the time smiling and laughing through each interview. He's the oldest goalie (42) to win his first start and can now retire with the distinction of being undefeated as an NHL goalie !! The Leaf fans gave him a standing ovation at game's end ….. Great story !!
I believe the correct expression here is, "WAAAAAAAAAAAAA" ….. that is all.
Sigh, well not exactly a great start to the off season ..... If true, then off the team and off to jail with them both .... on a side note, I'm not sure I'd be sticking my manhood into a struggling lady's mouth under any circumstances ..... If true, just a cowardly act by both players .....
Look up the word "KNOB" in the dictionary and that's the picture beside the word .....
I prefer our pair for one simple reason - they both wanted to play for the Scarlet & Gray ….. everything else will fall into place, as they have great potential ….
A good track ?? You're kidding, right ?? They have one of the worst records against ranked teams and of course, crap the bed in their Bowl games ..... They beat up on the teams that barely have a heart beat and if you ask most "Michigan Men" their take - they'll virtually all agree that the team is underachieving, considering the resources available to the program in terms of facilities and high-priced coaching talent ..... Bo would be shaking his head with the lack of leadership from the coaches, who act more like tour guides, than football coaches .....
Sorry - this program is not trending in the right direction ...... unless you're an OSU fan ...... KEEP HARBAUGH !!!!
Well, hope you're wrong - such a waste of a talent on a sinking ship .... as long as Hairball is the HC, Edwards would be boarding a ship with a hull made of mosquito netting ....
I'm focused on getting Edwards ..... as for Pryor talking about Georgia sending all those running backs to the NFL, well, which RB is the highest paid one ?? Which WR is the highest paid in the NFL ?? Georgia might produce quantity, but OSU produces quantity and quality to the NFL ....
I'm hoping for Edwards - gotta love that 4.37 speed in the backfield ......
Not everyone can be a defensive standout, but he provides decent defense. However, on a team that seems to have gone cold in shooting for the past month, I'd be feeding him like the Gerber baby ..... Let the other team worry about how to stop him - pile on the offense and win those shootout games once in a while ....
I really like this kid - quiet, works hard and has perfected his 3-point craft ...... FEED HIM !!!!!
Probably one of the best ringing endorsements for a potential recruit to hear ...... Great to hear that Brock made his experience at OSU count big time for his future ..... Grind it Brock !!
As case of Red Bull and he'll be caught up in no time ......