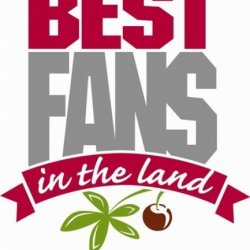 CantonBuckeyes12
Canton
MEMBER SINCE December 03, 2014
Life Long Buckeye fan from Stark County!
Favorites
SPORTS MOMENT: Ken Dorsey's Pass falls incomplete, the Buckeyes win the National Championship!
Zeke's 85 yard run TO THE HOUSE, to put us up 2 scores on Bama!
COLLEGE FOOTBALL PLAYER: Former: Braxton Miller Current: J.K. Dobbins
COLLEGE BASKETBALL PLAYER: Former: Aaron Craft Current: Kaleb Wesson
NFL TEAM: Browns
NBA TEAM: Cavs
MLB TEAM: Indians
Recent Activity
Finally some good news for Ohio State Athletics! #BOOM
Good Luck Chase! Would be cool to see him join Dwayne and Terry in DC!
Yeah, take Burrow. They've got a shot at a franchise QB. Take him!
Is it really that much of a distraction? I'm sure it was obvious to his teammates he might move on. He's a talented kid who wasn't a good scheme fit here. I'm sure the team wishes him well, but I'm sure they're laser focused on Clemson!
Gene is a fantastic AD and does not get enough credit for the job he's done. He handled this Young situation perfectly. He's hit a HR with his last 2 hires of Day and Holtmann, and he didn't screw things up in 2011, when Urban Meyer was available and interested in coaching here. Long live Gene Smith!
Why risk it for a game in which he would play a half if that? Rutgers sucks! Like really bad. Gene played it right. Take the 2 games and have Chase back for PSU And U of M.
That is the furthest thing from the truth! He is loved by 99% of Browns fans! Most people who are Buckeye fans and Browns fans are willing to move on from this incident, because he's on our team now. Also, if an Ohio State fan had done this to an opponent, everyone would love it.
They wouldn't be able to score on Meyer's best team. Krenzel was as gutsy as they come, but he wasn't an elite QB. Haskins with Micheal Thomas, Devin Smith, and Zeke would be able to score enough points against a very good D to get the W. Could be like a 28-17 type game IMO.
That was a crazy back and forth game though. Went into double OT. Could've gone either way. (One of my favorite childhood memories is that game btw) but we saw Urban v. Tressel in '07 and it wasn't pretty.
Coach Holtmann deserves major props for taking this team to the round of 32! The future of Buckeye Hoops is bright and in great hands!
Big time BOOM!! Much needed depth for the offensive line! Love it!!
Great insight from Cardale. Boy, the 2015 was a disaster for so many reasons. Urban and staff couldn't settle on a QB, and Urban couldn't decide who he wanted calling plays. I was at that Sparty game, and it is without a doubt one of my worst days as a Buckeye fan.
P.S. of you wanna skip all the ads, you can listen to this on Apple podcasts, it's a lot smoother.
I don't know about that. Flores who is now the HC for Dolphins, was the defensive play caller for the Pats this year.
Great opportunity for Coach Schicano. Good luck to him. If he succeeds, he could get another shot to be a HC.
Nothing like a bunch of grown men in the comment section getting all upset about an 18 year old offensive lineman's college decision. Ohio State will sign a solid lineman today, and they'll be fine. Good luck to Doug at Va Tech. He did what was best for him. It's a good school, he can get to the NFL from there just fine.
Apparently all of you guys in the comments didn't get the memo. We are supposed to hate Bosa because he didn't stick around to be a cheerleader the rest of the season after his injury! Gotta love the "he quit on his team "narrative!
Important distinction; Urban is AN assistant AD, not the assistant AD. Ohio State has like 20 something assistant ADs. It's just a title. He won't have much responsibility, just gives him a chance to stick around a bit and be a part of the university. Beau Bishop talked about this on his radio show or maybe the Eleven Dubcast, but important point regardless.
Why stay and compete when it's pretty clear Fields is gonna be the starter? Day didn't roll out the red carpet for him to sit behind Martell. Sure, Martell looks stupid for his comments he made prior to the Rose bowl, but ultimately I think he made the right decision for himself based on the circumstances.
Good luck Tate. I'm sure he'll put on a show down there, but Miami is a "museum" program as Beau Bishop would say. Might as well wish him well because if we face him, something has gone wrong for us, because Miami isn't making a playoff anytime soon.
Young team. This may be a down year, but hang in there. Next season should be well worth the wait. Some great talent coming in this offseason, and the young guys this year will have another year of learning under their belts. This team misses KBD and Tate a lot. They carried the team a lot last year.
Urban Meyer liked to poach coaches from Notre Dame, seems like Day is making a habit of poaching coaches from TTUN. I'm fine with this!
Well 2 years of Fields gets you to 2021, where you'd likely have a completion between Baldwin and Jack Miller. Miller would be the higher rated prospect, but Baldwin would have 3 years in the system. It would be an interesting competition. If Miller is as good as many think, I think he could very well win that competition, making you right.
Thought he'd stick around for another year, but he was a 3 year starter! Best of luck to him! Gonna be a lot of new faces on the O-Line next year!
The defensive backfield should be back to more along the lines of what we're used too. Fuller, White, Okudah, Wade. That's a nice secondary! Need to get LB figured out, and the defense could be much improved!
Who cares? We got a proven DB coming back for his senior year. One less starter leaving. Fuller and White are going to make a great combo at the safety spots in 2019!