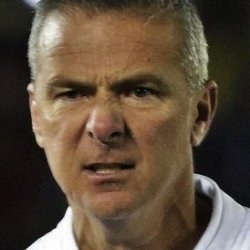 CanadianBuckeyeEh
from Lancaster, Ohio
MEMBER SINCE September 26, 2014
American by Birth - Buckeye by Choice, Award-Winning Writer / Producer, Seeker of Truth, Son of Thunder
Favorites
SPORTS MOMENT: 2002 & 2014 National Championships, 85 yards through the heart of the south, "Brax-Spin", The Game 2016: "OHIO STATE wins!", J.T. winning TD pass to Marcus Baugh vs Penn State, Sam Hubbard tackling the QB AND the RB vs Penn State.
COLLEGE FOOTBALL PLAYER: J.K. Dobbins, The Predator, B. Victor, KJ Hill, Joshua Alabi
NFL TEAM: Carolina Panthers, Dallas Cowboys, New Orleans
Recent Activity
Thing of Beauty.
Just WOW.
Go Bucks!
Wish I could upvote this about a thousand times.
the eighth rivalry game win in a row and the 15th in the past 16 years.
The 17th in 19 years! 17 times this century. So far. 18 next fall.
GO BUCKS!
We respect the rival. And let our play do our talking.
I relaxed a little tiny bit when we were up by 22.
But I never relax completely until the clock hits 0:00.

Ohio State - "We have a Predator."
Love this. Reminds me of:

Didn't we throw it against Wisky in the rain?
I could be wrong...
"Everything's perfectly all right now. We're all fine here now, thank you. How are you?" - Han Solo


Some of the best coaches I've ever been around.
I see Werner has his Urban Meyer "coachspeak" down. Good for him. ;-)

Here's hoping we CRUSH the skunk weasels.

GO BUCKS !
WMD = Washington Mattison Day weapon of mass destruction
That's brilliant!
Nice!
I never knew that. Thanks for sharing.
Go Bucks!
SWEET !! Excellent. Awesome. The superlatives run low. Hopefully as we run up the score.

Go Bucks!

And Happy Thanksgiving!
Please, just Dobbins and Teague. Fields can run when he HAS to - and I love it when he scores - but that 4th down running sideways thing, that has to go away,

GO BUCKS!
I'm just a couple a years older than you, but I concur, as your experience largely mirrors my own. Wish I could upvote you more than once.

I still get nerves every year before The Game. Just hoping Day And Company have our guys ready.

GO BUCKS!
DESTROY TTUN !!!

Just astounding. After reading any of these M Go Blow blog comments, I have but 1 reaction:

'Do you have that ugly color on?' And I was like, 'Yeah.' He said, 'Don't ever do that again,'"
A W E S O M E....
Thank you for that. I got PUMPED watching that all over again.
Here's hoping we buzz saw our way through TTUN, the B1G Championship and whomever we play in January.

GO BUCKS!
Have seen this numerous times. Enjoy it.
2-16 over the last 18 seasons
Getting them off to a good start in life.
Buckeye Nation brings the eyeballs.
Here's hoping we get the W and the percentage... and the bragging rights that go with it.