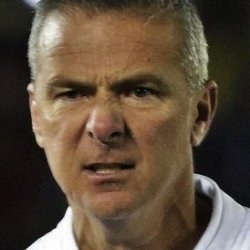 CanadianBuckeyeEh
from Lancaster, Ohio
MEMBER SINCE September 26, 2014
American by Birth - Buckeye by Choice, Award-Winning Writer / Producer, Seeker of Truth, Son of Thunder
Favorites
SPORTS MOMENT: 2002 & 2014 National Championships, 85 yards through the heart of the south, "Brax-Spin", The Game 2016: "OHIO STATE wins!", J.T. winning TD pass to Marcus Baugh vs Penn State, Sam Hubbard tackling the QB AND the RB vs Penn State.
COLLEGE FOOTBALL PLAYER: J.K. Dobbins, The Predator, B. Victor, KJ Hill, Joshua Alabi
NFL TEAM: Carolina Panthers, Dallas Cowboys, New Orleans
Recent Activity
I think we underestimate McCaffrey at our peril.
Respect the rival. Then beat the crap outta them!
What IDIOT would DV this?!
Respectfully, I think that comment was about the last play of the Sugar Bowl against bama.
I could be wrong.
Some good news out of Israel on this front. They have begin human trials on at least one cure. Read it yesterday. Don't have the source in front of me.
Lot can happen between now and September. It's still.. what - ? over 4 months away. Not worried.
That's a paraphrase of Mark Twain: "If you don't read the newspaper, you are uninformed. If you do read the newspaper, you are misinformed."
Note to self: Was Parris Campbell LAST year?
I've so lost track.... being indoors I don't even know what day it is...

I am really shocked that K.J. had to wait so long. Same with Parris Campbell.
Same for all our guys, actually.

Anyway, congrats K.J. You earned it!
Okudah Matada !!!

Congrats, Jeff!
Go Bucks!
Good job! Congrats to the Predator!

Ahh.... I've never been a Redskins fan, but I've been rooting for Haskins and McLaurin.
Now, Haskins, McLaurin and Young. How can you not?!

Go Bucks!

Don't know anything about Milton, but McCaffery scares me. The football genes in his family are amazing.If the kid is anything like his brother in the talent department, we will be challenged. I still think we win, but we will be challenged. Maybe.
Classy move by classy coaches.
So proud to be Buckeye.
GO BUCKS !
G1B may be right. It's not "lame ass" at all.
The head epidemiologist in England, the guy who predicted 500,000 deaths in Europe, said today (or yesterday?) that his models were wrong and he was having to recalculate DOWN to a MUCH lower number, something on the order of 20,000.

Not to minimize the deaths AT ALL, but just showing that their models are off because nobody really knows anything. I've had a sense from the beginning that we'll be getting back to some semblance of "normal" (whatever that is) sooner, rather than later.

And with all these awesome recruits coming in, I am STOKED to get the season rolling!

Go Bucks!
Holy freaking cow I am EXCITED to see what this team will do in 2020, 2021 and 2022.
Can't we we just play year-round?! Geeze, this is KILLING me! Let's play ball ! Let's Go Bucks !!!!
I shared this to my facebook page. It's a great idea! Hope it helps.
That's an insult to the flat-earthers. Why, there are flat-earthers all around the --- oh nevermind.
It's his decision to make, but I agree with you a hundred percent. Time to enjoy life with your family and, as you said, "lead in other ways".
Just WOW!
Good for our staff. They've earned it.
Kmp --- Exactly. Right on the money.
media bias is alive and well
asking a question about "kinda using penalties and stuff like that" when the "penalties and stuff" never existed.
Respectfully, it's not "weird". It's journalistic malpractice.
And it's the reason so many people do not trust the media.

'nuff said. Go Bucks!