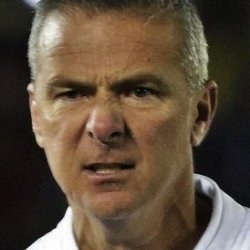 CanadianBuckeyeEh
from Lancaster, Ohio
MEMBER SINCE September 26, 2014
American by Birth - Buckeye by Choice, Award-Winning Writer / Producer, Seeker of Truth, Son of Thunder
Favorites
SPORTS MOMENT: 2002 & 2014 National Championships, 85 yards through the heart of the south, "Brax-Spin", The Game 2016: "OHIO STATE wins!", J.T. winning TD pass to Marcus Baugh vs Penn State, Sam Hubbard tackling the QB AND the RB vs Penn State.
COLLEGE FOOTBALL PLAYER: J.K. Dobbins, The Predator, B. Victor, KJ Hill, Joshua Alabi
NFL TEAM: Carolina Panthers, Dallas Cowboys, New Orleans
Recent Activity
Thank you all for the comments and the info.
I feel ed-u-ma-cated now!

Hey, SouthPacific
I write features and television.
Well... the good ones anyway.
We had a few turnovers I'd like to have back.
I really haven't thought of him in the human context ... he can wreck a football game.
Truer words were never spoken.
Let the wrecking begin!
Best Best Article I'll read this year. And best laughs I've had in a long while.

Thank You.

Now, Beat Sparty!
I remember one of our former D coaches saying we couldn't adjust until halftime. Hmmm.... well, that was his way, and so be it. But Day and Co have shown that it CAN be done during the game with proper preparation. Glad they called the time out and reminded the team that they had practiced it in the spring and "here's what we do". Worked to perfection.
I know it's not watching, but when I can't SEE a game (like the upcoming Northwestern game on FS1) I use the TuneIn Radio app and tune in either the IMG Ohio State Network (when it works) or 97.1 The Fan in Columbus, which seems to always work.

At least it's something...
Husker fans are great. I should know - my parents are both alumni. And the hospitality and stadium are both wroth the trip to a game. I was there for the 2011 debacle.
GO BUCKS! Beat Nebraska!
Agreed. And it's a great lesson for me - for all of us, perhaps - that we don't really know what's going on behind the scenes. Often we don't find out until much later, if at all. Our first impressions and surface views can be very deceptive.
Also shows how important ALL the coaches on a staff are and how tough it is to really get all the moving parts working together. We speak of wanting to win a natty every year - and we DO - but the reality is they're tough to win. (Unless you're Nick Saban. Somehow.)
Love it, SouthPacific. That's awesome!
Why on earth would someone downvote this?
Must be some Cornhuskers or TTUN people lurking here. Screw 'em.
GO BUCKS!
I was at that game. Could not believe what I was seeing in the 4th quarter.
Should have played a different backup. We had Kenny G then, right? SMDH.
Was hoping Indiana or Cincy would have given us a tougher early battle
Just for the sake of conversation... what if they DID? What if the DID give us a battle and we just obliterated them? Food for thought. Maybe. (just not corn)
If you bothered to do ANY research, you'd know your post is "total BS".
According to Chris Carter and other coaches closer to the situation, Urban's headaches were threatening his VISION and could actually have been life threatening in the long term.
Dude. That's terrible. I'm going to puke. I get your point, but don't ever show that picture here again.
I'll own that. I was furious when he beat our ass in 2006. I didn't know anything about him really, not even that he was from Ohio. But I did "hate" him for that game.

As our HC, however, he's one of the all-time greats. Perhaps The Greatest. The GOAT. The GOAT so far....
Of course an alternate conspiracy-minded idea would be this (see if you can tell I'm a writer):

Urban takes the job for gazillions of dollars. Hires the dregs of the coaching world for support staff. Recruits all *1 and lower athletes. Deliberately loses every game TTUN plays and completes the total destruction of their "football" program from within! On his way out the door, he donates the gazillions of dollars to Ryan Day's foundation and the Buckeye Cancer Cruise.

I like it!
The fans - and the Vegas oddsmakers - who even CONSIDERED this as a possibility are DELUSIONAL. As someone said below, it's a sign of desperation. It's also what happens when you refuse to accept facts and reality.
Absolutely. Agree on all counts.
All I know is Bragging Rights are on the line in our family this weekend. My parents are both Cornhusker alumni. I am the "blacksheep" of the family, but they raised me in central Ohio, so they gets what they gets. I feel pretty good about our chances. With no analytics - just my gut feeling - I think we win by 21. GO BUCKS! BEAT NEBRASKA! (and then everyone else!)


Agreed. Hate to see him leave. Would like to see him stay and succeed here. But he needs to do what he needs to do. Blessings on him.