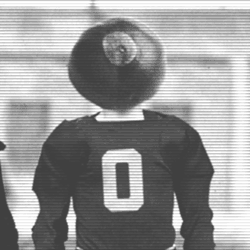 CanadianBuckeye
---
Member since 27 January 2012 | Blog
Favorites
SPORTS MOMENT: 2009 USC vs tOSU. We lost the game, but it is the only time I have been able to make it to Columbus and witness a game in the shoe.
COLLEGE FOOTBALL PLAYER: Lil Animal
NFL TEAM: Brownies
NHL TEAM: Toronto Maple Leafs
NBA TEAM: Cavaliers
MLB TEAM: Zzzzzzz
Recent Activity
Youngstown State is playing for the championship in their league as well(FCS?).
Ok... but THAT interception should seal it!
Oh dear, I was way off! Good call, hold em again NW!
Good showing by NW! That Interception should seal it!
Wow that high school team has one UGLY flag...
I just ordered mine on Amazon as well. If you follow the link above there is a google form to fill out for the extras, you should still be able to get in on the deal though, just need your Amazon order number bud! Hope it works!
As a guy from Toronto, I thought the bat flip was completely warranted. Our fans throwing trash on the other hand, that is an embarrassment. I thought that allowing that run after calling the ball dead was terrible(slight bias probably), but to act the way our fans did was terrible. Glad we made up for it, got the win and glad our fans were loud and made it a great environment for the players other than the whole throwing things on the field fiasco. What a series though!
I feel the same way. He wasn't offering excuses here and he wasn't blaming anyone else, he was saying he was the one that failed four times. I think any coach should feel that way. Respect where respect is due.
There must be something seriously wrong with me. I clicked a link that read "Naked Mike Leach".
No ragrets.
This day last year was the first day I wore my new Ohio State shirt, it is the one with OHIO spelled out with Marcus Hall giving the double bird salute as the H. I thought the shirt was cursed and didn't wear it again until the day of the VA Tech game... Then I REALLY thought it was cursed.
As the season went on I became convinced that the shirt was the only thing that could stop us from winning, I stashed it away and vowed not to wear it again. Then I wore it during the National Title game, because I really liked the shirt and no damn curse was going to stop us from smacking Oregon around. I now wear that shirt pretty commonly on weekends, I feel the curse has been killed.
He is a former OSU recruit/player, that is why this is relevant to 11w.
There is no doubt this team is going to be GOOD, but the expectations being set are going to leave a few people disappointed almost for certain. I hope I can keep myself in check and just enjoy the ride. Before you know it the season will be over!
Can't disagree with you there brother. I really looked forward to this fight though, I was hoping for more.
I wanted Pac Man to win big time but Mayweather was just too quick. He landed more punches even though they were mostly counters. Kind of disappointed though, I wish boxers would fight for knockouts.
Long live King Dolo!
Haha, dang dude good call! Just beat me by 2 seconds! Not sure what the final verdict is on Dontre though.
First of all congrats Squirrel! As for the first play, I am calling a sweep to Marshall.
Boom!
On mobile but I really want to post a gif so I am going to give this a whirl, be gentle I am new to this https://i.imgur.com/F3KU9h.jpg Happy birthday! Edit: Oh dear, I have no idea how to embed that via mobile sorry fellas!