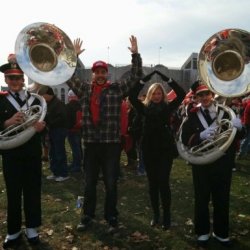 Calgarybuck
Calgary, AB
Member since 05 January 2013 | Blog
Favorites
SPORTS MOMENT: OSU beating the Miami Hurricanes for the 03 National title and also Boise State's last 1:00 and OT of the 07 Fiesta Bowl!
COLLEGE FOOTBALL PLAYER: Ted Ginn, Reggie Bush, Devin Hester, AJ HAWK
NFL TEAM: Green Bay
NHL TEAM: Montreal Canadians
NBA TEAM: Toronto Raptors
MLB TEAM: Blue Jays
SOCCER TEAM: Man U
Recent Activity
This should've been what happened 50+ years ago, the whole amateurism of college athletics is a flawed system
Tressel's had the worst coaching tree (omitting GA'S) out of any National championship winning coach in recent memory.
Tressel was on a steep decline that was hidden by TP and saved him by being run out.
Urban lags at making adjustments mid-season (Defense 2013 Offense 2016)
We're recruiting at a level we may never see again and people don't see how good we have it right now
We're ignoring who the best receivers are and are giving credence that Mclaurin and Campbell are actually startable receivers.
Did go to the UM game in 2014, I can't do noon kickoffs lol, The way it is I just try to stream when I can but now going into my first CFB season with a gf and her little ones I'll only have time for OSU games and i'm sure the other dads here would know the same. Paw Patrol>Any none OSU football game.
Oh yea, We have no watchespn, our netflix isn't as good as multiple cable/satelitte companies own rights and it's just a mess, We get your standard ABC/NBC/CBS/FOX and fortunately once CFL ends suddenly our ESPN brother TSN finally realizes it should use it's 5 channels for CFB. It's really just annoying all around and apparently the NFL just sold our sunday ticket rights to a company that hasn't even been approved yet in Canada for a 5 year contract so ontop of everything else could be missing redzone this year.
Sigh, you guys have it way too good down there.
I find lulz in seasons, Like i'll watch 4-5 then 1-2 then wait a week or two to watch the rest as it's dark and can be a bit much.
As a football player he deserved what he got, If you want to go chasing players with a DL# and lay ppl out expect to get blocked and for the other team to account for you. Was a BS penalty, If Maryland player was doing that to a Gramatica sure because he's not out looking to clobber returners.
Also for the crypt keepers the reason why we go over 85, We're at 83 right now and this is pre-injuries.
80's and I like this Allison Brie more than the Community/Mad Men one, she's actually able to act in these whereas before she was severely limited in her past roles.
I'm just waiting for Gibbons to get fired, hes not one of the top 15-20 managers out there but was given they keys 3 years ago to a top 5 team...
With how competitive the east is i won't pay attention till they're over .500
Bought a refurbished one for $80, already owned a copy of the game but it's worth it.
And has now homered off every MLB team.
Smith is growing fast, can easily see him at 280-290 easy, will make a nasty 3 tech.
Wonder if him being flipped opened the door for Pope?
Makes sense, the staff told him to hold off, Can't invite him to visit AGAIN on his own dime and have him leave not being a buckeye UNLESS it's contingent on how he performs infront of coaches.
Kicks or punts, not even close no matter what you do.
Mcsoley or whatever his name is was like 8-23 vs us and hit like 90% of 50-50 passes, He will be nowhere near that this year, magic is gone.
In both modes, would happen in Road to glory all the time.
It's America's Hat thank you very much
Awesome thread, But aren't we ignoring a MOD Dupe?
Just saying we're all binded by the same rules no?
Always go speed, but 4 verticals is practically unstoppable, just pretend like you're a real QB, read the safeties and coverage, Man coverage it goes TE or slot if the nickle DB whiffs on a jam
"The pass defense system for the AI needs tweaking. Way too easy to throw picks on the default setting
You mean like how the safety would cover 2 receivers at the sametime and would jump routes once the ball was out of the QB's hand behind his back?