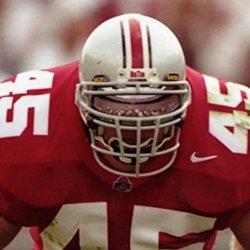 CalBuck555
---
Corona, California (via Alliance, Ohio)
MEMBER SINCE November 27, 2018
Favorites
NFL TEAM: Rams
NHL TEAM: Kings
NBA TEAM: Lakers
MLB TEAM: Reds
Recent Activity
Don't think Bert would be doing this in East Lansing if he was hired. http://www.rockcitytimes.com/brett-and-jen-bielema-arrested-in-oxford-following-game/
Great kid ! He is going to fit in perfectly. Played in the toughest HS football league. Going to be a captain. Love this class even more as the days go by.
Dude has a good 1st step, great vision and slippery as hell. Going to be interesting where he ends up at on the field.
The wide receiver position is definitely not a concern except keeping all of them engaged and content. Will be fun to watch for sure. The linebacker position is a different story. Let the comments fly. Lol !
Have you seen Clemson's schedule the next 6 years . They are a lock to get there for all those years or more. Their conference sucks.
He should have read my comments back on Dec 9th on how to beat Clemson. Clearly stated keep him in the pocket and eliminate his big runs.
Boom for JB !
Who cares about the ranking. Just figure out the offense and get their confidence back. Big 10 is no joke. Lots of good teams.
It's definitely going to be fun to watch these guys in the Spring game along with our new QBs.
Mathis had brain surgery so who knows what his status will be moving forward.
Wow ! This is so awesome ! I thought he was gone so I'm glad I was wrong. Much respect for him for setting higher goals. Hope he stays healthy all year, dominates and gets drafted in the top 10. This made my day ! Go Bucks !
I think it's an age thing. I would still be going ballistic if I were still in my 20's, still pissed off in my 30's, bent for a while in my 40's and over it more quickly in my now 50's. I lost years on my life during the Cooper years. This year actually turned out better than I thought. Lower expectations helps, but I still feel bad for the players. Made some costly mistakes, NO calls their way and lost a great player on D. They still played good enough to win. Look forward to this year for sure. Clemson will be in the Semi finals for the next 8 years. Their conference sucks and their OOC games are weak. ND ? Gimme a break.
Missing Young hurt for sure. Someone else needs to step up. Team chemistry on the court is a must. Offense is stuck in 2nd gear.
Great year from a great Buckeye ! Best of luck CY ! Go make millions.
He's gone ! He did plenty to show how good he is and would do very well at the combine. Late 1st rounder or early 2nd rounder. He will be missed greatly.
I hear ya ! SEC won't own anything and the NCAA won't do a damn thing unfortunately. Targeting rule is BS and instant replay is flawed. If you prefer to bask in the "we got screwed world " until August, that is your right. Always easier to never forget and just move on to the next season.
I was hoping Wade should stay, but he's gone since he is announcing his decision on Saturday. Replacing our whole secondary won't be easy. Going against our great receivers in practice will hopefully accelerate their development. As long as Fields stays healthy, the offense will carry the D next year. In Day we trust. Go Bucks !
As much as it sucks and hurts, we need to move on. Just funnel all this pissed off energy to next year. Going to have more sad days ahead as players announce they are leaving for the NFL. JK was 1st so the dominos will fall shortly. Happy that Myers and Davis are staying. Time to retool and reload the D. The spring game can't get here soon enough. Rooting for JB to humble TTDS. Yes ! That Team Down South ! The hatred is brewing ! Here's to 2020 ! Cheers !
Still can't get this bad taste out of my mouth. Ugh ! The team had their chances for the knockout punch in the 1st half. All was earned and nothing given. No breaks our way, hurt QB and RB and losing our glue piece on D. Proud of this team though as they accomplished a lot. Look forward to see who will step up next year to replace the studs who will be leaving. What doesn't kill us, makes us all stronger. Go Bucks and F$ the SEC refs !
Bama was missing their best pass rusher and corner last year against Clemson. I doubt we would put up 56 on them if we couldn't do it against Washington in the Rose Bowl. Clemson beat bama in the trenches on both sides. Lawrence had time to throw and had some long runs against them. We need to keep him in the pocket.
This QB competition will be nice to watch. 2 stud QBs coming in next year with another one coming in 2021. We are set in that position for the next 5 years.
Played for the #1 HS team in the country and played against great teams. Glad we got him.
Oh Fudge ! Took a few days off from social media and start my Monday off with this ! Ugh ! I'm only ok with this if he can give Dabo fits over there. Best of luck to him and his family.
Formula to beat Clemson like most good teams. General : win the line of scrimage, 3rd down and turnover battle. Specific : Pound the rock up the gut as Clemson is very fast sideline to sideline. Simmons is very fast and Fields needs to play off where he is on every down. Play action will open up holes in their defense. No way they lock down all our receivers. Keep Lawrence in the pocket and limit his big runs especially on 3rd down. Stop their run game down like we did against Taylor the 1st Badger game. Our weakness is our OL edge so no sacks would be nice and keep Fields upright. Play fast on offense to wear down their defense as they are not battle tested in the 4th qtr. New wrinkles in our defensive will be needed to slow Lawrence a bit with his 6'4 receivers. I like our chances. Hope the team gets 100% healthy by game time.
Times have changed for TTUN. Hard to recruit against us when Dantonio is fighting hard against them in their own state. Michigan used to get some top players from Ohio which is not the case anymore. The econonic shift in America over the years has shifted the talent pool to other states in the south. Ohio is still good, but not as good as in past. California, Florids and Texas will always be in the top 3 for top recruits. Top teams need players from there. That's where we are ahead of TTUN in recruiting. Clemson rose to power as the south increased with top recruits. Now they expanded due to their recent success. Bama and Clemson got the top 2 QB's in SoCal from the top 2 HS teams in the country. Look at all the great recruits we get nationally. As long as that continues, we will be top 7. We also develop players very well. Position coaches are so important. Look at the difference of our defense this year compared to last year. Stability in this area pays dividends big time. Clemson has had the same DC for years. Bama has high position turnover from their success. Hard to be consistent with that so it will be interesting to see what happens in the off season with our coaches. Regardless of the outcome, beating TTUN sure feels great. Unlike the Cooper years when our better teams got beat. Here's to keeping this winning train going. Cheers !