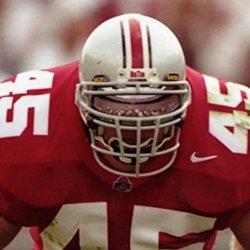 CalBuck555
---
Corona, California (via Alliance, Ohio)
MEMBER SINCE November 27, 2018
Favorites
NFL TEAM: Rams
NHL TEAM: Kings
NBA TEAM: Lakers
MLB TEAM: Reds
Recent Activity
He got sent down to their G league team in Iowa.
Day and the staff are doing a great job. The University needs to pay them really well so they stay for a while. Recruits like consistency in a coaching staff.
Sure would be nice to get Ricks especially if we lose Wade. He's a lock down corner.
Ugh ! He got the job because he beat that team up north in the Rose Bowl then couldn't beat them for us. Very frustrating years for sure. Wish he could have landed those 2 Ohio guys that killed us in the 90's. Dark age for sure and glad the next 2 decades reversed the Cooper Curse.
Ricks would be an awesome flip if it happens. Glad he will be at IMG which should help us for sure. His game against Corona Centennial was unreal last year.
Hmmm. Easy money for him. Can he be a spy for the Buckeyes since he will be out and about visiting other programs ? Maybe some inside knowledge recruiting info as well. I doubt he will go to USC, but they will be calling for him.
Who knows what was discussed with the coaches. Entering the portal just gives himself some options. He will compete in the Spring. If he loses to someone then he will transfer and sit out a year with 3 eligible seasons left. If he wins the starting job then he stays. I would do the same thing because if Fields is eligible to play right away and wins the starting job, Tate will hardly see the field the next 2 years. The dude just wants to play.
When is Washington to us going to be announced ? Another good hire.
Thx DH for a great season. Another year would have been great, but the NFL called so go get paid. I will root for ya no matter where you go. Also, thx for finding your replacement. Look forward to the Spring game QB battle. Go Bucks !
Nice ! His throwing form needs tightened up from looking at his pic. Higher and tighter and not drop the throwing arm that far down. Am I wrong about that coaches ?
Go get paid Mike ! Thx for the stellar 3 years on the Oline !
Interesting.......Hard to figure out who to blame for the defense. Not a big fan of co- coordinators. One offensive and defensive coordinator please. The other coaches need to be position coaches. Easier to identify flaws and place blame if need be. Players seemed confused on D at times especially against no huddle offenses. Be nice to hear from a non current player how things really played out on the D, but that might look bad on their part. I will just trust the process and hope the right changes are made. Go Bucks !
Definitely what could have been if he stayed healthy and I'm sure he wished he didn't have to make the decision to leave the team. He made the right one for him. Will enjoy watching him in the NFL like the rest of the pro Buckeyes. Buckeye Nation will represent well in the Rose Bowl. I'm sure he will be there to see it.
Can he be added as a recruiting coordinator as well ? Searching the country for top level prospects would be nice. Without Urban, I think we lose our Florida, Texas and Georgia potential commits.
It's Martell's job to lose. Once he knows that Haskins is leaving, he will up his training like Haskins did this past summer. He will be a nightmare for defenses with his dual threat skills. Had a perfect record in high school. His league wasn't very strong, but they played a few top nationally ranked teams every year. His passing does need to improve and since he is on the short side, throwing lanes is a must. With that said, his mobility will help with that. That's what Murray did this year for Oklahoma. I'm more concerned about the defense. We need to get back to our defensive roots. Stop the run front, smart and athletic LB's, lock down highly skilled db's and run stop , ball hawk safeties.
Bosa.
Talking about overachieving ! Great coaching and the team plays very hard on defense.
I just want coaches who can recruit well, develop players and know how to scheme. Also a head coach who wins 92.3% of his games. Is that too much to ask ?
Seems like Urban is these guys security blanket. Look at your options and come back. We will still roll and if not, the team will rebound quickly if there is a bad year.
All this decommitting is normal. They want to see how the next year goes. Day has very little experience in all the little things Urban did which comes with experience. Urban really cared for his players and it showed as he built that relationship cred. Day will need to build his this year while doing all the other responsibikities. Does anyone know how he gets along with the other coaches or has issues with any of them ? Hope Urban sticks around as a paid mentor and facilitator.
Crap! He was also helping recruit others like Elias Ricks who is a db stud. The staff needs to recruit like no other to make up for the fall out.
Love reading these ! Urban Meyer = Buckeye Legend. Go Bucks !
Thankful for the last 7 years. I hope he gets his health in order and stays in the football department at some capacity. Hope our recruiting doesn't take a big hit. It all starts there. Happy for 7-0. Legend !
F$@# ! Urban retiring ! Not a good way to start the day. I bet we take a hit in recruiting now. Skunk weasels are now rejoicing which makes me sick ! Ugh ! Hope the door will always be open in case his health gets better and wants to come back.
The committee will probably hold that Syracuse loss against us even with this good win. Don't think we make the final 4.