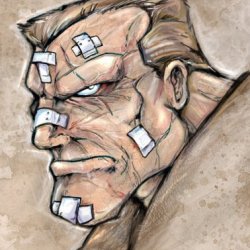 cajunbuckeye
---
Lake Charles, La (via Sidney,Ohio)
Member since 27 August 2012 | Blog
Boldly representing The Ohio State University deep in the heart of LSU Tiger country.
Favorites
SPORTS MOMENT: Katzenmoyer blowing up Missouri's Corby Jones or Clarett ripping the ball away from Miami's Sean Taylor
COLLEGE FOOTBALL PLAYER: Chris Spielman
COLLEGE BASKETBALL PLAYER: Jimmy Jackson
NFL TEAM: Saints
NHL TEAM: Red wings
NBA TEAM: Cavs
MLB TEAM: Reds
SOCCER TEAM: No, but thanks anyway.
Recent Activity
I am also anti- sidewalk when it comes to the shovel. #sidewalkshithole
It's time for some honesty here folks. How many of us have secretly been hoping for a meteor to strike Michigan...
The Buckeyes are 6-0 in the BIG...the Buckeyes are 6-0 in the BIG...the Buckeyes are 6-0 in the BIG...the Buckeyes are 6-0 in the BIG....
What...The...Fuck...Just... Happened...
Big Buckeye fan and big Saints fan. It doesn't get any better than watching Buckeyes play on Sunday in New Orleans.
Congratulations Kelsey! Breaking records and defenders ankles!
"The Ohio Fuckin' State University" should be on a T-shirt...
Deja vu deux...
Always that guy that plays the statistics card...
So, your saying that a Michigan man has a better chance of falling and breaking a hip than witnessing a championship in his lifetime?
As previously stated in an earlier thread, I have an issue with having lunch meat with no bread. i have been fortunate to have totally blocked out the entire day of November 4th and can honestly say I enjoyed the season. Go Buckeyes!
I hate to admit it, but, Ohio State deserved to be sitting on the couch watching the game like everyone else.
If I gave a fuck about Alabama football, I would be impressed...or join a fuckin' Bama site so I could read shit like this all day long.
The only thing that would have made me appreciate Scott Frost's comment even more, would have been throat punching Rece Davis before he left the set...
Wow. This paint...is...drying...sooooo...slow...
Perfection should be celebrated when it is attained.
It's really frustrating. Jimmy takes his shirt off, climbs a tree, but can't beat the Buckeyes. Jimmy sells his game worn khakis, but can't win the big ten. Jimmy has sleepovers and hires your Mom, but still hasn't won a championship game. Honestly, what more can Jimmy do...
73% of Michigan men are secretly big 'Cocks fans...
RichRod should have been arrested for murdering Michigan football...
Congratulations UCF!
Sounds like Alabama...
Cincinnati should take a knee on this one...
Trade the entire state to Canada for Vancouver....
One we'll get you stoned and the other should be stoned to death?
B...I...G! B... I...G!