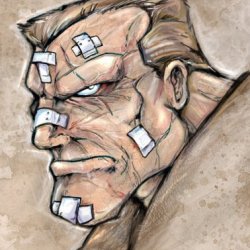 cajunbuckeye
---
Lake Charles, La (via Sidney,Ohio)
Member since 27 August 2012 | Blog
Boldly representing The Ohio State University deep in the heart of LSU Tiger country.
Favorites
SPORTS MOMENT: Katzenmoyer blowing up Missouri's Corby Jones or Clarett ripping the ball away from Miami's Sean Taylor
COLLEGE FOOTBALL PLAYER: Chris Spielman
COLLEGE BASKETBALL PLAYER: Jimmy Jackson
NFL TEAM: Saints
NHL TEAM: Red wings
NBA TEAM: Cavs
MLB TEAM: Reds
SOCCER TEAM: No, but thanks anyway.
Recent Activity
Buckeye lives matter...
Mama's baby... Papa's maybe...just saying...
I stepped outside this morning and could smell nothing but freedom.
Continuing the Paterno tradition of shitting in your pants and running off the field....
Woody's hit on Bauman....
A while back, I would've jumped into this discussion with both feet. I'm not even going to put a toe in to test the waters. Opinions are only important to the one that expresses it... that's a cool shirt, bro.
He is clearly a legend in his own "Grimes."
"Things that carried him". That one should be required reading for every citizen of this nation. It really puts Memorial Day in perspective. It's a gut wrenching read.
I will have to check out the Piqua BBQ on another day. It's crawfish boilin' time at the family farm in Port Jefferson. OH-
Wow! Down the rabbit hole for the last hour watching Richard Cheese videos... I never once thought about OSU basketball! Thank you, Ramzy.
I'm still waiting on the invite to Urban's crib... :(
Great season....Bad ending.
The pick six was the dagger.... The Huskies are lifeless.
I totally agree with the food selection at the Spot. Super BigBuy and Old Fashioned Cream Pie. Then, head east out of town on St Rte 47 and drop in at the "Stop 47 Inn" in Port Jefferson. Sidney has definitely lost some of it's luster over the years, but it beats finding yourself in Piqua.
It has been reported that Fidel's last words were, "I'm very disappointed with the officiating..."
Hahahahaha haha...+1,000,000,000
It had to have been one sick and twisted individual that declared "let's start the season, and then not play one weekend." This will be the only weekend that I won't mind working.....
Peppers is 5-1 in September Heisman betting....
Even money on Harbaugh eating a booger on national TV....
So it will be.
Hahahahaha hahahahaha..... that's all I've got to say about that...
If Penn State wants to celebrate one of JoePa's legacies, Franklin would shit his pants and run to the locker room.....
I want Notre Dame to lose, as long as Texas doesn't win.....
The headline should read "Oklahoma gets shocker from Houston"....
Mike appears to run with bad intentions toward defenders...