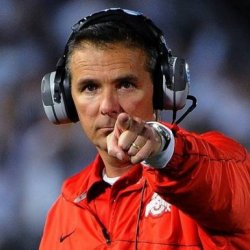 cafiero.3
---
MEMBER SINCE September 22, 2014
Recent Activity
"virus has been fairly tame compared to the perceived threat"...tell that to us in New York. Do you guys not really understand how bad this virus is??? How many more 16 wheelers filled with dead bodies do you need to see for it to be more than fairly tame?
I've heard that the tennis serve is actually the best at teaching the correct throwing technique and building those same muscles.
Pollack has been awesome this year. Him and McShay on CFB Live are great
Gameday still gives me chills no matter what
As much as GameDay/ESPN has gone out of its way to cowtow to SEC bias, I think its in the interest of Ohio State to show out at Gameday. Its obviously great for recruiting to have a great Gameday atmosphere, and better to confront those biases head on with boos or cheers than to simply ignore.
Rutgers gets a lot of crap (well deservedly in football) but the geographic expansion to the largest metro area in the country must bring in millions (more?) in revenue. NYC is not a stereotypical college sports town but the bars here on Saturday all have BTN on now, along with the thousands of B1G alumni who now get to watch with any basic cable package. Not only helps current revenues, but expands the schools to kids who never thought of going to a school in the Midwest (i.e. me)
McClaurin is wearing 17 according to his Instagram story
What an absolutely heartbreaking story.
Actually hes a huge Jets fan
As I remember, our OOC schedule is pretty weak which I think is good for a first time head coach to get his bearings. FAU,Cincy and Maim (OH) are far from a gauntlet OOC. In conference, looks rougher than this year, getting Wisconsin, Nebraska and Northwestern from the West. MSU and PSU will probably be similar to this years level, Michigan might take a step back. Seems like an open race for B1G championship
This was the most enjoyable win I've ever attended at the Shoe. Even more than 2016 2OT, just because of how everyone doubted us. For OSU to just absolutely dominate them in every phase made it so fun the entire game.
Would just like to say that after the game, we rushed the field and I ran into Chase as he was walking off. Absolute class act and told me "Best of luck to you guys the rest of the season. This was a hell of an atmosphere". I think our hate for that team doesnt have to directly translate to personal hate for the players (except Peppers lol)
If the only stat that matters is the score, then stats that determine the score are therefore important. It's why S&P+ and FPI key in on very unique statistics that have more predictive power.
What you're saying pretty much ignores the entire reasoning why a score ends up being the score.
Obviously everyone knows about the talent differential here, but can the Buckeyes defense come away with a few stops? The over/under is set at 69
Nice..
https://www.bloomberg.com/news/articles/2018-09-25/millennials-are-causing-the-u-s-divorce-rate-to-plummet
Don't forget killing the divorce lawyer economy
Voted for PC 37 yard catch because that was the most beautiful throw I have ever seen
I really like Malik Harrison. I think in due time he'll be a stud. But Werner is the one I am most nervous about. He just looks so small, I am not sure if he is built for Big Ten football right now. Would love to see him make some more plays
Should always do a "Scarlet Out the Shoe" for the biggest home game of the year, wouldn't change the jerseys though
There's an excellent article about how Texas changed their fan's gameday attitudes and I think that is something we should consider. I was at The Game in 2016 (#2 vs #3) and it was incredible, just wish it was similar to that for all of the big games we play.
https://www.si.com/college-football/2018/09/24/texas-longhorns-tcu-tom-herman-stadium-experience
I know the LBs have gotten a lot of slack lately. But I think TCU will be a good match up for them. Our LBs might not be the most disciplined group, but they're really fast. Having 1 spy the QB is going to be a better matchup for them than say playing against Wisconsin's style of offense.
Very apropos with the New Jersey marijuana legalization legislation coming soon