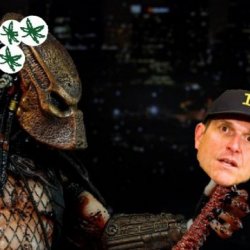 Ca114fire
---
MEMBER SINCE November 26, 2016
Recent Activity
Happy for them they earned it. Hopefully Ryan Day saves his congratulations for January
Anyone playing Iowa, their Defensive stats automatically jump 50 other teams on monday.
Im confused. Im pretty sure a *ichigan man normally knows how to handle 21 inches.
While im happy they're at 4 but I'll disagree. There is not one team that is more balanced in all phases of the game than the Buckeyes. Bama, LSU defense sprung a leak, and clemson is woefully uninspired and not playing to the level they're capable of. Its hit or miss what team will show up in the arguably weakest conference in the country. But hey. 4 is good, 5 would be better ;) keep them just on the outside looking in a hungry for a bite.
Clemson is there only because they won last year. They benefit from being in arguably the weakest conference in the country. And they'll waltz right into the CFP with minimal injuries.
I have the tendency to forget that much of the O Line is a a first year starter. Definitely playing better than I think we all expected. And they'll only get better.
Agreed. I havent seen any team doing great in every phase of the game like OSU has been. Other than Wisconsin. And that'll work itself out
If we were in Madison, I'd sweat a little more. But I dont think they have the depth to hang for 4 quarters in the Horseshoe
Iowa will find a way to ruin this drive.
And definitely coaches
Just when I thought Iowa had a chance lol
I dont like ND, but it makes me happy every time I see USC lose.
Got infantry thumbs & a lack of patience swabby ¯\_(ツ)_/¯
Holy shit, Iowa completed two passes in a row.
I know PSU always gives us they're best shot. But I'm beginning to not be that concerned.
I see PSU is sticking with the teenage happy sock look for road games still.
The Battle of the dueling Punters. Cue the banjos.
If I wanted to get paid to play, I'd go somewhere down south or to the west coast.
If Iowa needs a punter, I have some eligibility AND I can run a Mig & Tig welder
Should they send us a thank you card for breaking them, or should we send one to Madison thanking them for cleaning up the leftovers? Sorry, not sorry, but when you're identity is always how amazing your defense is and Dobbins runs all over you, that's got to crush your teams spirit.
Game starts at 730 Meanwhile at nearly 745.....
Jesus told him to, golly gee willickers
Looks like sparty made some adjustments. So it means theres about to be an interception
Wisconsin doesn't have the depth we do. They might keep it a nail biter for 3 quarters, but they arent playing at home and jump around isnt going to save them.
Has sparty even gotten a 1st down yet