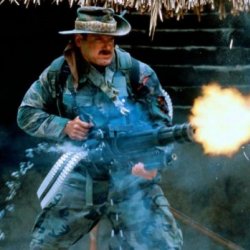 c11058
---
Member since 17 November 2013 | Blog
Recent Activity
Truck Stop Jimmy hired him to run his rebate program at Flying J!
Daboll's one year career as the Brown's OC was pretty shitty. This guy's play calling was bizarre. I was surprised to see him surface as the Tide OC..... The Bills better hope he's learned much more since that time in Cleveland.
Why would the NCAA waive the transfer rules to allow this guy to play next season at UM? I understand the Ole Miss situation and the permission for Seniors to transfer. Why should it extend to Juniors or Sophomores? scUM always seems to be using loopholes and pushing the envelope with the NCAA rules. I am surprised that a waiver has not been announced yet...is it possible that they'll make this kid sit a year at scUM?
Walker may be leaving... but scUM fans have to be happy that the dynamic Karan Higdon is returning for his senior season, striking fear into all opposing Big 10 defenses!
Regardless of what you come up with, Ramzy, many will be reading it! Keep up the good work in 2018!
The WMD "Red Dawn in Lapland" was a very good read!
In the article, the Winter War between Russia and Finland is brought up. The Finns kicked the Russian's ass back in the 1939. Here's a link to a great short story about one of Finland's heroes during that conflict:
https://www.damninteresting.com/white-death/
Just like so many other Wolverines have returned for their senior years, only for one more year of sadness.
If he was a true Michigan fan, he'd have dyed his stache orange!
AND they've forecast PSU as the 2018 Big Ten Champion, under the leadership of Shorty McSorley!
Darnold did not show any great speed on that run, either. Pre game reports said that he was a threat to run out of the pocket effectively. Yeah sure......He did not help his NFL standing with his performance and his body language during the whole game looked like he was moping!
I'm sure he expected that he was going to dominate this game and win the Cotton Bowl MVP trophy but our D showed him the reality of his abilities!
Who was that doing the coin flip? Judge Schmayles and the Missus???
Rosen allegedly had two concussions in the month of November......Who wants to spend a first round pick on a kid with such a health liability???
There is no doubt that Carman would've been a good addition to the Buckeyes O line of the future. However, it's a team game and Carman will only be as good as his surrounding cast, whether at Climzin or OSU.
I remember all of the angst when R Gary went Blue. He's a good individual player for their D, but as we all know, they're still looking for a "W" against a team with a winning record in 2017.
I can't believe I'm quoting Aristotle but the "whole is greater than the sum of it's parts"
Let's move on from this Jackson Carman kid and acknowledge the studs who chose to play for the Buckeyes!
"Merry Christmas From the Family" by Robert Earl Keen is a good one!
It's not Christmas time if I don't hear "Santa Claus and His Old Lady" by Cheech and Chong.
Ramzy, I really like your style and I never miss any of your 11W writings. You truly have a gift.
I also love the Cleveland Indians references and stories.
Keep up the good work and best wishes for a Merry Christmas and a Happy, Healthy New Year to you and yours.
While Jake Butt watches from his seat on the IR bench!
Not only did he take it to the house...he showed pure joy and did not go into some goofy celebration skit!
Well said....Holy BN.
Looking back, I wouldn't have done anything differently at all three levels I played! Did I get hurt? Sure. I was grateful when I made it through a game without injury because I knew the risks. I was happy to be out there playing the game that I loved. I know that the majority of today's players feel the same way, however hard that might be for the fans to understand.
Darnold may stay for one more year at SC if he becomes the Brown's #1 draft target.
Fatpants, You may have already read this book; Neptune's Inferno. It is a great one about the US Navy vs. Japan in the waters off Guadalcanal. The Japanese Navy was more advanced and actually had better equipped ship and tactics than we did in those early years, according to the author. This is a great read:
https://www.amazon.com/Neptunes-Inferno-U-S-Navy-Guadalcanal/dp/0553385127/ref=pd_sim_14_3?_encoding=UTF8&pd_rd_i=0553385127&pd_rd_r=KJPQG7HV9A2CVKWT6B24&pd_rd_w=mi2mh&pd_rd_wg=EJZp1&psc=1&refRID=KJPQG7HV9A2CVKWT6B24
Definitely Portillo's! However, they're always crowded. Don't let the crowds scare you (they move fast there) and try and secure a table prior to ordering so your wife and kids have a place to sit while you order at the counter and wait for your food.
If Winovich was on the voting committee, I'm sure he'd have voted for Billy Price!
One of my favorite Buckeyes...........he has always been one to put a good lick on a ball carrier and he fits the mold of a tough Steelers LB.
I'll never forget his goal line stop at Wisconsin. I hope and pray that this is something he can recover from.
Hope all of the seniors with NFL aspirations choose to suit up for the Cotton Bowl!!
Damn fine live music ...a feast for the ears and eyes!!