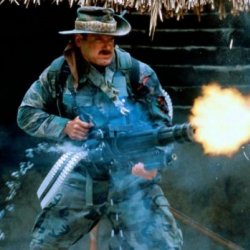 c11058
---
MEMBER SINCE November 17, 2013
Recent Activity
McCall; injured again and out of action? Not good.....Heard that too many times.
Man, that kid looks young, doesn't he?
Smith and Harrison were closely recruited by scUM and PSU. I would have hated to see them choose one of these programs over the Buckeyes. They made the right choice and I have to believe that LJ and Al Washington were key in their recruitment. The future is indeed bright on the DL!
Goddamn,Todd....well said, my man!!
"The Day The Dinosaurs Died": Amazing story that has me paying a bit more attention when the news comes out about asteroids passing close to planet Earth. If the reenactment of what happens to us when a six mile asteroid hits is accurate, we're not going to be fretting too much about what team colors our QB alums wear.
Now Coach K has a bit more time to work towards a solution to this issue.
His years at OSU may be the best ones he experienced in life....(If he doesn't turn things around)
Was Dean the Champion at 184?
Had JT Barrett not returned for a fifth year, taking advantage of Meyer's propensity to favor veterans, we'd have had a couple of years of Haskins. What could have been!?
Sending Gerbil to the Giants made the OBJ trade even sweeter. The Browns made good on the mistake they made when Peppers was chosen with a #1 draft pick.
I doubt it but maybe he'll play some inspired football in NYC...isn't he from New Jersey?
Welcome OBJ! See ya, Gerbil!
The big advantage on scUM's side this season is the fact that they're at home. They're a different team in their big house although we seem to find a way to overcome the home field in the past years.
Robert Landers is terrific! So glad that he's a Buckeye for one more year. Dude makes opposing O linemen very nervous!!
I believe that 97 was his high school number......
The ultimate test for Gary will be actual NFL completion. Let's see how much playing time he gets and what the results are after a season or two.
You don't have to talk if you're good.
I agree, Gunner. I also wondered why Karan Higdon was even invited to the combine. He ran a 4.5 but he never did anything special during the season, IMO. It'll be interesting to see where he gets drafted.
UM honk Rich Eisen said he was surprised at Mike Weber's 40 time. He also kept saying a player was from "The" Ohio State University when he spoke of a Buckeye during the combine. I could be wrong but I believe it was a subtle mock. Show some respect, A hole.
This season did just enough to keep me interested. I don't think I'd have missed anything if I'd have given up on watching the series mid season.
Wayne and Amelia had a conflicted relationship throughout the season. I kept on wondering what attracted her to him. Why did she marry him? For the most part he was a brooding, joyless character who was consumed by the case. I found myself wanting some happiness or satisfaction to come into this man's life.
I too would have liked to see a wider role for Mr. Hoyt in the story. He wasn't just a victim of some bad circumstances in his life. He sent Harris James to Las Vegas to terminate Lucy Purcell. There also was no conclusion to the side story of crazy Danny O'Brien, Lucy's cousin.
The show jumped around from 1980 to 1990 to present times, which might have been more confusing to me if they hadn't done such a good job in making up the cast to reflect how they'd aged and changed hairstyles over the years.
Oh well, TD could have been better but it wasn't too bad a way to kill some hours in this cold winter season!
Taking them off the market had nothing to do with the $350.00 price, did it? My $59.00, canvas Chuck Taylors are easy to lace and look far better than these martian boots.
Gotta put my vote in for Raisin Bran and better yet, Raisin Bran Crunch!
Good post. Spring ball is also for the coaches.....it gives them the chance to teach fundamentals without having to bother about game planning.
Also, all of the class books are provided to the FB team players at no cost to the individual.
1. Kirtland CC
2. Firestone North, South and West
3. Canterbury CC
4. Brookside CC (Canton)
5. Westfield CC (South and North)
6. Caledonia Golf and Fish Club in SC (IMO, a "must play" in the Myrtle Beach area)
Pete Werner did improve and learn as the season wore on. He had decent games against scUM and Washington. He made a great play against scUM when he knocked the ball out of the scUM tight end hands in the end zone.
My expectation is that he will be a positive contributor to the 2019 D. If only he could grow a couple of inches and put on 20 pounds.
FR did indeed hit a home run during opening day of his first season of player/manager. I was lucky enough to get out of school on that day and go to the game. I'll always remember that homer. I can't recall if it was a walk off but it gave the Tribe fans something to cheer about as we had another one of those below average lineups. Our Manager might have been the most talented player on that squad. RIP, Frank Robinson!
Didn't they just sign the Bama coach as an Offensive Coordinator?