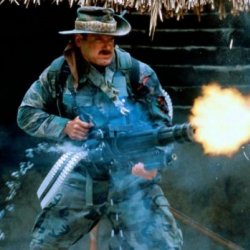 c11058
---
MEMBER SINCE November 17, 2013
Recent Activity
"America Needs Ditch Diggers, Too"
"A Man's Got To Know His Limitations" Clint, in "Magnum Force".
and, from "Pulp Fiction":
"I'm trying, Ringo; I'm trying real hard"
Except when it applies to Clemson's qb.....
I believe that Urban expected Barrett to graduate and try his hand with the NFL. He was surprised that Barrett decided to come back and gave him the number one QB position based on his loyalty to seniors like Barrett who won many games for the Buckeyes and ran Meyer's spread/RPO offense so well. That fact set in motion the QB positioning we witnessed over the past two years.
Barrett realized that his skill did not relate to a starting QB position in the NFL and he decided to come back to OSU for his senior year, where he had achieved so much success and adoration. It definitely affected the transfers and QB competition between Burrow and Haskins.
Embarrassed on national TV. His family is going to take the "JR" off of his jersey at halftime.
That is a personal foul, hands to the face covers all offensive players on the LOS.
TTUN knows, too......and they don't like it one bit!
For Westerns it's....
The Wild Bunch
The Good, The Bad and The Ugly
Once Upon a Time in the West
One of the most intense movie fights ever was the one between James Gandolfini and Patricia Arquette in the hotel room.
Rock-N-Rolla and Layer Cake, in the same British Gangster genre!
Magua IS one of the best all-time villains!
Viking's OCs have a great record of success, though. Stefanski replaced Pat Shumer in that job....
I remember Lemonnier well. I hated to see him working a Buckeyes game. This guy was a below average B1G head official during 2000's. He also acted like a hard ass prick, which made him even less likable.
I agree....I used to argue that "Hunky Dory" was Bowie's best. Thanks for posting this great TIMH!!
I was really surprised to hear that Urban and Jimmy Haslem were buds. Why would Urban lower himself to associate with a known grifter and overall poor manager of any organization he's involved with?
I would hope that the story that they have a good relationship is one that is perpetrated by the Browns and Is one that Haslem believes in but not Urban, so much.
He did not get the ball enough due to the other great wideouts we had in our offense. However, Victor was always on the field and was (to my knowledge) never injured seriously enough to keep him out of a game. He had excellent hands, good speed and was a very good route runner.
Wish he was targeted more but he and the Buckeye's offense did all right with the many weapons they had.
It's no big deal if this pair does come back. Their on the field play has no where reached the hype they receive. II should rephrase that....their on the field play in big games is average. They star against the lower tier B1G teams) TTUN could not win a big game with them....why should that be any different in 2020 if they come back?
To me, he was separated at birth from the comedian from SNL who played "Goat Boy". I can't think of his name but I've been thinking "Goat Boy" every time I see Coan on TV.
Even Fowler and Herbstreit said that "Ryan Day was outcoaching Venables and Clemson in the first half"
Lemonnier may not have been the one doing the actual review, but he was adamant that the play resulted in an incomplete pass. I posted this before but it's worth repeating. This guy was a shitty B1G head official in his day. Couldn't ESPN find another retired official to do analysis? They picked Lemonnier; he was wrong on his analysis of this play and he's made a ton of controversial calls in his career.
I like to see a new Buckeye commit also had an offer from TTUN. It's great to beat them on the field and in the recruiting game as well.
I'm convinced that Mayfield had a lot to say supporting Kitchens for the job. The Haslems and Dorsey went along with their star of 2018, who's turned out to be quite mediocre in 2019.
Remember Lemonnier from his days as a head official in the B1G? The guy was shit. Now ESPN chooses him to provide the rules interpretations for a major, playoff game? I know he had no say in the decision but he stated a couple of times that he was sure the pass was not controlled and therefore, incomplete. You've been wrong most of your life, you incompetent fuck and you were dead wrong on your analysis.
As in all Scorcese movies, Goodfellas has a great soundtrack!
"Merry Christmas From the Family" Robert Earl Keen
https://www.youtube.com/watch?v=P37xPiRz1sg