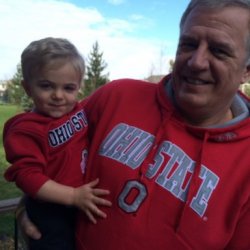 C-VilleBuckeye
---
Centerville, Ohio (via Deshler, Ohio)
MEMBER SINCE February 25, 2015
Born in Ohio and raised a Buckeye. I have traveled the world and lived in Seoul, S. Korea and Shanghai, China. There are Buckeyes everywhere, even up north where I lived for 9 years. Now live in Centerville, OH.
Favorites
SPORTS MOMENT: Attending the last three games of the 2014 season.
COLLEGE FOOTBALL PLAYER: Orlando Pace
COLLEGE BASKETBALL PLAYER: Aaron Craft
NFL TEAM: Cleveland Browns
NBA TEAM: Cleveland Caviliers
MLB TEAM: Cleveland Indians
Recent Activity
I have got to agree with you on UK. Living in SW Ohio there are too many Kentucky "briers" who just make you sick fawning all over the big blue. But have to admit, they have the best teams money can buy. I also can't stand many of the east coast teams due to the NY media bias. Teams like Syracuse, UConn, Duke.
I live in the Dayton area and my wife and I will be there with scarlet and grey on. Many in the office today wearing scarlet and grey and will be well represented at the game. Go Tulsa! I would bet you will hear some O-H-I-O tonight.
Best - tie 2015 Sugar Bowl and National Championship Game
Worst - 1995 @scUM
When you have an Elk Comb Over for your picture.
I keep accusing my barber of cutting his hair, but only after he has finished my cut.
Because that is the SEC doing it. Can't shit on sacred ground.
I think Dino is just playing head games with Hairball and the SEC. His real intention is to drive the NCAA to come up with a rule to ban this type of activity. If others all start saying they will entertain the idea or that they to will head south for practice, the NCAA will have to address it.
My daughter sold her 4 corner end zone seats for $250 each, a quick $600 profit. They are selling quickly and for big money.
Husky, I will have a double of what you are drinking.
That is all I seem to remember as well. Those were pretty miserable years.
I am with you on that. Hackenberg may not be the greatest runner, but if they spread the field and we vacate the middle, he will step up and take the easy 15-20 yards. Just like last week. With that said, why did we not make a change in the defense and put a shadow on the QB after the first half last week the way he was killing us with the run?
I believe you are 100% correct. I think we will see more of "saving" Zeke in the weeks to come. I also believe we are getting some of the strange formations and play calling in an attempt to figure out how to use Brax. As long as we are comfortable over our competition, I think we continue to see it.
Everyone should get a few stickers for participation, winning and losing is not relevant.
I am with you on that Linga. Once the victory is in hand, I will light one up.
Great work! Looks like Sammy has some competition.
This is great as Nuernberger needs to step up his game. We were fortunate we didn't need a last second FG to win a game last year, especially beyond 30 yards.
Having family and friends over for a BBQ/cookout. Having pulled pork and a variety if sausages, potatoe salad, baked beans and of course beer and wine and whatever others bring for apps and desserts. Aso have a new UHD TV coming to have outside on the patio. Hope the weather is good.
I thought it was Richard Skull.
I was at an OSU bar in Chicago after having moved my daughter into her apartment at DePaul. All TV's had the Buckeye game on except one. Toward the end of the OSU game, everyone was watching the one TV with the App State game on. The place went nuts. It was a glorious moment which ranks up there with seeing the B1G Championship, Sugar Bowl and CFB Championship in person last year.
You misunderstood, Desmond is the ball of yarn.