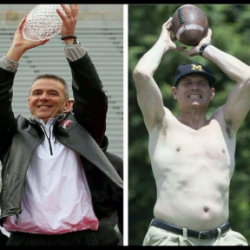 C-Rod
---
from Columbus, Ohio
MEMBER SINCE November 13, 2015
Die hard but not so hard to the point were I wear a cape and body paint but IM PC BRO ILL THROW DOWN!'
Favorites
SPORTS MOMENT: Vince Young proving he was the real Heisman winner all over USC down two scores late.
COLLEGE FOOTBALL PLAYER: Troy Smith
COLLEGE BASKETBALL PLAYER: Mike Conley
NFL TEAM: Bengals, Cardinals a distant 2
NHL TEAM: Columbus Blue Jackets CANNON!
NBA TEAM: Cleveland Cavaliers
MLB TEAM: The Reds
SOCCER TEAM: Columbus Crew FC
Recent Activity
I just like to joke around a little bit my friend. I meant no offense. HAHA
I am also a huge Justin Fields stan
I logged in just so I could leave that comment...
sorry in advance
David Arnette seems like a steal in the seventh round lol
from the section of the fan base that overpronounces the R in Washington.

This is the greatest line I have ever been around.... Thank you Ramzy

I love these Kyle. They are my favorite thing to read post game. You do a terrific job my friend. Thank you!
No. He was supposed to be motioned in by Cardale but Cardale didnt signal him to start in motion so he thought he was going to be late to the block but he was not. The timing ended up being perfect!
Ramzy, we do not deserve you. Thank you for that.
my speakers are up to the max volume level and I still can barely hear. Technical difficulties? Or should I consult a physician ?
Did anyone notice how Urban Meyer showed zero emotion whatsoever? He is in "kill everything" mode
John Cooper or Chase Young!!?? Where is Branden Bowen??
Show some respect before you gloss over the one and only Joe Bauserman
Martell has also one a great job
I am very eager to hear who is not on scholarship anymore.
I will never understand how he was not an All American. Derek Henry?? Seriously?? Dude got 52 carries in one game. He should have a lot of yards.
be honest, you couldn't wait to write this article..
And they allowed 55 points to a program known notoriously for centering the field goal on 3rd down.
This was the line of the decade. Thank you Ramz
Sampson is the sweetest RB name ever. He will be a beast
This is the best thread I've ever been around
I am hearing that Jarren is viewed as the better QB and that he made the elite 11 unlike Emory. I still hope Emory stays on board though. He was so excited to get the offer and he was about to commit to UT before OSU came calling. I think he sticks
I do not care who we played the last three weeks, I am still impressed by the improvement in JT's accuracy and timing. The O line got some valuable experience together and the receivers are blocking well. This Maryland game is coming at the perfect time. The improvement is obvious and I am still excited about the season. Do not be upset if we do not cover the spread, that is a high number... GO BUCKS!
Where is Dwayne Haskins pass stats? Trevon Grimes had a catch. BV had a catch.
There are three things in this world that you can always count on...
1.) Death
2.) Taxes
3.) STRAIGHT UP FIRE FROM RAMZY!!!
The next time I see/hear a person say "this is why people hate Ohio State fans" I am going to freak out. Go cheer for another team! People have a right to be pissed about a lackluster performance. Its not like we lost a hard fought game. When we lose its always in pathetic fashion. These are the people paying over $100.00 for as golf shirt just because it has a block O on it so your dam right there opinion matters. We sent a guy named Ed Warriner (who helped us to a title) packing because of our offense last year and it looks exactly the same. You are not a fake fan because you show concern for you team. If Ohio State fans make you so mad than go cheer for Tennessee
I doubt anyone agrees but I am hesitant about offering Jackson again. That's two years of development he is missing out on not to mention he will always be the guy that chose Auburn over OSU... I would rather play Haskell Garret and Chase Young and those guys that have ALWAYS wanted to be Buckeyes.... nonetheless I will still root for him.