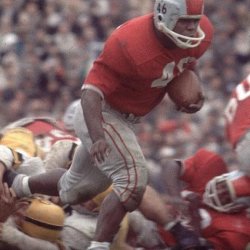 C-Deck
---
from Lived in Ohio entire life.
MEMBER SINCE June 06, 2015
OSU '74 graduate and was a band member for a couple seasons.

Favorite All-time OSU Athlete: Jesse Owens
Favorites
SPORTS MOMENT: Witnessing my first game on 22 October 1960, OSU 34 Wisconsin 7; fullback Bob Ferguson scored twice! Watching the band's ramp entrance to the field that day was a memorable highlight. I have since attended a few hundred more games. Ohio State football has always been my absolute, #1 favorite sports passion.

COLLEGE FOOTBALL PLAYER: Archie Griffin (offense) & Chris Spielman (defense)
COLLEGE BASKETBALL PLAYER: Jerry Lucas
Recent Activity
They didn't play Ohio State (9-0).
1968 team improved all season long. I agree with Chic, 1969 was most dominant until ... The fans were as cocksure as many are now. (It's not over yet). 1973 team best defensive team I've seen; 1974 team best offensive team I saw. '75 Buckeyes lost to UCLA in the Rose Bowl - a team OSU dominated during the regular season. It was a different era for sure. The season finale in Ann Arbor - which I witnessed - was a great comeback in the last 7+ minutes of the game. The Bucks were pretty pedestrian in that game until the very end. Dominant is a strong term. The 2014 was dominant the last three games that counted the most.
Toledo came to Findlay last Sunday. The exhibition was a charity game for the Dayton storm recovery.
Same in Findlay, skunk weasels win a "big" game, they display their yellow & blue regalia for all to see. Lose a game, they can not be found.
The 50th anniversary of the 1969 game in Ann Arbor is coming upon us and I'm sure it will be mentioned as we approach our scheduled meeting with them. I know it's "ancient" history but that day remains a scar in my memory.
"Gritty" ~ Coach Day
He used that word several times in post game interviews.
Got to meet and have a conversation with him a couple years ago. Impressive, bright young man. An All-American as a person.
Not contrasted against a green field.
Why doesn't PSU choose to wear white for their whiteouts?
... and a lot of Ohio families will be attending high school football games Friday evening.
Paul Keels and Jim Lachey (I'll listen to them on the radio if Gus & Joel aren't announcing).
During his Game Day (OSU v. Nebraska) interview, Coach Day indicated his preference for noon games.
Does the B1G Ten schedule night games in November?
Yes, and OSU's median is 1.00, the lowest of the group.
Last season, Colley produced a "Proxy" BCS poll based on most of the input you are using.
College Football Ranking Composite has Ohio State #1 again this week followed by Alabama, Clemson & LSU. The Buckeyes lowest ranking (of 71 at this moment) so far this week is #4 by USA Today.
I think he meant publish the ballots w/o names attached.
My Dad's birthday is today and he turned 93. Took him and Mom (88) to First Watch for breakfast this morning. They will turn in early for bed this evening without watching the game. Dad said he'll wake up tomorrow morning and check to see how the Buckeyes fared. Then find a channel to watch a replay. My Dad is why I'm a Buckeye fan and alum.
So, will farting cows be replaced by cud-chewing, gas-passing vegans?
The longest play "review" ever; long before our current era of "the previous play is now under further review".
Brent Yarina is apparently unaware that the OSU head coach is not eligible for B1G COY award consideration.
I was there, too. Champ said he scored. I believe him.
Sounds like Day has developed his coaching staff into a winning unit!
"He's got something that makes you wanna run through a brick wall,"
This sentiment rings true for me. I'm a retired educator but I have a gig at a DII college with the basketball team as an academic coach monitoring progress of the student athletes and holding study tables. I have described my head coach with this same phrase. Hands down, my coach is the best boss I have ever had in my life.