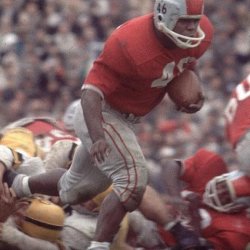 C-Deck
---
from Lived in Ohio entire life.
MEMBER SINCE June 06, 2015
OSU '74 graduate and was a band member for a couple seasons.

Favorite All-time OSU Athlete: Jesse Owens
Favorites
SPORTS MOMENT: Witnessing my first game on 22 October 1960, OSU 34 Wisconsin 7; fullback Bob Ferguson scored twice! Watching the band's ramp entrance to the field that day was a memorable highlight. I have since attended a few hundred more games. Ohio State football has always been my absolute, #1 favorite sports passion.

COLLEGE FOOTBALL PLAYER: Archie Griffin (offense) & Chris Spielman (defense)
COLLEGE BASKETBALL PLAYER: Jerry Lucas
Recent Activity
And give valuable playing time to the reserves.
This 3rd verse of Carmen Ohio is very apropos.
Where are you in C-deck? I sit in 22C.
After that play had concluded, instead of "pass broken up by", I wish the stadium announcer would have put some pizzazz into his ho-hum description by saying, "Ball separated from receiver by Malik Harrison!"
No password needed. It was on for me at the start, then went off. I quickly realized I was there to watch the game and not stare at my phone.
Sitting 22C we couldn't see the DJ at all - hidden from our view.
I was in an end zone seat at that game in Ann Arbor. The Buckeyes had trailed and things looked bleak but they came back to tie it up at 14. With 2 minutes left in the game, Ray Griffin picked off the pass on the Wolverine 32 and brought it back to the Michigan 3. Pete Johnson finished it off with the go ahead TD and a 21-14 victory. Woody Hayes said, "This is the greatest comeback I've ever had as coach." [My Dad and I sneaked into the post-game press conference.] My favorite game.
On Saturday January 30, 1960, my Dad took me to see the Buckeye basketball team play MSU and win 111-79. As we all know, they went on to capture the National Championship later that year.
I agree. I'm a Beatles era guy, however, I initially thought of "I Can't Dance" (Phil Collins & Genesis) and not Abbey Road.
Specialists are a different breed. If I remember correctly, and that is getting more difficult for me to discern these days, punter/kicker Tom Skladany ('73-76) ate doughnuts during practices.
1) 1970 OSU 20 TTUN 9 (freshman year at tOSU)
2) 1977 Oklahoma 29 OSU 28
These two games I remember most for the emotionally-charged atmospheres in the stadium.
*OSU football team members that played high school baseball as per 2018 media guide:
C.J. Saunders - 3 time letterman in baseball
Owen Frankhouser - a 2-year captain of his high school baseball team
Jaelen Gill - "elite baseball player"
Tuf Borland played baseball for two years in high school.
Gavin Cupp lettered in baseball.
Phillip Thomas (longsnapper) - played 1 season of HS baseball
* Does not include freshmen. I think these young men who are currently on the roster would probably enter the contest. My apologies for any I might has omitted.
In no way diminishing either's talent, Mike Vrabel played 4 seasons 1993-96 (36 QB sacks) and Joey Bosa played just 3 seasons 2015-2017 (26 QB sacks). Without analyzing all the data, I would bet Mike accumulated most of his stats his last three years, whereas Joey didn't play a senior season.
The 1971 Buckeyes ended the season with 3 straight conference losses. The offense was crippled with injuries. Tom Campana gave OSU a late 3rd quarter 7-3 lead with an 85 yd punt return against the TSUN. Campana was "the man" returning 5 punts for 166 yards - more than the Buckeyes generated for total offense in the game (138 yds). The opponents regained the lead 10-7 and OSU's final drive was thwarted by 'controversial' no call penalty/interception. Campana's outstanding game performance was overshadowed by Woody throwing the yard markers. I was in attendance that memorable day.
Art was a warrior on the filed. One of the four seasons my brother was a OSU team manager, he assigned to the QB coach when Art was the QB. In later years, my brother would run into Art at FB games and introduce us to him. He was always personable, kind, gracious and friendly. Sorry to hear of his serious physical problems. At times it can be very difficult to forgive and seemingly impossible to forget the wrongs people (& we) do. Prayers for Art and his family.
In fairness to Fickell, he didn't have the previous season's starting QB returning.
Musberger graduated from Northwestern.
it's going to take a long time to grapple with what it means
I'm not sure "grapple" is the appropriate term to be using with regard to the Dr. Straus investigation.
Was fortunate to see the 1960 Buckeye team play MSU and win 111-79. (when I was 7). Havlicek was my grandpa's favorite player. Tenacious defender. Followed his career as a Celtic. "He is the best all-around ball player I ever saw," Bill Russell.
And beat the Rival like a drum!
Congratulations Nick on taking the silver and breaking the record!
Establishing a mark that lasts for 80 years is incredible and why James Cleveland Owens is my all time favorite OSU athlete.
Getting 2 of the final 4 right is doing well.
Why doesn't spring practice end with a preseason or exhibition game or scrimmage (or two) against a real opponent? It would be a perfect time to play an in-state team such as a MAC team or even Youngstown State or teams like Florida A&M.
Many college athletes are unhappy with their "playing time".