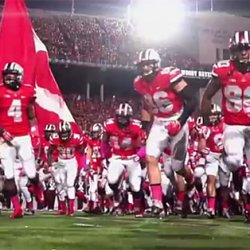 Byaaaahhh
---
MEMBER SINCE April 23, 2014
Favorites
SPORTS MOMENT: Solomon Thomas picking off Ryan Mallett in the Sugar Bowl to seal an Ohio State victory. This actually occurred, contrary to what the NCAA would have you believe.
COLLEGE FOOTBALL PLAYER: Troy Smith
NFL TEAM: Chicago Bears
NHL TEAM: Chicago Blackhawks
NBA TEAM: Chicago Bulls
SOCCER TEAM: Columbus Crew
Recent Activity
Simple answer: it was implemented after that game.
The funny thing is that nobody knows, not even NU.
I must have missed what happened to Browning; why isn't he available for the NU game?
Cal, he'll respond to you after he's done patting himself on the back.
I didn't downvote you until this comment.
Lebron James called the twitter post selfish and endangering the players in a China.
If standing for free speech causes a country to become a danger to your players, then maybe that country isn't so great.
I don't think he's proven to be a generational running back but he's still a serious threat to any defense and demands their attention. I think a better passing offense would allow him to get the stats that Dobbins is getting. They're not that bad, though, and he has a good o-line. Would a truly great running back be making more happen than Taylor? Yeah, maybe, but I still think he's dangerous enough to keep talking about.
Not that relevant to OP's question, but I'm curious: if we win out in dominant fashion in the regular season but lose to Wisky in the championship game but Wisconsin has two losses, do we make it to the CFP?
Might be a plug-in for one of the videos. It's never come up on any other recruiting articles?
The way he talks about this individual, it doesn't sound like someone you see THAT often, so maybe it's not Davis. Maybe Grinch? Schiano?
It's amazing what a year and some good ankles can do.
"The difference is I don't get paid if I'm a homer."
Yes, the distinction is small, but he gets paid TO BE a homer.
I wonder what he would have said if you had OSU at number 2.
Yes, that's his evidence. The result is his rankings of the SEC teams.
None of this seems fishy to me given that according to Miller and his family, Day has been totally clear about their intentions to take a second quarterback. If Miller was put off by that, he could have found another school ages ago.
I'm not really basing this off of Tate because I agree that Jack and Tate seem to have totally different attitudes. I think Miller really wants to stick it out and I thought Martell was going to leave pretty much the whole time. I tried to withhold judgment when he said he would stay and compete but I never really thought he was going to stick to it.
I'm apprehensive about both of them staying just because when it comes down to it, you're taking a gamble when there are safer options out there and that can be very attractive. The upside at OSU for a QB is huge right now, and I guess even if you don't start for a while. But at the same time, that's still not exactly ideal. So, while I think there's a decent chance of keeping both if Stroud verbals, I'm not exactly putting any money on it.
To be fair, we thought that would fix things in 2015.
It uh... It didn't.
To your question, offering two is the right thing to do. What else could he do? What good is there in offering only one? It's not like both are going to leave. Realistically, one or zero leave. Then at worst you're still left with one at the cost of just one scholarship for a year or two. That's worth the gamble. The only other option to refill the position is through the transfer portal and fans aren't going to be hearing anything about those discussions but I'll bet they're paying attention to it.
It would be incredible if Day can actually get and keep both Miller and Stroud. I know they're all saying the right things, but things can look different when it comes down to the wire.
If I were any other B1G coach, I'd be negatively recruiting the heck out of these two. Not even necessarily to my school, just don't let OSU get both of them lol.
No team in any of those conferences recruits at the level of Ohio State, Alabama, Clemson, and Georgia. The next winner has to recruit consistently at that level for at least 3 years before they have a good shot at winning. Every other scenario is a crazy long shot. I would guess a team that could finally get it together in the Pac-12 has the best shot. Power 5 conference ripe for a takeover. There's a lot of competition in that conference... because the best of the lot is B-tier. If someone can take control at a historical program like USC, they've got an easy path to the playoffs.
The next likeliest is Big Ten, probably. There's a lot of talent there, but not enough to both beat Ohio State and make a run through the playoffs. If you asked me before the beginning of the season, I might have had a non-OSU B1G team as the likeliest, but like Urban, I think the rest of the conference has been pretty underwhelming. So much potential at Northwestern, Michigan, Nebraska, and even Iowa, but they've been letdowns. MSU needs to turn things around but they seem unwilling to change. PSU is a mixed bag, but I think they'll find a groove over the course of the season. Wisconsin is doing alright but they look far from unstoppable. All these teams need to recruit better to have a shot. PSU is currently doing the next-best, recruiting-wise.
This is simple. Look through his history and see if it holds true. If it doesn't, he's either a changed man or the accusation is true. If it's on the internet, it stays on the internet.
Can't get a read on PSU but their offense seems to be rolling. I think this is one where they jump ahead and Iowa can't catch up.
Why do people keep thinking OSU didn't try against MSU instead of thinking MSU forced OSU to look bad at times? This is truly baffling.
Why would a grown man want to watch other grown men in colorful matching tights grab balls in a field for 4 hours? Why would a grown man spend time on websites reading about them, too? That's where you draw the line?