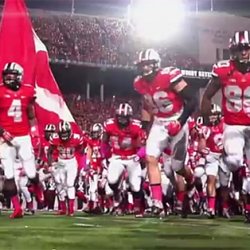 Byaaaahhh
---
Member since 23 April 2014 | Blog
Favorites
SPORTS MOMENT: Solomon Thomas picking off Ryan Mallett in the Sugar Bowl to seal an Ohio State victory. This actually occurred, contrary to what the NCAA would have you believe.
COLLEGE FOOTBALL PLAYER: Troy Smith
NFL TEAM: Chicago Bears
NHL TEAM: Chicago Blackhawks
NBA TEAM: Chicago Bulls
SOCCER TEAM: Columbus Crew
Recent Activity
Pretty decently utilized freshman class, imo. Seems like a good chunk saw game action and finally lends a little credibility to Urban always talking about not redshirting.
Haha if someone downvotes me for that, I don't want their upvote.
No, no, no, their strength of schedule only appears weak because the strong SEC beats each other up. B1G only has hard SOS because the same 3-4 teams are at the top beating up on everyone. Totally unlike the SEC which is strong from top to bottom.
Seems like my intent wasn't received. That's fine, I'm not going to push it down your throat. If you read that and think I just wanted to bring down what Haskins did, maybe I wrote it poorly. For the record, I don't think that. I also wholly disagree that my comment is in the same vein of what you just said.
Eh, it's two hot dogs and a burger, right? I think the guy is going to be okay.
You may view it as diminishing, but all I did was write down what happened. As I said above, he did a great job, showed immense talent, and great poise. Don't remember when those became negative things.
I believe ya. Been wanting to visit Tennessee sometime. Hear there's some great food worth traveling for. Knoxville isn't really on the list, though.
I think it's interesting that a lot of people who are in the JT is good camp and the JT is bad camp think that the other group either blames it all on him or put none of the blame on him. Many of the interactions I see on here end up like that. Bad passes happened. Bad catches happened. Not getting open happened. Not finding receivers happened. Bad plays were called. Predictable plays were blown up. It's like people selective remember half of these. People will see a play where someone was open but there was no chance to make the throw make up their mind that JT sucks. Other times people will see a dropped pass and just remember that the whole WR corp have stone hands. Not calling you out, specifically, I came back here after writing the rest of this and realized I just put down a whole rant on things.
Haskins made some really solid throws and some really risky throws. I am super excited for Haskins next season, don't get me wrong. Nonetheless, here we go: look at the drive where he came in and scored a touchdown. 2 short runs. 3rd down converted via holding penalty. 2 more short runs. 3rd down converted via the defender inexplicably choosing to use a towel to swat the ball rather than his outstretched fingers (and he STILL touched it). VERY tight window that I don't know would have been a completion if not for a silly move by the UM player. Still took a good risk with very lucky outcome. Short run. Then a long run made possible by one of the most egregious holding penalties I've ever seen us get away with. I hate to say it but it's true. Dobbins TD right after. This drive was uh... well, it was something.
Next drive: 3 runs, Weber converts. 2 short runs. Then Haskins puts in a great throw to a crossing KJ Hill who runs for another 25 yds, putting the ball at the Michigan 27. This was great, and I will say, I've seen JT miss this throw (most notably during the B1G CG). So I was pleased with this. 2 more runs (the latter where I didn't see any WR separation, though I'm not sure if it was a designed QB run). Incomplete pass after (no WR got open, but he did choose the best option). FG.
Next drive: Starting at the OSU 39. Short run, short option play (which looked really weird). Converts on a great crossing route to KJ Hill where the defender gave him a huge cushion with a bonus 20 yards or so due to a strange attempt at a tackle. Short run, then a strike underneath that managed to go unbatted, setting up 3rd and short. Handoff to Weber (that I don't think JT would have made, but you know, who knows). Failed to convert.
Next drive: Starting at OSU 34. HUGE JK Dobbins run to UM 31. 2 runs, one for like 6, the next straight to the end zone by Weber. Game. Blouses.
So look, I think Haskins did a superb job filling in. Inevitably, someone's going to want to say I'm a hater or whatever. Couldn't be further from the truth. I saw some great talent out there and some cold-blooded poise (one of my favorite JT traits). Expecting a great season this fall along with some growing pains, which is fair. But looking closely at the way the last 1.3 quarters played out, there were a lot of reasons we managed to get a win. Besides Haskins' amazing effort, there were key blocks, key penalties, boneheaded UM plays, great pass rush, and a key turnover that sealed this game. It simply cannot be boiled down to Haskins came in and did what JT couldn't do. It irks me when people use this to justify their armchair coaching opinion that JT should have been benched way earlier in the season, or we wouldn't have lost to Iowa if Haskins was in, or that JT singlehandedly cost us championship(s) (literally, I've seen this said). You can see when you watch it over again that there were plenty of chances for this game to end differently. I trust that Urban knows enough behind the scenes to put in the QB that gave the team the best chance of winning. By extension, I admit that I also know very little about football and am not qualified to judge Smith's work. But I do believe (with the admission that I could be wrong) that these players could have developed into more by now. Yeah, there are shortcomings beyond their control here. More than some epic catch-and-runs, I want to see the next Santonio Holmes, Devin Smith, Gonzo, or Michael Jenkins. So far? I couldn't pick one out of the group to be that guy. We were told it was going to be Campbell, but 40 receptions, 584 yards, and 3 touchdowns is not there by a long shot.
I went WAY off-topic here, so just consider this a rant. I've got a lot on my chest lol.
This feels weird to say for a group that has produced NFL players, but I have yet to really see much from Smith to point to and say that he's a great coach. The kind where you hope OSU pays the big bucks so he doesn't go elsewhere. I've seen a lot of talent choose to come here, to his credit, but I haven't seen any stars emerge, and I don't think the blame lies solely on JT's arm for that.
Yeah, I'm pretty disappointed we never got to see what Grimes would have done here, but family first, so obviously don't fault him for going back.
KJ makes the most sense to me with what we've seen so far. Most reliable hands, good with ball security. These are the two reasons why Campbell and McCall were not given the role, I believe.
I think Shelley Meyer said something about that. But... maybe we haven't won a subsequent one because of bad juju from not honoring his commitment. Just sayin...
I get the reasoning for Taylor, but he's not the best returning RB in the B1G.
I predict a rough patch in Mr. Pruitt's future... about 3 years from now. (That is, besides the already raw deal of living in Vols country)
Yeah, that 2012 championship game makes me said because that was about the easiest championship in the last decade and there's no doubt in my mind we would have won if we got in. But it's important to take stock of what a good place OSU athletics is in. It's pretty incredible.
Wow that interception by Lattimore is almost scary. WR was completely helpless.
Guess Tate won't be running the triple option after all.
At least they're trying lol. The whole state up north seems to have just given up.
WOW. That is one colossal screw-up.
If there's any type of tear-away on the tickets, I would say no.
Guess it's time to hop on the Saints train.
OTHER top notch programs
HAHAHAHAHAHA