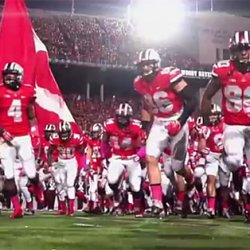 Byaaaahhh
---
MEMBER SINCE April 23, 2014
Favorites
SPORTS MOMENT: Solomon Thomas picking off Ryan Mallett in the Sugar Bowl to seal an Ohio State victory. This actually occurred, contrary to what the NCAA would have you believe.
COLLEGE FOOTBALL PLAYER: Troy Smith
NFL TEAM: Chicago Bears
NHL TEAM: Chicago Blackhawks
NBA TEAM: Chicago Bulls
SOCCER TEAM: Columbus Crew
Recent Activity
I love that all the highlights were against Michigan lol.
Unless the number of cases goes down significantly or we somehow come up with a way to treat and prevent it in the next couple months, I'm not feeling optimistic. It's gotta happen quickly but it doesn't look like it's decelerating at all; much the opposite, we're still accelerating. Keep in mind that this stuff has to be taken care of by summer. Players gotta practice. I'm still hoping for a season but I'm not exactly betting on it.
But haven't they also played far fewer games, so the comparison is kinda different?
I'm not directly comparing them to Michigan or any of the teams on that list. All I'm saying is they're a successful team and it shows in their record. They've won so much, they have the best win percentage and therefore, it's not surprising that they are on the list for highest home win percentage.
Someone should compile a list of what happened to the top recruits to go to Michigan over the last decade. How many succeeded and were drafted early, how many transferred, how many were drafted lower than expected or were UFAs, etc. And then directly compare that to OSU lol.
Get the ventilator ready.
Dominant is right. After OSU beat Michigan this year, Boise St. took the top spot in win % across all of CFB.
Bureaucratic mistakes happen all the time. Wouldn't be too shocking if half of it were to, say, never make it.
Plus, there's only been like 3 non-Anything Else forum topics started in the last 2 days or so. We'll be fine lol.
Nothing's stopping you from getting that much weed with all that money you make from your normal job.
You do qualify for the check, but it won't be automatic. You'll have to look into it further, but you're not screwed.
They're restricting visitors from the USA and Europe to prevent a third wave of infections, I think. Doesn't mean you can't get in, but it might be a little hard.
I'm using Chrome on Android and I don't see any such dropdown arrow. I have to switch to desktop view and click on the tweet button that way to embed one.
Saying something is going to be "by committee" only means that the relative difference in ability is small. You can have 8 Chase Youngs and LJSr. would probably still run the DEs "by committee" because they all deserve to see the field and would be effective.
I think Cooper, finally healthy and finally starting, is going to make the most of the opportunity. As long as we still have a football season to play.
Tbh I'm not concerned about whether or not he'll be able to put on weight here lol.
Glad to have an experienced running back with a lot of great attributes in the backfield. Still hoping for Crowley and Chambers to impress, but it's good to have a known quantity back there now, at the very least, as a baseline. Love seeing the tough running and good balance. I'm concerned about the lack of speed and rapid acceleration because those seemed like things that really helped Dobbins thrive here. The offense will have to adjust now that those tools aren't at their disposal.
I don't see how you feel optimistic about Franklin for the next decade. He got tons of momentum off of a single blocked FG but has otherwise been running a very much not-elite program.
OSU made every possible sacrifice to ensure they never lose to Michigan, so there's really no point in paying attention anymore. It's a foregone conclusion every year.
They make it sound like OSU decided to focus on beating Michigan at the expense of other things. From where I'm sitting, everything else seems to be chugging along pretty smoothly.
I don't think he has the numbers behind him yet to launch him into the top ranks. We all know how capable he is but I can understand the lack of confidence and hype from national media. We are all aware of his ability; I think at the end of the season, he'll be much higher than 10.
Based on his comments, you can expect the same plays as 2019 but just take the bad ones out. You know, the ones with which they beat themselves.
There are no birthdays in which making the stop is in question. The only question is whether or not the ballcarrier survives the hit lol.
Ohio Stadium is not always a loud place to play but moments like this overtime defense, when the crowd wakes up and every single Buckeye in the Shoe is screaming, it's beautiful lol.
Well, shoot. Trying to get closer to home, maybe?
Buckeye South just keeps on truckin.