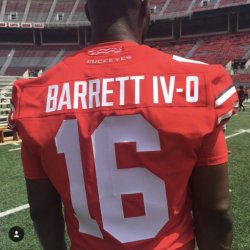 burriix
---
Nashville, TN
MEMBER SINCE November 07, 2015
Favorites
NFL TEAM: Browns
NHL TEAM: Predators
NBA TEAM: Cavs
MLB TEAM: Reds
SOCCER TEAM: USA
Recent Activity
Is there any film on this guy?
Did anyone else's grandmother ask if you wanted your sandwich "cut half in two?" Always seemed to make sense as a kid, not so much anymore.
The Olympics this summer could be in serious jeopardy. Bringing hundreds of thousands of spectators from around the world to Japan for two weeks doesn't really seem like a great idea right now.
If MSU is looking for someone to rebuild the football program brick by brick, it's a perfect opportunity for Butch Jones to return to his home state. Seriously don't know why he hasn't been mentioned. MSU is getting desperate and he's just desperate enough to take it.
I like your style Hovenaut. Going to Pearl Jam on April 2 in Nashville. Saw them two years ago at Wrigley too. Your fam is going to have a great time!
Craft has mor important things to do these days...like becoming a doctor.
Camar Brown has the wow factor on tape. Easy to see why he's the #1 RB in the class. If he's not a realistic shot, I'd love to have Pryor and Kiner in this class. Hopefully, we can lock of two of the guys from the list above by spring.
Not pretending to be an expert by any means, but I loved Pryor and Kiner's film as well. Hope we don't have to wait long after the spring game to get 'em on board so we can debate the next position group in this class.
Given what Ohio State went through last year, I think all our fans should realize that judgments should be reserved until all the facts come out. I know it's tempting to jump to conclusions based on headlines and limited information from a few articles but that's exactly what the media wants the public to do.
I'll be patient enough to sit here until the investigation has run its course and findings has run its course.
And dead. Sorry to kill the mood.
Hope LSU scores another TD and goes for two
So husbands and boyfriends can avoid watching The Bachelor with their sweeties.
LSU hasn't established any type of run. That was one of the keys to our success against the Clemson D. The longer this game goes without the LSU threat of run the more I like Clemson's defense to win the game.
There is a long way to go between now and August. Get back to me after knucklehead season.
Now we know the Fiesta Bowl will be the close one.
This is sickening news to hear. Prayers and condolences to all the families affected.
Did you hear about the guy at the sawmill who got the left side of his body cut off?...He's all right now.
It's a money grab more than anything while giving the appearance of environmental responsibility.
A lot of people don't like PJ Fleck but I'm a fan. Followed him since his early days at Western Michigan and was happy to see him take a job in the B1G. I always knew he'd do well at Minnesota. I'm sure he'll eventually take a job somewhere he can win a national championship. Until then, I'll root for the Gophers until they play the Buckeyes.
Let this be a lesson to all the young Bucks our there...don't ever do anything nice for your girlfriend.
Just pay the players already. Let them hire agents out of high school. I am so sick of the NCAA.
The horses had a little too much pregame