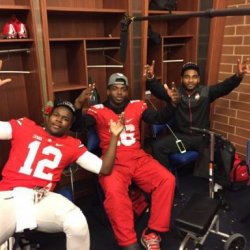 burnest1420
---
Tampa fl (via East Liberty OH)
Member since 05 January 2013 | Blog
Favorites
SPORTS MOMENT: 2002 BCS national championship game watched it on a 4'' screen in a tool closet at the Honda plant after the victory we ran out screaming and almost everyone was gone.
COLLEGE FOOTBALL PLAYER: Miller
COLLEGE BASKETBALL PLAYER: Craft
Recent Activity
I can only imagine what crazy stuff I would've done with that kind of money at that age not to mention what I did with my kind of money at that age.
I believe it. Why pay it to unlv or some other no name out of state team. If some Ohio kids gets new pads and helmets or anything that helps their program I'm all for it unless we're gonna play all power 5.
If we gotta play cupcakes we might as well keep the moneys in state.
Right on man. I fish up here in Tampa bay all the time.
Cigarettes are bad for you?
I've been at the point of the season where a win over these fools and giving a couple more teams a hard path to the tourney is all we got left and maybe another early exit in the NIT.
Wife is from the big island. I'm also a former Ohio farm-boy
He still wrestles for osu just not every contest. Are you kamaaina?
Thanks fitz. If you don't sweat from physical assertion it's not a sport therefore in my opinion should not be on BTN.
I couldn't watch the video what is the league of legends? Video games?
Good win and keep them coming. Wish I could have stayed up and watched it but 4:30 come way to early for that to happen.
68 are You on that stuff?
Can anyone give old pop pop(me) a lesson on how to use italics. I use my iPad and it shows it's in italic but it never saves.
I thought there was more NFL players in that class
In agree that it should be a post playoff award but I'm sure the ratings for the broadcast would go down. I'm not even sure when the last time the best player won it. Mccafery should have won in 15 EZE in 14 I think Winston probably deserved it from a football only point of view.
Good job 68 you proved it your smarter than me. Really a reference to a language from the 5th centuries in England on a comment section for a Ohio state sports website really (yes I had to google it).
Yes I was around in 15-16 and it's hard to believe that urban opening up the competition didn't mess with JT's and cardales head. Braxton was not part of it beings he had no intention of playing QB in 15-16.
I'm sure we all seen this coming.
So if not us then who? Wisconsin because they loose the most BIG championships. MSU cause they seem to control the weather and for some reason we barely show up against them.
That's a great idea. Let's fuck with JT' head by opening up QB competition being it worked so well the last time.
The last two TE's got drafted without crazy impressive reception yards.