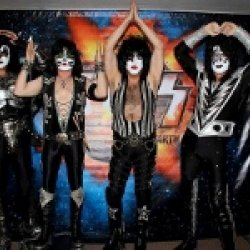 burkmon
Dayton, OH and Tampa Bay (via Dayton)
Member since 31 August 2010 | Blog
Mother of 3 teenage boys who loves Buckeye football, basketball (and the Bucs).
Favorites
SPORTS MOMENT: The 2006 "Game" is my fav! Then the 2002 NC game only to be follwed up by the Buccaneers winning the SuperBowl a month later! Great time to be a Buc(k)s fan!

Wow! Just realized I am in need of an updated "best sports moment" ; )
COLLEGE FOOTBALL PLAYER: Doss
COLLEGE BASKETBALL PLAYER: Craft
NFL TEAM: Tampa Bay Bucs
Recent Activity
All day long Saturday, President Coleman was attending events related to the launch of the Victors for Michigan fundraising campaign. No alcohol was served at those events.
So she had her own travelers?
Upvote for participation!
I had to quit reading for now, due to the fact that my 14 y.o. son keeps asking me what I am laughing at!
I shall return, albeit at an ungodly hour, as this is when the young ones tend to "sleep".
Sent my husband (aka Gold Pants Man) without me.... glad he had a good time at the Gold Pants Social. lol
He loved meeting everyone that helps fill our days with Buckeye wisdom. Thanks 11W!
For some reason this made me laugh. I know I shouldn't, but I imagine it playing out like a Monty Python skit.
Again, I apologize.
Sorry that came out so large. Still learning how to resize and embed photos...
Have mercy on me.
You got me!
What's the facetious font?
You're turning me on, Cajun. Stop it.
; )
Good to see the parlay back! You were missed!
*nice disclaimer also ; )
We hit it up on the way out of town after every home game. They've closed down our locations here in Dayton. One to two weeks in between trips for sliders seems to be just right! ; )
Thank you for reminding me to enjoy the little things everyday.
MI.Buckeye, you do know your icon is one of which is NOT a buckeye leaf, correct? just checkin'
My sons are lucky enough to attend a high school that offers Mandarin. Two out of my three have taken at least one year of Mandarin on top of three years of Spanish and/or Latin. My middle one actually started out with two years of Latin then went to Mandarin.
Kind of makes me agree with DJ on the sort of things we are wasting our time on teaching in schools. I don't understand why the education system in America waits so late to actually start teaching/requiring a second language when we know the earlier they start, the easier it is to grasp.
My father just passed in January of ALS at the young age of 67. I would wish this disease on no one. Not even my worst enemy. I have not listened to the clips, nor can I bring myself to do it. I just don't understand what is wrong with people these days. It seems as though there is nothing that is off limits and compassion is out the door. Sad. Disgusting, actually.
I'm with you on the Moeller stuff, but I'm not sure which would is worse... Moeller's "M", or my boy's high school which is a block "O" and their colors are blue and gold. Talk about confused! It's really bad being a parent of athletes and not wanting to wear their colors to any of their games!
Oh, how you have been missed! Welcome (again) back, DJ!
Almost skipped reading today until I saw that it was a Skully by DJ. Welcome back!
Seeing that pic of Aaron with a vacuum in his hand just makes me swoon harder. Why can't all men be this handy?
Located at the bottom of this thread in "Resources".
http://www.elevenwarriors.com/buckeye-friendly-bars-and-places-to-watch-games
Just noticed the "contest ends" time is 2pm CST. So is the winner announced at 2pm or 3pm EST
No matter which way he leans, Aaron Craft has got to smile at that shout out.
Not that Matta is aware. When asked about the importance of playing close to home, he looked bewildered and admitted it was news to him that Dayton was hosting.
Second year to be exact.
#alwaysabridesmaid