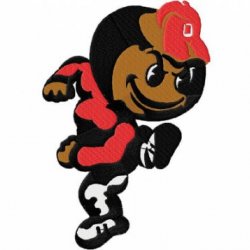 burger1124
---
Wilmore, KY (via Barberton, OH)
MEMBER SINCE January 15, 2015
Favorites
NFL TEAM: Cleveland Browns
NBA TEAM: Cleveland Cavaliers
MLB TEAM: Cleveland Indians
Recent Activity
Florida has a legitimate chance to take the whole conference next year.
This was a fantastic read. Not sure if you'll remember but we had a nice long exchange a couple months ago when I suggested that doing away with CCGs is the most logical way to expand the playoff format. I think a lot of what you present helps that case. They do very little in terms of "leapfrogging," and winners generally don't make too much noise in moving up.
In fact, if we just started an 8-seed playoff today, I think the field looks pretty much identical to all the "maybes" we face anyway. Only the top 8 teams this year could get any real consideration for the CFP (and that's being extraordinarily generous to Wisconsin), and the results of CCG Saturday won't do much to change this. You've got both B1G CCG representatives, both Big 12s, both SECs, the only PAC-12 that could even be considered, and the only ACC being considered.
This year's CCG slate might actually be the best argument for doing away with CCGs in the first place. It's like a de facto first playoff round as it is, except less fair to the teams playing because they're stuck playing in a conference-on-conference single-elimination format.
Anyway, great write-up. Love your stuff.
So with these numbers, Eddie averaged 148.23 ypg to Dobbins' current 138.08. Since OSU will be sticking with the first team for much longer stretches, it's certainly not outside the realm of possibility that Dobbins could both break Eddie's record and put up enough yardage in the 3 games to bring his average ypg to the same number as Eddie. He would only need to average 188.82. If he goes 2014-15 Ezekiel Elliott on some of these teams and the Buckeyes make it to the championship, there's a strong chance this happens. And if he does that, then there'd be no more argument about Eddie doing it in fewer games because they would be on equal trajectories through a 15-game year.
2017 weirdly doesn't bother me as much because at least Bama won it all. It was similar to the Baylor-TCU-OSU argument in '14. The #4 team at least justified being selected.
Also, while we're bolstering the OSU schedule argument, this gem:
All of OSU's non-conference opponents are in their conference championship game. Plus Wisconsin. No other team can make this claim this year. Heck, has this ever happened before?

— Roger RyDell Daniels (@rydelldaniels) December 3, 2019
Hey everyone: while I'm certainly no expert, I've worked in multiple higher learning institutions serving administration. From my experience serving on a presidential search committee, the number-one role of a University president is not to articulate or execute a vision necessarily, but to convince large donors that he or she has a vision, and that they should show confidence in that vision with their money. Presidents are fundraisers, period. While I think Tressel still has a ton of good will in state and among a large block of alumni, I would be really, really surprised to see him be even strongly considered for the job. tOSU is a global institution and I just don't think, given some of the man's past controversies, that the BoT would put that much confidence in his ability to secure ongoing global contracts and donations.
So stepping aside from OU and Baylor for a sec: I honestly think Clemson woke up the last 2-3 weeks and is for real now. They're gonna be scary come playoff time. Thoughts?
I don't see them jumping Baylor over Georgia. Regardless of how we all feel about Auburn's general badness, they only lost by 7, and we all know how they spin close SEC games. Auburn will be a three loss team at like #15.
Fair, but WF without their best player>>>>>>>fully healthy Rutgers.
Around the CFB-sphere, Clemson up HUGE on what is likely the second-best team in the ACC. OSU might get passed again in the polls.
And Rutgers ties with Maryland from last week.
Auburn's defense is the real deal. But they have a LONG way to go on offense.
So I want to hear opinions on this. Fields staring down receivers. I know this has been a slight problem all season but it really seems like he's falling back on it every play this game...maybe because he knows Rutgers' DBs can't hang. But does it bode poorly for the future?
Every single time they go to commercial the app kicks me off.
Ok...do we like this play? I mean I like it...but it just seems a bit like we're bullying them. I wouldn't mind it one bit against a rival like TTUN. But dang this is adding insult to injury
Listen I know it's Maryland but my goodness could the crowd at the Shoe be any quieter?
...wait, is this for real? Like, verified?
Thanks for this. I'm glad someone agrees with me. Reading the replies I thought I was going to get DV'd into oblivion.
This is my main point exactly. It's just frustrating that people who are paid money to literally do this for a living are so obviously falling victim to such inane examples of bias.
I would argue that Dobbins also deserved Offensive Player of the Week over the RB from Oregon.
I really am shocked at how willingly the officials are looking away from LSU committing penalties.
For me, in order, I would think it could be any of these:
Run defense got soft, a la NW averaging wayyyy more on ypc than they should have.
Fields is uncharacteristically pressured into throwing inaccurately all night and turns the ball over multiple times.
Corners and safeties (well, really one corner in particular) gets consistently beat over the top for big passing plays.
Penalties take OSU out of the game.
Again, I think a lot would have to happen for them to drop a game based solely on one of these, but I have definitely had (mild) concerns about all four of these areas at different points throughout the season.
No snark, no sarcasm--I really like this PSU team. They play sound. The QB-WR relationship of Hamler and Clifford is a great story line. Just a ton of respect for them and looking forward to that game.