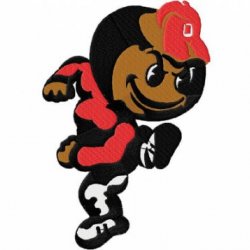 burger1124
---
Wilmore, KY (via Barberton, OH)
MEMBER SINCE January 15, 2015
Favorites
NFL TEAM: Cleveland Browns
NBA TEAM: Cleveland Cavaliers
MLB TEAM: Cleveland Indians
Recent Activity
Agreed. That first down throw was well behind Olave
He's ruled out for this game—either injury or COVID
Kevin Wilson pulling out the old JT Barrett playbook today. Listen, do what you gotta do to get the W but I am not comfortable with Fields putting his body at risk this much.
I think it's more that they don't trust the OL to hold them off with all these fill-ins playing
OSU's defense really seems to rely on facing inaccurate QBs. Can't count how many times this season they've been bailed out by bad throws.
Maryland currently getting lots of pressure on Penix...
I'd like to think that but in many of the recent social pics he was wearing his mask with his nose hanging out of it. Of course we have no idea if he infected anyone but hard to say he was being as careful as possible.
Apparently the cat story has been proven false:
https://www.snopes.com/fact-check/did-elderly-woman-train-cats-to-steal/
Kind of surprised to not see this discussion happening elsewhere on the site, but do you think the Buckeyes would be well-served to go ahead and offer Bronny James? He's a top-20 recruit and if LeBron has been serious about how he would've suited up for the Bucks in college, then it's possible he really talks up the program to Bronny. At this point, what do they have to lose in offering him? Only one offer so far.
Wrong thread, mods please delete. Sorry!
The LBs are definitely improved and probably the most fundamentally sound unit on the defense.
Our inability to force INTs is becoming more and more apparent each week.
This isn't directed (only) at you, but I guess I'm struggling to understand why so many are saying that what Schiano is doing is such a mockery. He has a less talented team and is finding creative ways to stay in the game. Isn't that his job?
So, serious question: given the sample size of three games now, should Day keep sticking to Urban's philosophy of a balanced number of runs and passes called? It really seems obvious to me that we have the talent at WR to just consistently burn opposing DBs and that our underwhelming run game is only moderately successful at best.
Said this exact same thing. Took an early 14+-point lead, and then tried our hardest in the 2nd and 3rd quarters to balance out the offense (in this game, that amounted to an over-abundance of run calls), all the while letting the opponent back into the game. If Day goes pass-heavy through 2 1/2 quarters, we're likely up by at least 3 TD's and Fields can sit most of the fourth quarter.
This is going to be a closer game than whatever they inevitably set the line at. Tagovailoa can throw the ball and is already a more dynamic playmaker than Sean Clifford. With that said...Bucks by 21.
I gotta hand it to Minny...they've responded well this quarter.
If you could have one play back from the first half, what would it be? For me it'd be the Olave dropped TD. Would've loved to see Fields have a perfect half.
It looked like an ok spot to me. He fell on his butt short of the line. When he tipped back the ball crossed, but the ball was short when he was down.
It's been a while since we had a QB hit receivers in stride downfield as well as Fields does. Much as I loved Haskins, even he didn't have that kind of touch. Man this kid is special.
Florida has a legitimate chance to take the whole conference next year.
This was a fantastic read. Not sure if you'll remember but we had a nice long exchange a couple months ago when I suggested that doing away with CCGs is the most logical way to expand the playoff format. I think a lot of what you present helps that case. They do very little in terms of "leapfrogging," and winners generally don't make too much noise in moving up.
In fact, if we just started an 8-seed playoff today, I think the field looks pretty much identical to all the "maybes" we face anyway. Only the top 8 teams this year could get any real consideration for the CFP (and that's being extraordinarily generous to Wisconsin), and the results of CCG Saturday won't do much to change this. You've got both B1G CCG representatives, both Big 12s, both SECs, the only PAC-12 that could even be considered, and the only ACC being considered.
This year's CCG slate might actually be the best argument for doing away with CCGs in the first place. It's like a de facto first playoff round as it is, except less fair to the teams playing because they're stuck playing in a conference-on-conference single-elimination format.
Anyway, great write-up. Love your stuff.
So with these numbers, Eddie averaged 148.23 ypg to Dobbins' current 138.08. Since OSU will be sticking with the first team for much longer stretches, it's certainly not outside the realm of possibility that Dobbins could both break Eddie's record and put up enough yardage in the 3 games to bring his average ypg to the same number as Eddie. He would only need to average 188.82. If he goes 2014-15 Ezekiel Elliott on some of these teams and the Buckeyes make it to the championship, there's a strong chance this happens. And if he does that, then there'd be no more argument about Eddie doing it in fewer games because they would be on equal trajectories through a 15-game year.
2017 weirdly doesn't bother me as much because at least Bama won it all. It was similar to the Baylor-TCU-OSU argument in '14. The #4 team at least justified being selected.