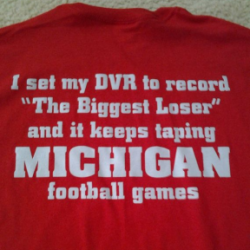 BumJuiceIsBitter
---
MEMBER SINCE December 27, 2016
Favorites
COLLEGE FOOTBALL PLAYER: Beanie
COLLEGE BASKETBALL PLAYER: Sully
NFL TEAM: The one with more OSU players
Recent Activity
Rivals is easily better than ESPN
This is not close to a best case scenario. That would include guys like Carmody, Conyers, Elias Ricks, Jordan Morant, Desmond Evans etc
Rome is much higher on the board than his ranking indicates
He was part time and had a full time job that wasn't at 247
Bill Greene CB for Clark Phillips to OSU
You're right. Poggi was the coach at Gilman before Michigan hired him. I just got the schools confused.
Fun fact: when they first hired Poggi, Taron Vincent was at St. Frances and was a major driving point in the decision to make that hire.
If Carmody doesn't pick ND he will likely go to OSU.
Harrison signed with OSU before either hire was made or even really a rumor.
June 14th weekend for Robinson
Givler said we probably wouldn't take him if Robinson/Milton are still on the board
Think it was academic, it was up in the air for a while whether he would qualify for FSU
Isn't that Carmody's OV too
That's the reason for it. Because he hasn't visited here yet
Kurelic is doubling down on his CB prediction for Elias Ricks to OSU
Kevin Noon interviewed him yesterday and Evans said that's the plan. https://ohiostate.rivals.com/news/desmond-evans-continues-to-build-relationships-with-ohio-state
His antics have been pushing coaches away
And their rankings are laughably bad. Dropped Gee Scott to #196, have a Clemson OG commit as their #1 OT (who isn't top 100 on other sites), dropped DJ Uigelielei to #50 and Darrion Henry to #166
It's not as simple as height. You need to have a wider frame to be a 6'4" DL than a 6'4" LB. The LB will be about 235 pounds while the DL will be anywhere from 265-300 depending on what position they play.
Not even to mention Browning and Wyatt Davis ( both over Bama)
Wiltfong posted today Scar has a small lead for Burch
Allen Trieu tweeted he got offered today
This. Does Babb still have his for the same reason?