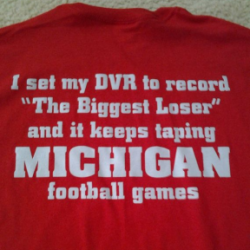 BumJuiceIsBitter
---
MEMBER SINCE December 27, 2016
Favorites
COLLEGE FOOTBALL PLAYER: Beanie
COLLEGE BASKETBALL PLAYER: Sully
NFL TEAM: The one with more OSU players
Recent Activity
There are plenty of other Jordan shoes that don't scuff up somebody's floor.
https://247sports.com/college/penn-state/board/18/Contents/christian-veilleux-update-coming-out-of-elite-11-148675699/?page=9
A couple months ago Weach said McCord was ranked high because he's an elite athlete but not a good thrower, which couldn't be further from the truth. I wouldn't believe a word he says.
I haven't read the article but by the way it is phrased here it doesn't necessarily mean he thinks Bama is #2 right now, just that they will be as this recruitment hits the home stretch. Didn't Tim Watts just say earlier this week that Bama was no better than third?

He was .9831. Once ESPN and Rivals remove Grimes, Adeleye should move up 0.001 for each one spot in their rankings and up to 0.9834
Jordan Hancock said OSU never said a word about Clemson when they were trying to flip him
Sawyer is reportedly up to 250 now
Rivals has Hicks as stock up and in serious 5 star consideration. They only have 8 five stars right now so he would be top 10 nationally if he were to get it.
https://n.rivals.com/news/midwest-spotlight-prospects-with-rising-stock-this-summer
The corners from American Heritage weren't a waste of time at all. Urban pulled a bunch of guys from south Florida including Torrance Gibson from the same school.
Clemson got their current QB commit after it became clear they weren't getting Caleb Williams, they were absolutely going for a top tier QB this cycle. Last cycle, OU was after Bryce Young before he went elsewhere. With the volatility of QB rooms, teams don't just try to skip cycles at the position. OSU has two consecutive 5 star QBs in McCord in Stroud, sometimes you are able to get your guys, sometimes you get beat and have to look down your board for another QB.
It's not on OU 247 it's on the football brainiacs (a red river rivalry website) OU site.
Also in the top 2 along with LSU for Shemar Stewart
It's not irregular for prospects to be silently committed to one school and publicly commit to a different school. Adeleye was silently committed to Florida before he committed to us.
That was purely due to defensive players movement. Offensive players weren't re-evaluated, every offensive player had their grade from 247 remain the same. Only defensive players had their grades changed.
Latham had a commitment date set and was only visiting LSU and OSU before that date. Getting the family members who want a recruit to stay home on campus can go along way in getting them on your side and OSU was not afforded that opportunity. I'm sure recruits were told ahead of time about the impending visit ban so it's certainly plausible that that could be a reason Hancock jumped on his Clemson offer so quickly. And he had two scheduled visits before he committed, who knows if the staff would have been able to convince him to take one or more of them.
Caleb Williams bringing them all to OU
I think he could play any OL position. He has a 7 foot wingspan or something ridiculous so has plenty of length for OT.
Clemson doesn't push people out. If you commit you have a spot no matter what unless you take visits elsewhere.
Bama has had two decommits this cycle, Drake Maye and Latrell McCutchin, and neither were pushed out. Other recent cycles they've had Carson Beck and Dax Hill decommit. They also had Trey Sanders and Evan Neal decommit but both later recommitted.
LSU Insider Billy Embody dropped a free article about LSU's most wanted recruits. Here is what he had to say about a notable OSU target.
"OT JC Latham
LSU was expecting to host Latham for an official visit in April, but that has been put on hold. Ohio State is believed to be the clear cut leader for the IMG Academy standout, but a solid official visit in Baton Rouge could go a long way to landing one of the nation's best overall prospects. Alabama has surged as well in his recruitment, but at this point, it's hard not to see him ending up with the Buckeyes."
link: https://247sports.com/LongFormArticle/LSU-football-recruiting-2021-top-targets-Sage-Ryan-Korey-Foreman-Maason-Smith-Tristan-Leigh-147729110/#147729110_10
AE and Bill Greene has him crystal balled to OSU before their crystal balls were removed
Drumm never said a thing about Henderson, that was a posters misinterpretation of something Drumm said. Drumm said OU was flipping a player top 15-20 at their position and the poster thought he meant a top 15-20 player overall. Drumm was referring to David Abiara a ND commit who shortly afterward was flooded with CBs to OU.
Multiple reasons;
the kid himself said he was deciding from Minnesota, Miami and Michigan. If Bama or LSU really wanted him, they would have at the very least also been in that group.

Bama has a commitment from ILB Deontae Lawson and is about to get a commitment from ILB Ian Jackson (listed at OLB but is an ILB in Bama's 3-4) if they wanted a third ILB they could get someone like Kedrick Blackshire but I don't follow their recruiting close enough to know what numbers they want at each position but doubt they need to take a bunch of ILBs. Last cycle that got two highly ranked ILB prospects in Demmouy Kennedy and Jackson Bratten as well as Kristian Story who is listed at ATH but projects to ILB, so they don't need to take a ton of ILBs this cycle.

LSU got two highly ranked ILBs last year in Antoine Sampah and Josh White. With their switch from a 3-4 to a 4-3 this offseason they have less need for ILBs in this class but are after guys like Blackshire, Ian Jackson and Greg Penn for probably one ILB spot.
Additionally, neither the LSU or Bama board posted a thing about the commitment other than making fun of Harbaugh's reaction. If he was a legitimate target, their were be further discussion or mention of him.