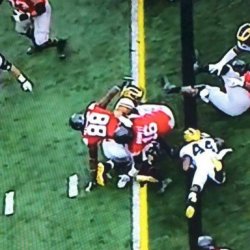 Bum juice
---
MEMBER SINCE December 01, 2016
Recent Activity
This week or last apparently
I think its either us or georgia, him breaking up with his girlfriend breaking isnt a coincidence!
Im getting a gigantic boomer!
God! I got scared for a second!! Can only be good news.
LOL! This shit is hilarious! Fuck these pieces of shit! They haven't accomplished anything in 20 years but here we are again!
Large?
Fyi the 4.37 was the second attempt
I like my Wolverine medium rare! Not too bloody though.
I agree. I live in the state up north and the drive was the only sports talk show that I listened to daily.( except the local sports guys because nothing gives me more enjoyment than listening to the miserable Michigan fan base). I'm bummed, that was quality radio.
It could have been worse, his name could have been tathan. Good Luck Brian! Best of luck!
All aboard the "chug bug"
Lol, was just going to say that to you. I was pretty positive he never said that. Here's to fields joining the good guys!
Well this thread went to shit in a hurry!
Or it could be that Dwayne's buddy Justin Fields is coming to Ohio State!!
I just find it hard to believe that his tweet would be the reason that justin fields isn't coming. He has to understand that tate isn't going to just lay over. Tates a competitor. I will say though, tate has to understand that this is big boy football and u want the best people playing on the field. I really wish tate would have kept that tweet to himself. Hopefully this didn't ruin our chance with him. Fuck me running.
BOOM!!!! HELL YES! 4 to 6 seconds of maximum effort!
It won't be. This might be his easiest decision. U want the best kids on your team. If he wants to come, day will gladly except!
Holy puck! Shits gettin real!
I think he's wanting to finish the season with his teammates possibly . I don't see anything weird about this. He will have to make a decision soon though.
HOLY SHIT ! ITS HAPPENING!
Moon shot right to harbaugh's shriveled nutsack.
Hopefully this is a "mirage" of things to come! BOOM!!!
I think Larry is the biggest piece of the puzzle going forward. If we lose him, unfortunately that will be a major blow. He's not someone that u can just replace. With that said, I don't think he'll go anywhere. Match the offer if u have to.
What about ol' j.t barrett?
What in the fuckity fuck is that?