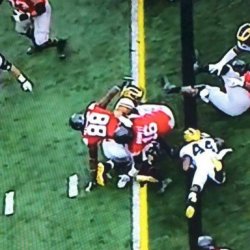 Bum juice
---
MEMBER SINCE December 01, 2016
Recent Activity
I really hope locksley isn't licking recruits!
So Cincinnati Enquirer just ran a piece stating that Bohn might back out because the usc prez told him that he wasn't going to be able to hire Urban Meyer. This is getting interesting. Sorry I dont have link. I'm on my phone.
Biggip says "I will cut my own dick off and plant it in my backyard if Michigan scores 39 against OSU this year. They are going to run up the guy in 1st and 2nd down and then throw 5 yard outs on 3 and 7 all game long while UM's former coaches turned OSU defensive coordinators laugh their asses off. Meanwhile, Ryan Day owns Don Brown and is going to put up at least 70 points to make a statement and plant his flag. I already have plans with the wife and the boy to get our Christmas tree that day - you know, things that bring me joy and happiness. Not wasting my time watching this overrated, overpaid, and pathetic excuse for a coaching staff screw over these kids by giving them no chance to win. Over 2 decades of doing the same shit and getting ass blasted by OSU and doing nothing different simply has gotten old and boring." I literally laughed out loud reading that first sentence!
To TOSU? Or georgia?
Hell yes! I needed some boomage! Feels like its been forever, suck it Grinch! Go Bucks!!
If that would happen, there's no way Urban wouldn't come back to coach this team. They look unbelievable!
I wonder why jack deleted the tweet?
I can't believe we've made it. Who's got the tissues. Eh, nevermind.
Moment of silence first!
Or could it be that jack knows urban is going to usc. Oh the conspiracy theories!
You're telling me that you've never had a box of dildos sitting on your desk at work? Not buying it!
Just find it odd that once again this comes out the day fall camp begins! The timing seems interesting to say the least.
He wasn't, he did attend the rivals 5 star camp
You're starting to hear 2 different things. I think this could be an epic troll by bijan. One thing I've been thinking about is all the information over the weekend came from Mostly 247 guys, and now a few of the rivals guys are saying the opposite. Rivals guys have definitely seemed like they were in the know. For some reason I've been thinking maybe he has something against 247?
I'm starting to believe this is one giant,Epic Smokescreen. I guess we'll find out for sure in a couple days.
Are they 4.3 or 4.4 guys?
Its definitely the opposite. His dick is definitely saying USC but he's not trying to have a baby in college so hiss other head is saying Ohio State. Duh
Are we sure this isn't one big, giant smoke screen? I'm not buying the USC thing unless milton wanted in.
Lol! Fuckin urbans already working his magic!
Yes. Tony alford is going to accept the head coach position at the the university of Colorado of Massachusetts.
Definitely not, we could be where we were a year ago. I had a pit in my stomach for 2 to 3 months. I didn't even want to get on 11w when UFM was getting thrown under the bus. The way Douschebag Tom has treated TOSU is utter bullshit! Fuckin that piece of shit!
Does anyone know how Bijan was going to commit? I just find it odd that 5 days before his commitment he decides he doesn't want to come here. It was posted before that a commit told BK that bijan isnt coming here. How are we sure that this isn't for some type of drama? Since he was signed in ink just a couple days ago.
Does anybody else think it's odd that 5 days before his announcement he tells the staff he's not coming? Everybody and their mother has said he's coming here, what about if he's wanting to drum up some suspicion?
Damn. I didn't expect this. Fuck TOM HERMAN!
I think the only thing we need to pay attention to is if Knighton announces that he's pushing his commitment date back.