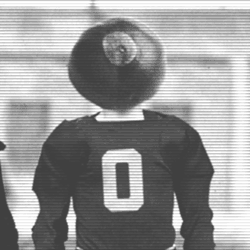 BUInvent
---
MEMBER SINCE August 20, 2018
Recent Activity
Breaking news! The NCAA is now investigating Ohio State's football program after a user named BuckeyeInDenver leaves a comment hinting at the idea of players getting paid...
Another thing to point out is that Dwayne's dad should not negatively affect his draft stock. At the end of the day, Dwayne is the one throwing the ball on the field, not his father.
To be honest, even if it was a Michigan qb's dad, I would still defend him. Remember, we are only getting the writer's side of the story. There is really nothing wrong with not wanting to talk to the media.
Why did the reporter have to write that article? He could have just done nothing once he realized Dwayne Sr. wasn't giving him an interview. That would be a lot better than slandering him (which can ultimately hurt Dwayne Jr.'s draft stock).
If we are willing to take players from the transfer portal, we have to accept losing players to the transfer portal.
Even if that's true, our passing game is still in trouble right now...
JT Barret was a great leader. Remember Dwayne Haskins said he learned a lot from JT.
Looking like JT is a good thing.
9-19 is a lot better than 4-13
Whoa. Really? I did not know that everyone hated Urban. I always felt like there was a lot of respect for the guy throughout the players and coaching staff. Maybe I am wrong.
Well considering it is going to be a record I would have to assume not nearly as cold as tomorrow.
Because that slows down the game. The last thing we need is for referees to review more plays than they already do.
How do you know it was debunked? Do you have a source?
Why are you so sold on Baldwin being ahead of Martell?
He is taking classes so that he can graduate in May so he can transfer and get immediate eligibility.
For Ohio State, a top 5 team that is historically known for its running game. Yes it is a head-scratcher. I'm looking forward to seeing an improved running game next year.
Our defense isn't the sharpest either.
He DOESN'T have to sit out a year. He is finishing up his degree in may and can start next year as a graduate transfer.
LET'S GOOOOOOOOOOOOOOOOOOOOOO!!!!!!!!!!!!!!!!!!!!!!!!!!!!!!!!!!!!
*will be a tall order. Kid was Baker Mayfield 2.0. Tate, you are only going to be missed by Buckeye Nation. So long.
Good bye Tate. So sad to see you go. I wish nothing but the best for you as long as you don't go to TTUN. It's too bad things didn't work out for us. I think you would have been better than Fields.