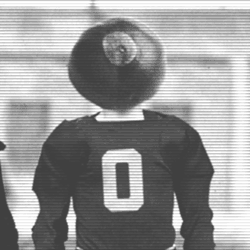 BUInvent
---
MEMBER SINCE August 20, 2018
Recent Activity
I think we should be higher but that's ok. I don't mind being underrated.
Does anyone else think Wisconsin should be higher?
We don't have to play him you know. And if he's really not good enough on our team then there is no way he is good enough in the NFL.
Please tell me Baron Browning and Teradja Mitchell get to play.
Have to disagree on the defense not even being in the top 25 after a much improved year. Should be top 5 if our linebackers step up.
so does the Choo Choo Train.
Why does the picture show just one of our qb's? This is a three man race.
Maybe Haskins can lead a big comeback?
Annnnnnndddddd Cardale just tweeted about it:
Hey @EASPORTS this face of the franchise storyline mode on @EAMaddenNFL seems a little familiar

— Cardale Jones (@Cardale7_) August 3, 2019
Really? Ok that makes me feel better.
We'll be fine. Don't worry. He's just a running back. They're a dime a dozen.
In my opinion, it shouldn't matter. You either win or you lose. There is no in between.
We pretty much have to go undefeated at this point.
*10-3 Washington (and 11-2 USC) but I'm pretty sure we would run Bama off the field considering what we did with our third string qb in their back yard the last time we played.
Recruiting means nothing. The only thing that matters is what happens on the field.
Once a Buckeye always a Buckeye!
Yeah. That is pretty ironic that the team that this happened to doesn't get used. They either couldn't get the rights to Ohio State or they just didn't want us. Beats me.
A lot of people forget that Teddy Ginn got injured on the first play of the game. If that does not happen I think we see a much closer game...
Am I the only one that thinks that maybe his comments were taken out of context? Not saying they were or weren't but the description is pretty vague I'd have to listen to the podcast to understand.
A lot of people forget how much our red zone offense cost us last year. We took 4 trips to the red zone against Purdue and scored 0 touchdowns.
Did you watch the Sugar Bowl this year? We're not losing to Georgia.
The NCAA needs to start regulating this. Our win against TCU did nothing for us this year and scheduling a tough opponent in OU in 2017 ended up keeping us out of the playoff. There is more to lose than to gain in scheduling a tough opponent. But I still believe it should happen. Which is why the NCAA needs to start regulating OOC schedules. It's good for the College Football if we see more big name matchups.