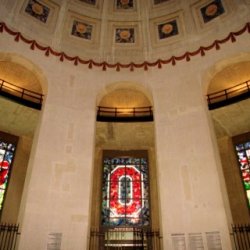 Buctor
---
MEMBER SINCE October 03, 2013
Recent Activity
Would be great for the Buckeyes to go on a winning streak!
They aren't just recruiting complete players, they are recruiting complete people. Really impressive young man!
Hard not to admire that young man. Made a very bold statement, but in typical fashion as we learned over the next ten years.
One hell of a career change too!
Buckeyes won! 24 - 13.
Looking forward Andy's post!
"Dick Lebeau and Paul Warfield are life-long friends and competitors"
These guys were playing pro ball when I first began watching football as a kid. Best of the best without question. And I've seen that undercut many times in my memories. Could not believe he hung onto the ball and continued to play. My heart broke when he left Cleveland. So I began watching Miami. But back then all the games were not on TV every week.
Also always wanted Paul Brown to go get Lebeau. Always thought he should not be in Detroit. Don't remember why, but never liked Detroit. I probably had somehow convoluted the fact that the Cincinnati Royals got to draft folks like Oscar and Lucas because of proximity. So Cleveland should of had Lebeau. Never mind that would likely have removed Brown!
BTW, did you notice when Warfield was blocking Lebeau, it was a Brown running play? Apparently Buckeye WRs were always complete players!!!
Sounds like he is dedicated enough, and also fast enough.
Go Bucks!
Hope he heals quickly and completely! Those are some decent numbers.
Should be fun to watch Coach Day work to improve on this past season. Time changes things. Check to see how he changes! Again, should be fun!
Go Bucks!!!
The star givers have made a place for themselves. And they tend to get it right. But they are far from infallible.
Not every young person grows at the same rate. There are many that move closer to their potential later than star rating time. Overall Ohio State has historically done a fine job finding these folks.
They got their needed win. For the most part they appeared to be having fun. Many mistakes, but didn't notice anything that can't be fixed with more work and a good attitude. Keep the efforts high!
Go Bucks!!!
Wise advice!
Another, "getting old sucks, but it beats all the known alternatives" was told to me many, many years ago when I wasn't.
And another, "don't worry, be happy".
Just go with it, eventually I learned to fall back asleep. It took damn near a decade, but it happened.
And finally, learn to just enjoy your witticisms when they do happen. Old folks giggling is cool. We don't have to give a damn what anyone else thinks.
Very well stated! He definitely deserves to be on any list.
We all get an opinion. Archie would always be my first choice. But the folks they chose were excellent as well. At the end of the day, this list does not amount to a hill of beans. Their opinion is no more important than anyone else's.
Archie will always be loved in Ohio and respected by all that know of him.
He would also be in contention for his off the field life!
Of course not, they are in one of the hangers in Area B at WPAFB. I know, I have two tee shirts saying so!
Also of course, the AF denys this every few years when someone comes forth and says they are there. What more proof does anyone need!!!!!
This is what a healthy season looks like. Congrats Buckeye!
They got a needed win. But there is still a boatload of improving that's still needed. Stay after it, it will happen if they do!
They need to win. But more importantly, they need to get their issues resolve. Especially, the turnovers.
Be nice to see Young get his stamina back. Be nice to see Washington regain his stroke.
Just get back to the sound fundamental play on both sides of the ball we've come to expect from Coach Holtmann's teams.
This ap is as bad as they have been all year. I would not argue the top three. But after that, wow!!!
Again, congrats to Joe! A real Buckeye won the National Championship and Clemson did not!!
DLight, Buckeye fans alway found David to be that too.
Beat Nebraska, Go Bucks!!!
Congrats Buckeye grad! What an extraordinarily fabulous season!! Have an equally great career at the next level!!!
Then in ten years pull a Hartline and come be the new OSU QB coach for Day. Got to believe a Heisman National Champion would be able to recruit well!
Saves money on all the crap needed to take care of hair. Also the time each day. Saves on shower clutter too.
Pretty sure Mr Young will be drafted. Pretty sure he will have an excellent pro career. This is one worry fans can forget about.
So far Coach Day looks to have made great choices. No reason to believe that will change!
Agree, great job!!!
Hell, even at a night game, the Buckeye Head Coach is still a Day job!