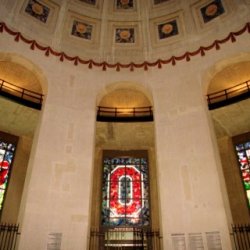 Buctor
---
MEMBER SINCE October 03, 2013
Recent Activity
Basketball!!!
There's basketball today!!
And Buckeyes will be playing!!
Go Bucks!
Will be great fun watching these guys again. They were and are what team play is supposed to be!
Has he ever suggested what specialty he plans to pursue? And if he plans to stay on the Columbus area?
Hard to believe he wouldn't lead wherever and whatever he pursues!
He would make a great team doctor!!!
Good Lord 5k!!!!
Maybe someone should start a go f me for him!
Have a great 4th Buckeyes! Celebrate!! Remember those that serve and those that served on this day too!!!
It should be easy to have a hot time here in Ohio this weekend!
Be safe if you or yours are playing with fireworks!
Sounds like he is ready or close to it. If this team is as good as we expect, backups should again get many snaps.. So staying healthy is important. And being in shape is key too.
Go Bucks!!!
The pressure on these young athletes must be beyond tremendous. Yet many are able to put themselves in the mindset necessary to perform at the highest levels.
All we have to do is set back and enjoy their efforts! And thank them for their Ohio State efforts!!
Go Bucks!!!
Is that technically correct? After all, he will finish second in their head to head matches. That appears to be an improvement over this one and not that far behind!
Unless maybe your counting points rather than games?
Many of my best friends did not agree with what I am about to write. But! Tell her everything. When, not if, you do something stupid, that is, something that she would not approve of or would not like or would disappoint her, tell her before someone else does. It always worked better for me. And we've been happily married for more than 52 years!
Be a team. Be best friends. It will make you happier than anything else in life.
Another thing, you can't tell her you love her too often.
Congrats on your greatest accomplishment and best wishes to your bride, Taylor!!!!
And again a recruit makes the coaching staff look like they have crystal balls that do look into the future. And another indication that being a Buckeye fan will continue to be fun for the foreseeable future!
It should be fun to watch these two young men become another set of exceptional Buckeye football players!
Maybe Rick Barry?
or Ernie DeGregerio (sp?)
My son met Mr Oden about a year ago when both went to the same place for lunch. Apparently there were only a few other people there that day. A conversation picked up. My son said he is a great guy with little or no ego. He also said he was a real bright guy. And easy to talk to.
These recruits are really being put behind the eight ball. Not being able to visit the schools and see first hand what they are being ask to choose has to be difficult. Now they have to wait even longer to make their visits. And what should be a great experience, now isn't!
According to Wiki:
Justin Fields - 6' 3" 225
T Lawrence - 6' 6" 228
Joe Burrow - 6' 3" 221
Wonder what this guy said about Joe's height and weight?
That "certainly" makes me feel better this morning. So looking forward to football season. Hopefully it arrives with great fanfare and without problems for coaches and players!
Go Bucks!!
"But as my fiancée can attest – I'm extremely good at being wrong!"
But you can take a small bit of comfort, very soon she will no longer be your fiancée!!!
Coaches are recruiting great players and turning some them into recruiters as well. The more time that passes, the more impressed fans must be with Coach Washington. Certainly sounds like his players and recruits are!!!
The beginning of a new week means another has passed. And thus we are closer to the next football game! I realize there are many, many things more important in life, getting married for example, but Buckeye football and all the other sports are a great diversion. And the way the Buckeyes have preformed brings great joy to our lives. Even marriages are better when the Buckeyes win!
BTW, congrats on the pending wedding and best wishes to the future Mrs. Harris.
That would be a great name for a restaurant!
Each of these up dates re enforces just how well recruiting has been for the Buckeyes! God bless Coach Day and his coaches, staff, and players!
Happy Fathers Day! Everyone that is a father or has or has had a father should celebrate them.
Oh, and if your lucky enough to still have your father, take the time to let them know how important they are.
Trust me, no matter how good your relationship, there will be things you wish you would have said after they have gone.
Have a great weekend all fathers! Most likely that is our greatest accomplishments. To be exceptional, we even passed on our Buckeye fandom in our genetic mix!! But then again, these days it's very iseasy to be a fan. And given the recruiting trends, it will at worst remain that way. But likely only get easier!
Happy Father's Day!!!