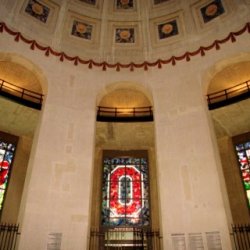 Buctor
---
MEMBER SINCE October 03, 2013
Recent Activity
Where'd he play baseball?
He would be high on my list! Hated him twice as much, first for Brown, then for the move! And that was after I became a Bengals fan!!!
But not all agree!!
A friend and someone I really admire as a professional and as one of the worlds nicest humans is totally irrational about his hate for Irsay! He hates him with the deepest passion, again for a move!! But he really likes the Ravens, and presumably Modell!
Will 11W report in more depth about how the findings influenced or will influence what happens to the legal action, if any, by the many, many victims? Or about any legal action against those that looked the other way?
My thought was that this is where OSU can show itself to be better in the present.
Claiming Beilein to be a better in game coach is not supported by the head to head, unless of course you claim his players were that bad.
Both Coaches did there respective programs good.
Overall Matta has better numbers, but Beilein had significantly bet final seasons.
But the story is not over, need to see how bb season plays out for TTUN over the next few.
Coach Day has been recruiting Ohio earlier in the year. Not relying on flipping the Ohio kid last minute it appears. I spoke with a father (a few years ago) that's son was told he would likely get a late offer if at all. And pretty much told since he was an Ohio boy they knew he would flip. The father said the son was quite angry over this. Felt he was just told at best he was a plan B.
The kid did not flip, but did play in the play offs several times!
Assuming the story was factual, that did feel like something that would upset folks, including folks in the HS coaching community.
So it's good to hear that practice may be done with, at least to some extent.
To be clear though, I am still a big fan of Coach Meyer! NPI!!
It's great to see someone land the dream opportunity!
Sr looks like he lost a fair bit of weight, good for him! Likely good for his health!!
Really Zooey to see him go! Expected him to do very well eventually, just can't coach that size. But wish him well at Cincinnati!
Those pictures show an amazing facility! Just WOW!!
Sorry, that didn't come off as clever as I'd hoped!
Given how great of a place they think they are, I would surely think so too, that is, a two university sport greatness?
It appears there is more than a little potential and a few proven players! It also appears the wr coach is for real!! Zero reason not to have high expections, given that combination!!!
Should make for a fun season for everyone, including fans!! Go Bucks!!!
Miller sure can throw that thing!! Got to believe he has a great chance to be great!! And there's still a year to improve!!!
As hard as I try to stay calm, cool, and collected, it getting really hard not to get excited as hell about the coming season and seasons beyond!
Go Bucks!!!
Sounds like an opportunity for some young'n to start a new business. You know to be ready when the new rules are announced. Just a suggestion, but "Bagmen R Us" has a ring to it!
Congrats to Mr Craft! Guessing he make a decent living playing overseas. So getting to continue to play bb is great! Also believe he will find a great job after!! Or maybe go to grad school and coach?
56, it was decided above!! Softball!!!
You've been hanging long enough Fan!
I-O
What an insanely wild idea! Adjust the game plan to emphasize player strengths!! Just might work!!!
Moving the three point line back might open up the court, but maybe not as much for teams that play zone?
Probably should be more proud of Thomas than Sawyer. But!!
Thomas is another in a long, long line of OSU athletes that make their University look good outside of their sport!!!
Another great accomplishment by Lady Buckeyes!! Congrats!!!
At minimum, adding Mr Lachey would make it easier on a certain OSU Football radio announcer!
Based on potential, the Lady Bucks are LOADED!!! Should be fun watching them achieve and exceed it!!!!
Congrats!!! Pay no attention to seeding! Beat the team you play next and repeat.
I'd also like to add a Good Luck for your future on and off the field. May your dreams come true. The likely hood of that happening grows with effort. Sounds like he has plenty!
Boom!!!
May all his dreams on and off the court be realized!!!