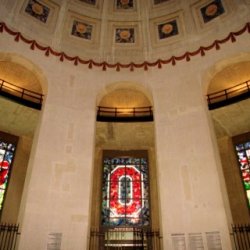 Buctor
---
MEMBER SINCE October 03, 2013
Recent Activity
This sounds like everything is progressing nicely! Hopefully everyone will be well healed by late August.
Are their colors scarlet and gray?
The Buckeyes only need one point more to win! I know that!! But it is awfully hard on my heart that way. I doubt I can stand this more than five times.
That was fun! Do it again!! Sunday is good for me!!!
Go Bucks!
That may be even more true on the mental side as well. Sounds like he has grown there too.
One of the many expected to be a great choice.
So the Giants are going to be present today? Are the Cardinals?
I am not able to see this! Kinda like a mirage!
I do not know much about online gambling!
But I would have trouble sending money and associated financial information to anyone in Antigua and Barbuda. If your still interested there's a prince somewhere that wants to send money too I believe!
Agree, he should be fun to watch! The new folks all look good. Should give Coach Holtmann and his assistants plenty to work with!!
Hard not to be optimistic!
Yep, but also surprised that they don't have a full time hire in that position!
Likely these games will be called differently than the B1G Tournament. But I'd guess Coach .Holtmann and his assistants know that better than I do and have a plan in place! Regardless, this should be fun!! Go Bucks!!!
Yep, the ACC got three in as 1s, while the B1G got three in one region!
Congrats! Practice well, play better!! Go Bucks!!!
Your wife saw you! Lightning has already struck!
Well said S54, but I'd call FAU only a quiz. With their coach, maybe a pop version!
B 68, I usually have to read each word of your posts and usually more slowly than the usual malarkey posted here. Sometimes I even have to reread it (sorry, couldn't help myself). But rather than hurting my head, it generally brings a smile to my face. And importantly I mostly agree with your well thought out assessments.
Equally important, you rarely, maybe never, make negative comments about others. I like that! If I disagree with some post, its easiest to move to the next one. Why wate my time denigrating another human, and likely a Buckeye fan. On the occasion it's a troll, I don't give the satisfaction of a reaction, rather allow them to dangle, it's better that way!
Happy St Patty's Day to each and everyone!!!
There's certainly the promise of a much better team coming. Would be hard to believe Coach Holtmann and his assistants won't be working on that list of improvements for all of them. They have everyone playing hard already!
Hope the big guy is in play. Need another player with height. But regardless, next year shows more promise!
Best of luck with both plans! Sounds like the young man knows about working hard, the secret to most success!!
Hockey Team doing well. Now go win the B1G Tournament and then blow out everyone beyond!!
I agree with what's said above. NFL teams do not have a great record in following through on predraft statements!