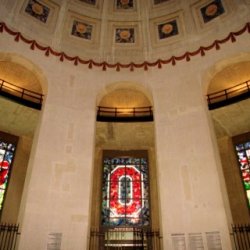 Buctor
---
MEMBER SINCE October 03, 2013
Recent Activity
I suspect all of them might be an underestimate!
It's going to happen, rain or shine, it's going to happen! In four days, it's going to happen!!
It's also too early to be up, but this close to the first game day, it's already got the excitement level cranked making falling back to sleep difficult. The trials and tribulations of fandom are many!
Can't imagine how excited the players and coachs are!!
Go Bucks!
Five days from now we will still be celebrating, just not near the stadium.
I am not expert enough to provide a definitive answer.
But lack of knowledge rarely stops someone from posting on the internet. So here goes!
It's not clear whether by "some tests" you mean tests for the virus or tests for the antigen. The latter was my first inference because you mention "time to respond". Which I interpreted as time for the antigen to multiply to a level of threshold above which could be measured, that is, the test's resolution limit. Implicit in this of course is that the person was not only exposed, but also contracted the virus in a low enough quantity that it did not immediately elicit a response.
In either case though, what's to be measured may be of insufficient quantity to be "seen" by the test. And in both cases there might be a time to grow more of the virus or more of the antigens to large enough quantities to be measurable.
But once again, I think I raise more questions than I answer!!!
This post was triggered by what I read above. But it is really a response to the nonsense I hear and see in the news!
It appears that sensitivity, or better described as test resolution, is not well understood. In my research world the positive - negative issue meant there was enough to be measured, but the answer was wrong. Not that there was too little to measure. This meant nothing more than the resolution was not good enough, not that the test was inaccurate.
My worry is that after three quarters of a year, we still do not know what quantity of the virus it takes to make one sick! Knowing this value, most likely to be a range of values because humans are not identical, would define the resolution necessary to give the accuracy required for accurate measurements.
In fairness, little if any correct science and engineering is ever accomplished in three quarters of a year. The progress to date is amazing on many levels, from many perspectives, and for the future across the waterfront of all research. These people are doing an amazing job.
You guys are all wrong, just look at how highly they are rated!!! He can't be that bad?
That would be an extra nice get! Sure appears this class has a great deal to offer already, might as well make it one more!!
Never say never!
But the second half, as I read about it, sure doesn't make it look like that is going to happen.
Plus, year in and year out Saban's teams improve, Ga not so much.
If you are going to bet on Ga, don't bet needed money!!!
Anything with Jonathon Winters ended too quickly!
Gunsmoke
Rawhide with Rowdy Yates
Dean Martin with the ladies - Steeb Hall basement was always overflowing when that was broadcast on that twenty something inch tv!!! A must was a Quizno (may be spelled wrong) Italian sub and a qt of coke ( had to study after)
Hell on Wheels
Haven
One week, one day, and one morning and I am still fighting getting too excited too soon.
But it is getting closer to day planning!
Go Bucks!!!
Ohio State still has key recruits to land. But those they will join should make coming on board most attractive! The complete cast will be excellent, hopefully that is a strong enough pull!!
Go Bucks!
I was referring to Atlanta, KH's home. Also home to Coke, owner of Mr Pibb. And historically, soft drink companies don't play nice!!!
Hope these young men have a great time this weekend. May they all build on their relationships and stay safe!
Go Young Bucks!!!!
It is going to be fun watching these guys develop! But then it's going to be fun watching this team play!!!
Looks and sounds like Coach Dennis is working out quite well!
Is that safe down south? I thought the drink down there was Mr Pibb.
All need to be careful or the folks there will label you a yankee. Or more likely a damnyankee! Apparently that is one word
Since you post the Williamson gif again, I will point out (note: someone other than me pointed this out first!!!) that there is another Buckeye catching up faster than anyone! Pretty sure that was Wilson!
Those two should stretch any defense!
Go Bucks! Soon!!!!!
I was on the right track last week about a hoped for ending to the red river game!
.
"First I want to make clear I want no one to be hurt!
How about an infinite number of overtime periods before really, really bad weather hits and forces the game to be stopped when the tie still exits? This is one way they could both score into the 100s. Then make it impossible to finish the game, ever.
It would go into the records as no one won.
To make it better, the powers that be declare a tie for the record books before the season closes."
.
Oh well, 4 is not that close to infinite and it was not my hoped for tie, but my hope they both looked terrible pretty much happened!
Trying to keep my confidence up that the Buckeyes won't look like most college football has so far this season!!
Go Bucks, show them how it's supposed to look!!!!
Sounds pretty good. But the telltale is Coach wants him!
Apparently maturity is still growing strong with the Buckeyes!!!!
Oops, guess that was obvious from the Fox tweet. Missed that too!
The start time has been 10:00 AM so far this year..
Just a thought.
We have one of those for our recumbent bicycle. The fancy ones can be set to adjust resistance to not over run heart rate, but rather keep it near the best values.
Two weeks and one day and many of us will already be wide awake waiting until noon. Folks it's getting closer. The Buckeyes are again loaded. It will be fun to watch it all play out.
May everyone stay safe, the team and fans. We won't be in the stands, but we will be making noise all over the state, the country, and even the world. GO BUCKS!!!!!
True, but if Coach Matta came to your home you would want to offer him a drink and hope you could set and talk about basketball and anything else he wanted to talk about.
On the other hand, if Ryan came, you would want a very large vicious dog to chase him off your property.