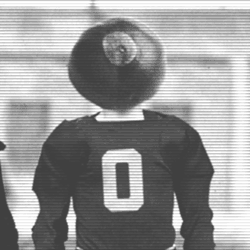 BucMan
---
MEMBER SINCE July 21, 2019
Recent Activity
Be nice to Rutgers...Jonah Jackson is helping to turn them into a farm team for us!
Good Idea!!
We add Texas and Oklahoma (think of the rivalries) to the West, move Purdue to the East, put nd in the acc where they belong, let the rest sort themselves out!
No...who would play Dabo? When he's done, Clemson shrinks back to irrelvant!
Great author....just finished "Truman" and "The Pioneers." The Pioneers is a great story about the settlement of the "northwest territories" (Ohio)....very good read.
Try David Gemmell's trilogy "Troy." Not new, but really well done....Lord of the Silver Bow...Shield of Thunder...Fall of Kings.
Happy New Year!!
Fuck Michigan.
Still kind of makes me wish we had an opportunity to play Georgia!
"They can spew that coachspeak about practicing against the best every week,"
Right...Lawrence has never been chased or hit by a Predator in practice...I hope he gets a real lesson tonight!
They do this against Clemson, and BIA will be here for a long time! Might even bring back Coombs!
OK, so that's not Dabo? What is a dabo anyway??
Personally, very interesting. My great grandfather went to Ohio State in the 1890's, and this building WAS Ohio State!
From the mind of Notre Dame.
Will always remember this play!! Also, same game, when Devin Spencer took out 2 linebackers for Zeke's 85 yd run to the house!

Too Funny! How about Crocodile Dundee?
Yep...xich mba in sales, "do you want extra beans on that?"
Yeah, for sure....what the hell, PAC 12 today, CFP tomorrow? Could be, beats following USC around!
12 GUAGE!!
Incredible guy, a legendary role model for anyone. Who da thunk, king troll about not coming to play school. Hope this guy achieves it all!!
OK, you and I are destined to disagree about this...that's fine. My real point is that given the immense depth and quality that we had at that position at that point in time (probably due to the fact that JT returned for another year), somebody, with tremendous talent, would be left behind. At that point in time, it just happened to be Joe. And I'm truly pleased that Joe was able to showcase his talents somewhere else. FYI....he actually beat Haskins in the competition to be JT's backup, but he broke his thumb and then was out. Haskins made a case in The Game that year, and only then became the starter the following year. Joe never would have been a Heisman candidate if he wouldn't have transferred.
What? You would have crowned him the starter over Fields last summer?? His last year would have been as a backup, he knew it and went to a school that needed a QB. Yes, he's a great talent, no it didn't work out for him here.
FWI....They're both girls.
Wrong Board....needs to be on mgoblo.
Joe's a class act, it didn't work out at OSU, and never would have....just too much talent here! Happy for him, he deserves it! Geaux Joe....GO BUCKS!
Or maybe that the Big 12 ought to learn a little defense.
Not really shocked with his OSU mentions, but it sure is nice to have a winner who sincerely appreciates the help that he received on the way rather than just running off the mouth about how great he is!