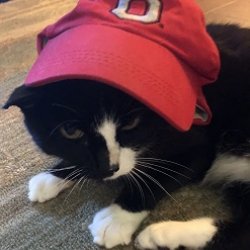 BuckZealot
---
Cape Canaveral and Merritt Island fl (via zanesville, ohio)
MEMBER SINCE September 18, 2018
Favorites
NFL TEAM: Bengals
MLB TEAM: Reds
Recent Activity
Votto is due for some road hits. Gotta bring the lumber.
I'm thinking he is the go to/ace/need one win now guy for this team...And Gray may not be 100%.
I'm hearing pitching him on 3 days rest. So yeah Sunday.
Jeff is going to be really good, a star. But not his rookie season with a bad team.
I was actually going to go to the Bahamas for this, Atlantis is an awesome place and I know that Iowa bb was there a couple years ago when we were there....amazing water park that you can go to free with stay. Huge slides through the dark center of a "pyramid" then out into the daylight after a few twists and turns....its a blast. They have gambling of course but smokers reign there and I always lose so no gambling for me. Hopefully next year ??
I canceled the sports package that includes BTN here in Florida during this B1G shit show. (It's probably part of your basic package in Ohio?).
I'll probably regret it if key games are held hostage by them. Oh well.
Hell, even the MAC has a top 25 team or two in there most years, so this further dilutes the titan Louisville vs UM matchup.
I was thinking second tier big12 team where defense is optional. His career is dead in Miami.
Thats a BOOM in itself! Trey and Master healthy.
Actually Barry Bonds wasn't that good......
Henry Aaron fan forever.
Enjoyed the article. Nice writing, Colin.
"That's gold, Jerry!"
Good stuff!
Penn State without the Whiteout (and without Micah Parsons)anywhere in schedule. TSUN Thanksgiving weekend.
I think the janitors are turning out the lights at BIG hq in Chicago........
And drink some water with it. Trust me.
Absolutely, great story. He was never going to play regularly here, and now gets a chance.
She
She looks hideous!
First opening win for Washington since 2014. Go Simba!
Gesicki with a nice catch for the fish. Hated him at PSU.....Good player.
0-4 Whine o vich is making some plays for NE.
And a downvote, nice. Infiltrated by Dr downvote and his content skunk weasels.