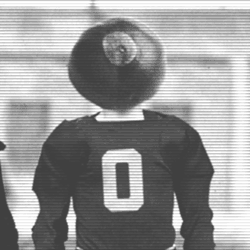 Buck_YES
---
Member since 11 October 2013 | Blog
Recent Activity
Did Harbaugh just speak spanish to the Italian security guard? I swear he said no mas...
I agree that the way in which he said it was a bit harsh for the PG audience. I just didn't think this comment was too far off base. He encouraged the crowed to get loud when the Vikings were on defense. Just to be quiet while the offense is trying to communicate. Personally, I'm not going to hold his past over his head for everything he ever says. I have no problem with others criticizing him either, I just thought he had a valid point.
To me, the "home field advantage" specifically refers to the crowd noise making it difficult to hear snap counts etc. So I have absolutely no problem with what Boone said. Be a smarter fan base, Minnesota.
Don't mess with Ohio talent, Bert. I still can't believe he snuck out of this conference with 3 "championships" .... Easily his best call as a coach (getting the hell out of dodge)
The guy leans in and says "That was impressive", to which she responds "Shut UP"... Hilarious!
I'm really happy for Coach Tress! However, I find it difficult cope with the fact that TP isn't even allowed to be associated with our own university yet, and Coach is being inducted into the Hall of Fame...
Unfortunately, the NCAA have essentially made being a "true enforcer" illegal, subject to ejection. RIP Jack Tatum.
"uC has some really good receivers and we certainly won't see that again this year." We're gonna see that next week vs Maryland. Overall I agree with you. One kid (Chris Moore) had 221 yards on 3 receptions. To me it says we played alright for all but 4 passes against a very pass heavy team. All urban is asking is for the 1 on 1s to be won by us next time. Without those 3 receptions, Gunner's numbers are 18 of 30 for 132 and 1 TD. I know that without those passes Cinci probably would've kept trying (more pass attempts , more yards etc.) My point is we're not that far away...4 mistakes... costly, but not unfixable. I hope I'm right because Diggs and Co. at Maryland are as good or better than what we saw last night, no disrespect to Cinci (they're both legit)
Wishing Braxton a speedy recovery,
But hey guys, it could be worse, this guy could be the coach of our team...
Thanks for the clarification.
Thanks Ross,
This may be a dumb question…But I'll ask it anyway. In the first "Packaged Play" gif. How is that not a penalty for ineligible receiver down field? It looks to me like half of our O-line is 4 yds down field when Brax throws the ball.
Maybe I'm missing something...
I hate to be that guy but 90% under the legal limit would imply 10% over and therefore be 0.088% BAC. Just don't want any more misconceptions arising from this story.
As a Life-Long fan of Ohio State, I can say that after living in Nashville for the past 7 years I am not excited to see what Franklin can do with at PSU with a program with richer history and lower academic requirements. He's a Great Coach and that will make every victory over Penn State all the more satisfying. Rivalry / No Rivalry...meh... as far as distaste goes, I don't really care for any team other than the Bucks...in my life time they've all beaten us at one point, and I don't forgive, nor forget, those times.
Go Bucks.
I half agree with you, Russian-Pooh.
But I don't think it was "fair" when Oregon Jumped us for beating Nichol St. when we beat Buffao. Clemson Beat Georgia (top 5 matchup), they Jumped us, fine; they both proceeded to loose more yet we did not climb back up. Florida St. beat Clemson and Miami which is great for them, but does that imply that we couldn't do the same? if not, why do we get jumped? What is the reason for Baylor Jumping Ohio State? So, while I understand that it's a circular argument on both sides, but if the Preseason Coaches Poll matters, then why should we have been jumped? if it doesn't matter, then why hasn't FSU and Baylor jumped Alabama?
Either way, Whatever, OSU is 22-0, I like our team better than theirs. I'll root for us to win every game and I'll be so happy if we can go undefeated again this year. Period.