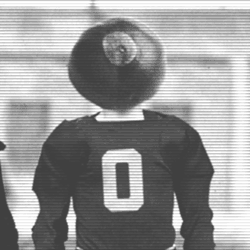 Bucky Buck
---
Powell, OH (via Columbus, OH)
Member since 18 April 2012 | Blog
Born on the banks (not literally) of the Mississippi River in Onalaska, WI (LaCrosse) in 1964. Raised on the banks of the Olentangy since 1968. Can almost hear Keith Jackson saying that last part in a way that only he can.
Favorites
SPORTS MOMENT: Watching Buster Douglas knock out Mike Tyson on a giant rear projection tv in my parents house. Oh, and a little thing called the 2002 National Championship. That was stressful as hell, but worth the suffering.
Recent Activity
Always thought he looked a bit like an Ewok.
Did I hear that right or did Urban refer to Turnure as Meatface?
Great article on one of the best to ever play the game of checkers. Born in Ironton, skipped four of his first eight grades in school, then went on to receive a doctorate from TOSU in Combinatorial Analysis. Not sure if that's still a thing, but it seems perfect for mastering a game with 500 billion, billion possible moves. Yeah, had to look that up and no it doesn't seem possible. Next time you find yourself at Greenlawn Cemetery, say hello to Marion Tinsley the eight time world checkers champion and former Buckeye.
Now all I can think about is Scoonie Penn's cornhole. Thanks for the pic 11W!
Thank you kind sir! I have logged in myself just to upvote your upvote.
This just in, Chris Partridge has just been bitch slapped.
In your face Quinnipiac!
Okay I'm thinking that the image of Lil Wayne is actually a wax figure. Anyone with me?
Can't remember the last time the basket Bucks pulled a kid from St. Louis. Anyone?
How anyone made tackles in those shoulder pads is anyone's guess.
As someone who is also 53 this year, I would have killed for that mustache in college!
Who got Shelley to dig out the shoe box of old pics?
According to his Wiki, Aaron Craft just signed last week to play for AS Monaco. Soon he'll be playing Baccarat and driving around in Aston Martins.
Shout out to James Madison. Well done sir, well done.
With no pass rush, is the QB timed to get rid of the ball? Would like to have seen how Fields would have done under a little pressure.
Normally I would agree with you, but after two years in Ann Arbor he would turn fat, slow and be considering a position change.
Especially when he bounces across the field on his head!
As long as Zamir White commits to "not Alabama", I'm happy for him.
Oudna Savage? Anyone know what this means?
I wish I could have gone to a digital High School.
So much for singing Ohio's Praise! I think I'll trust Gene's opinion on Holtmann over yours.
At least RichRod has the sense to wear the right colors.