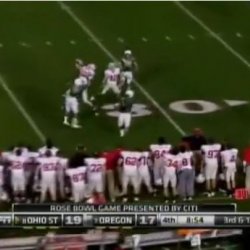 Bucky Baller
---
MEMBER SINCE May 12, 2015
Recent Activity
The best part of that hit was Brutus reaction
Ranch or Blue Cheese for wings
Wow that says a lot about NPF. Hopefully he can pull it together
Damn proud of this guy.
Return? OSU never left.¯\_(ツ)_/¯.
Dawand Jones, first off the bus and the plane.
This was written pretty fast
So eleven warriors knows something we don't
10 bucks says the one 1st place vote Chase young has is from Joel Klatt.
I don't mind him not being a homer. I actually prefer it. But the reasoning he has been using all year is really bad. OSU now has 4 ranked wins to LSU 3, OSU margin of victory in those wins are higher than LSU's, all 3 of non-conferences wins are playing in their conference championships, and OSU better than LSU in nearly every statistical category on offense and defense + the eye test. I mean, to not have OSU #1 at this point is ridiculous. I'm glad he isn't on the playoff committee.
Dairy stocks are up
This will never get old. +1 to you sir.
I must be one of the like 3 buckeye fans that doesn't mind the noon games.
Bucks by 14+
BIA
Maybe for TTUN
Now here's a guy
Good guys by 30+ ¯\_(ツ)_/¯
How many are we taking this class? We're already at 15.
I get that reference
With what happened on defense last year, I'm not surprised its slow.
Whoops. Was this posted too early?