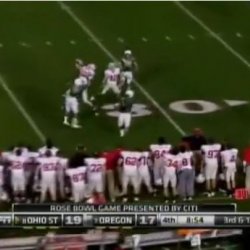 Bucky Baller
---
MEMBER SINCE May 12, 2015
Recent Activity
Fields should gotten more opportunities to throw
This kid could our Tyreek hill if he finally bulks up a bit
Thats not a no ¯\_(ツ)_/¯
Hoping our next RoseBowl win comes in the playoffs or title game
Whats his 40 time
Bill Kerlic says he thinks its OSU but hes waiting to hear back from another source
I forgot i can see his because i have a paid account. But his is officially switched to OSU
CB count now sitting at 5
Haskins got screwed here
This good or bad?
Lol Purple Baylor
OSU seemed to be into before he committed.
Shootout incoming
TD Illinois!
It was a violation of team rules. This was reported on bucknuts forum yesterday
Considering "in good hands" was in the headline link to this article, I do say im disappointed at the lack of Allstate jokes
*ichigan is 3rd place in the BIG10 again ¯\_(ツ)_/¯
Did you guys forget to include the Jerome Baker item?
Its Drake
Ted Cruz?
Tf Wisconsin doing at 4?
What could she even sue for?