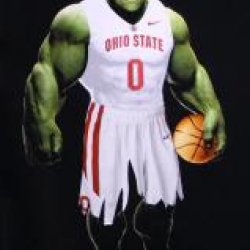 BuckWylde
---
MEMBER SINCE February 12, 2013
Favorites
SPORTS MOMENT: Mo Clarett taking the football out of Sean Taylor's hands in 2002 Championship game.
COLLEGE FOOTBALL PLAYER: Braxton Miller
COLLEGE BASKETBALL PLAYER: D'Angelo Russell
NFL TEAM: Browns
NHL TEAM: Blue Jackets
NBA TEAM: Cavaliers
MLB TEAM: Reds
SOCCER TEAM: Crew
Recent Activity
Hmmmm . . . compelling numbers to say the least.
Don't ever forget . . . THE is a very important word around these parts!
'Zilla, Burgundy; you two need to get a room!--LOL!!! But seriously, I agree with both of your takes on the topic.
My (biased) natural instincts want to compare Haskins' rookie situation to last season's Baker Mayfield drama in Cleveland, and although I've tried my best to rationalize around it, there's one major difference that I can't seem to escape. While Dwayne had the greatest season as a passer in TOSU history, his time as an actual D1 starting QB can't compare to Mayfield's. As much as I'd like to see Haskins as the Redskins day-one starter, I'd hate to see his confidence and growth potential thwarted by being tossed directly into the lion's den without a little more seasoning ( please overlook the obvious pun value--LOL!). IMO Keenum is a cut above Tyrod Taylor as a starter, but still he's nowhere near the career potential of Haskins, so I must begrudgingly agree that patience is the better part of valor insofar as not giving Haskin's the keys to the franchise too early. So, in keeping with the Lion King tradition, it's best to let Simba simmer a while longer before crowning him to be Mufasa (James Earl Jones) in the current Redskins drama.
Good article, good kid, noon kickoff, GO BUCKS!!!!!
Could 'Middie' be a reference to the locale, like the Johnstown HS 'Johnnies'?
I've known about him as an all time great Buckeye receiver, but I've always wondered if he was the Wendt from the Wendt-Bristol pharmacy in downtown Columbus, from many years ago?
I haven't lost a game in over 45 years, so talk that shite to someone young enough to be your peer and goofy enough to be your equal--aiight Junior?.
Comment removed for violating the site's commenting policy.
Aw, c'mon fellas, you know we've always been known as 'the fighting gentlemen' of THE Ohio State University!! Us talk smack . . . perish the very thought of such--LOL!!!
True dat!--but that's exactly what will likely bring a Superbowl to Cleveland SOONER than later. (sorry guys about the sooner, but it was right there for the takin')
Touchdown!!!--now go for 2.
I'm sure your comment was a misprint--Justin Fields is your starting quarterback, your coach is a former starting quarterback, and the fun begins in only 12 days!!!
I thank you for the enlightenment on the subject of dick sense, wherein you seem to be quite the expert. But as one who's played and coached the game, what the hell I'm saying may not make sense to one so expert, since dick sense is doubtless the native tongue of a dick head. A language in which you are proudly quite fluent. But as one who has been around long enough to have seen the Cleveland Browns last NFL championship game (verses the Baltimore Colts) in person, i'd venture to guess that I've wiped and flushed more football knowledge than you're equipped to absorb at this point in your life. Millennial culture has left many of today's young athletes emotionally fragile, which may well be the case with a supremely talented QB who didn't believe he could unseat Mr Fromm @ GA, who looks much like a future NFL journeyman to me; but he was apparently enough to send young Justin scrambling for the transfer portal. Please forgive me IBLEED, for rambling on like us old fogies tend to do, because your name alone says that we're brothers in the fraternal order of Buckeye Fanatics that make this site what it is, so without further ado I'll just say--GO BUCKS!!!
Day has certainly done some good stuff for sure, but one thing I question is, how a QB who's earned all the accolades that Fields has suddenly can't take control of a competition with kids that aren't in the same stratosphere in terms of overall QB skillset. It sort of makes me think that coach Day is going a bit too far and running the risk of stunting the growth of a thoroughbred with great arm talent and 4.4 speed due to an inability (or unwillingness) to adjust his scheme to fit the kid. Urban Meyer is indeed a tough act to follow, and IMO it might serve everyone's best interest to wisely simplify rather than risk blowing a possible shot at a National Championship.
LOL!!--you are not alone.
Fridays are ALWAYS special--LOL!
It's not the nicest sport either
The first step to winning is believing--try it!
Lift up thy rose colored lenses, to more clearly see that the game has moved beyond the RPO (only) QBs that Meyer wowed us all with from back in '06 to Jones / Haskins. Aside from his obvious health concerns, and recent inability to actually watch the games from the sidelines (which wasn't a good look for recruiting purposes), coach Meyer's time of optimal effectiveness at OSU had pretty much run its course. And as for presidents who should be ashamed of themselves, do you really think that Drake's the leading candidate???
Besides, we all know that Drake was only chosen because he's more athletic, with a much better 40 time than his competitors had--right?
. . . were never a strength of whose . . .
Shame that we don't have a camp for people who need to practice sounding like OSU fans--now, take a lap!!
I'd love to see coach McGuff recruit and hire local coach Will McKinney, whose Columbus Africentric High School girls program is easily the best coached in Ohio, and is long overdue for a shot at transforming an OSU squad that's consistently under performed since Tara VanDerveere left for Stanford, considering the talent we've had.