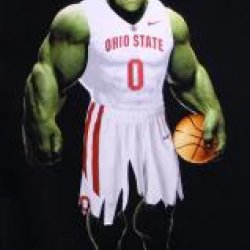 BuckWylde
---
Member since 12 February 2013 | Blog
Favorites
SPORTS MOMENT: Mo Clarett taking the football out of Sean Taylor's hands in 2002 Championship game.
COLLEGE FOOTBALL PLAYER: Braxton Miller
COLLEGE BASKETBALL PLAYER: D'Angelo Russell
NFL TEAM: Browns
NHL TEAM: Blue Jackets
NBA TEAM: Cavaliers
MLB TEAM: Reds
SOCCER TEAM: Crew
Recent Activity
I like how yer thinkin' dude!
None of which has any bearing on the one-n-done NCAAs come March!
For me, the KY loss was the second nail in the Thad coffin (confirming the Sienna flub, and the fact that he just wasn't a strong end-game strategist) as once again, obvious keys to sealing the deal were overlooked by the coach. I've always felt for Dallas Lauderdale (a shot blocker) who had to watch scrub Harrelson neutralize Sully, due to Jared's lack of athleticism on D. And Wichita St., well--Greg Marshall was the better coach, plain and simple. IMO Matta did an exellent job of bringing the program to respectability and thus fulfilled his coaching potential by teaching good defense to go with a "nominal" offensive approach, and winning BIG titles. Matta's recruiting was always his greatest strength to me.
As an old guy who's been a fan since Lucas, Nowell and Hondo won it all, I believe Holtman is cut from the same cloth as Fred Taylor was, and that we'll see a final four run within his first 5 years in Columbus.
GO BUCKS!!!!
Careful, . . Adolphus supporters seem to be gettin' lots of DVs today.
" . . .I'd shoot first, and ask questions later . . ."
Maybe we should start a "BUCK Lives Matter" chapter on campus, to protect the type of guys it takes to win national championships from the types of "fans," that post this crap (once their eligibility is exhausted, of course)
I'm glad this kid's on board!
Goodwin is a good kid and a good ball player . . . dominant B1G 2 guard?--nah. I personally like the move on the part of the new coach. Goodwin isn't a Greg Oden or even a Mike Conley caliber talent at this point, so I believe it's on him to fit the coach's scheme and plans for the team; not the other way around. I hope he still becomes a Buckeye but I strongly disagree with many posters on this site that seem to think his latest decision equates to being a devastating loss for the new regime. IMO his de-committment opens up opportunities to grab some of the more athletic guards from Cleveland, Cincy', and the rest of Ohio. It's a new season and era at TOSU and I'm ampped to see what Holtman has in store for Buckeye Basketball going forward.
WTF has Randy Ayres got to do with the pizz-poor job that Thud Matta has done over the last 4 or 5 seasons?!!! 5 star recruits (Scott, Williams) come here to degenerate into fall guys for a fraud who's stolen more money than Jesse James. In case you haven't figured it out, I'm one of those old coots who experienced OSU's only national championship in '60 and hoped that Matta might be the coach to bring the next one home--until I really watched him "coach." And for all of you who follow his lead and blame the kids when whole recruiting classes run for the hills due to mass character issues, first . . . my condolences and sincere hope that a cure for Terminal Homeristic Okie-Dokie-Gnosis, is right around the corner. Gene Smith has been hamstrung by local media and alumni who've drank the Kool-Aid that makes advanced mediocrity acceptable, for some time now. This has already cost us the Miller brothers, Shaka Smart and likely Greg Marshall too, and it must be stopped now!!!!
Probably won't include Matta?!! . . . PROBABLY?!!!!!
I only gave you one UV because site rules prevented my giving you 2 or more.
Hmmmm . . . might just be on to something there!! With AC you get 2 players for only 1 paycheck.
You get Aaron Craft with his hard-nosed defense--but you also get "Errant Crap" which describes his offensive game and shooting. As a Buckeye Lifer, who remembers watching Lucas, Hondo, Nowell and company win our only national title I love what Craft was able to accomplish in his years at TOSU, but he's playing D league ball for a reason!
" . . . but this is Lebron's guy."
The obvious problem is that for a coach to be ANYBODY'S guy is a major problem in any team sport. I've heard that Blatt's failure to maintain a country club atmosphere in which players could go hard or decide to do otherwise, was a big problem for "The King" and his cohorts. Blatt had won double-figure championships with sound fundamentals, defense and toughness as his team's calling card throughout.
The errant assumption of LeBron's incalculable b-ball IQ being more valuable than Blatt's vast championship experience is now proving itself out before our very eyes. Lue has gone from being the darling of the league to what he was before the finals win last year; the second, third and fourth letters in the word cLUEless. James belongs in the conversation concerning the game's all-time greatest-ever players, but he needs to quietly relinquish his GM's hat, and return it to Griffin who is eminently more qualified to wear it.
Maybe Connery's Arthur could only "Lance-a-little," so "Gwennie" chose plank over rank!
Thanks for clearing that up for me . . . I should have known that it was just another bad crop of young'uns!!!
Years of B-ball mediocrity appears to be paying off in Columbus,Ohio. More and more folks around here are starting to remove the state-issued and mandated rose(a shade of scarlet)-colored lenses, and are beginning to see admit seeing what's actually transpiring before our eyes. Groups of kids as skilled and diverse as Mitchell, Grandstaff and Harris and the big kid, don't just all decide to up and transfer without reasons that are recognizable and deemed agreeable to all parties concerned.
'Guapo kicked mucho arse!--after he first spent several minutes just enjoying air that came from outside his own rectal cavity!!
" . . . Hope everyone will get behind Matta and the Buckeyes in 2017-18 . . ."
Hopefully to help push Thad's escape vehicle and speed up his exit from OSU.
. . .Or Scarlet and Gray, unfortunately . . .
Linnae Harper should be primed to contribute mightily against her former school.
In a twisted way, Elliott is being victimized by the implied "bulletproof" status he's experienced since leaving HS. As the growing number of incidents coming out of seemingly harmless fun are routinely swept under the rug, Zeke gets the message that he's above the law due to his celebrity "hall pass."
While it's true that many of the girls at such events are opportunists who hope to land a well-paid athlete or entrap one into a lucrative lawsuit or settlement, someone needs to make it clear to # 21 that all of his fame & fortune can be gone just as quickly as it came about.
As a former staff songwriter for Motown in my younger days, I've attended more than a few such parties and seen some marvelously appointed hooters . . . but I can't say I've ever seen a pair that's worth losing 6 or 7 figures over or sabotaging one's career and good name, to fondle or expose.
Wake up--wise up and grow up young man!
That's funny, I was commenting to my wife a couple days ago that the concept of enough (aka-"just right) has been lost at this juncture. Your clever wordplay in coining the term "jest rite" speaks to the mentality that dominates this and similar sites, and definitely deserves the upvote I gave you.
In reference to the topic of this post, coaches have a period of maximum effectiveness; a sort of shelf-life, which came and went for Matta at TOSU around 5 years ago, so for me Thad's return ensures at least one more year of program mediocrity as fans fight to retain a good coach who's never won the big one, but is recognized as being better than Fred Taylor who won it all.
Yep, it sounds like you'd be a terrible fit for Noah in a GM / player relationship. Do you think that as an athlete that OSU recruited to play WR, maybe Brown might be a little faster than the insulting speculations you've posted here?
The kids we're recruiting under Meyer show pro potential from middle school so don't be surprised if Brown becomes a faster Anquan Bolden like pro--but don't pretend that you or I can evaluate Brown's talent based on sport blogs & the small on-field sample size we've been given to assess.
He's a Buckeye!!!. . . ROOT for him at the nex level too.
The stats speak for them selves 4.61, right in the middle between Spielman and Shazier. Raekwon's gonna make an NFL LB coach real happy someday soon.
The chip you speak of is one I've waited for since this coach was hired. Lack of talent isn't a problem but lack of cohesion in key instances has been a sore point for a couple of years now--and that one goes to the coaching staff.
McGruff the crime dog has a loaded tool box, so it's time that some things get tightened up pronto before recruiting is affected by the consistent underachieving by the team.