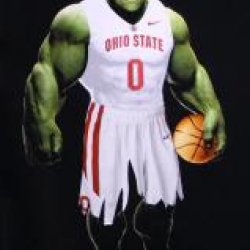 BuckWylde
---
MEMBER SINCE February 12, 2013
Favorites
SPORTS MOMENT: Mo Clarett taking the football out of Sean Taylor's hands in 2002 Championship game.
COLLEGE FOOTBALL PLAYER: Braxton Miller
COLLEGE BASKETBALL PLAYER: D'Angelo Russell
NFL TEAM: Browns
NHL TEAM: Blue Jackets
NBA TEAM: Cavaliers
MLB TEAM: Reds
SOCCER TEAM: Crew
Recent Activity
How do you know what Fields is or isn't? Remember, according to many traditional thinkers on this very site, Burrow looked better than Haskins in the Spring Game last year.
So, there WAS a prevailing racist notion . . . did you bother to actually read what you wrote after this benevolent admission of unpopular truth? The 2019 prevailing notion for many seems to be that Haskins had a season-long streak of good luck that resulted in the most prolific aerial attack in school history. But I hope you can forgive me but my family lived around the corner from Jesse Owens when he lived on Oak St. on Columbus's East Side, because he wasn't allowed to stay on campus, like his less melanin challenged team mates. As for my friend the surgeon / burger boss, why should you risk your health on a Dr. from Ghana with double-figure years of successful practice, when you can safely go to Mt Carmel West where Dr Husel heads up the euthanasia department? The presumption of inherent superiority is not only quite goofy--left unchecked, it can also be pretty dangerous!
Hmmm . . . question marks about playbook retention, feeling the pocket, and reading defense sounds like the same profile that sent Warren Moon to destroy The Canadian Football League as a young pro, before the wake up call that brought him to the NFL (where he always should have been). Reminds me of an old friend who was a respected surgeon in his native Ghana, but had to manage a Burger King in Reynoldsburg while the AMA pondered his playbook retention, feel in the pocket, and ability to read defenses in the Operating Room.
Do your thing Mr Fields, and hopefully you'll not only confirm but maybe even exceed Haskins' amazing 2018 season by out performing Trevor Lawrence again--but, this time in the 2020 National Championship Game. GO BUCKS!!!
Timing is everything, and its too bad that coach Larry Johnson wasn't here in '06, to help him reach his D Line potential, but I'd like to commend YOUR position coach for making you a first ballot Hall of Famer in the position of Azz-Whole--congrats!
Rob Rose, Buckeye for life!!!
Thank goodness you're not a coach or decision maker for the b-ball team.
Having a PG that's hungry, has Elite 8 tourney experience and leadership traits, will be a big improvement over last season's "make do" backcourt situation. I think it will also benefit Carton to be able to grow organically rather than bear the weight of day-1-starter expectations and besides, having competition from an upperclassman will test DJ's character and quickly show if he's a team player or just another ballyhooed "Diva" type of kid. One of last season's glaring weaknesses (PG) should become a strength going forward.
Comment removed for violating the site's commenting policy.
Is that you Tater?!! Just tryin' to interject levity, before I speak truth. It's an undeniable fact of both sports and life that there is no "I" in the word team . . . but unfortunately there is a "me," and while I'm pretty certain that Baldwin is a good kid from Lee Greenwood caliber American stock and values. The problem is that the current Diva-Culture infects many young athletes with a flesh eating heart disease called 'Boutme Fever'. As his farewell posting said, he and his folks have been praying to find what's best for Matthew. A classic symptom of 'Boutme Fever' is a reluctance to compete for a chance at a dream, unless you're guaranteed the starting role. The same fever that sent Kyrie to Boston is about to send Matthew B. to parts unknown. Football used to teach discipline, perseverance and a team-first attitude, but now it's becoming all about self and 'Diva-tude.'
This is exactly what we need--a chip on our collective shoulder, and a point to prove to the nation and the committee. excellent prediction!
After seeing Ledee's transfer portal post, I stand fully corrected and accept today's diva culture in college athletics as reality. I'm just glad to have come along in an era that allowed me to see players like Dennis Hopson, Jerry Francis, Aaron Craft and many others who ascended from role player to starter through dedication to personal growth and willingness to embrace rather than run away from competition.
" . . . He looks like a near definite candidate to transfer . . ."
Your quasi-prophetic comment shows more faith in the current diva-culture of college basketball than it does in Holtman's ability to sell his program and philosophy to inspire younger players to commit for 4 years. Ledee has already shown me more potential to be a positive contributor to team success going forward than A Wesson has in 3 years of inconsistent play. OSU is a football school for sure but there's no reason that we can't develop a similar culture to what Izzo has crafted at MSU, where senior leadership is evident every year, in a program that's always in the top 10 without relying on 5 star recruits so much as developing good players into solid members of B1G and national championship contending teams. As a school with a high national profile and very good facilities, we just need a few great seasons in a row to make us attractive to great HS players in Ohio and nationally as well--but we may want to work on upgrading our wishy-washy, fair weather fan base, so that the " Nut House " atmosphere extends beyond the student section where it currently resides.
Just for the sake of accurate history, the original recording artist was a one hit wonder named William De Vaughn, but "Be Thankful . . ." is an R & B classic for which you deserve big props and upvotes as the master of obscure musical trivia!
Was there a point to your post that somehow escaped me?
Why? . . . you were all in on him until Project Switcheroo went into effect--right? Whether any of us Buckeye 'lifers' want to see it his way, Martell has every right to feel somewhat screwed over, since he was a 5 star who could have chosen from a number of other schools that still run their version of Meyer's 2006 era offense--right?
All of this brings back the question; does anyone actually believe that we've been given the whole story r.e. Zach Smith, Urban's sudden health based retirement, and all the ancillary rumor-mill fodder that's plagued us all for most of this past season? To my way of thinking, this was "iconic powerhouse program dookey cleanup detail 101;" and IMO it must have been some pretty smelly shit for Meyer to be jettisoned for the sake of the program and the university's "image health" . . . so please, let's not be mean spirited regarding Tate's future and the corresponding attitudes displayed concerning OSU in the media, going forward.
Go Tate, Go Urban and (as always) Go Bucks!!!
The picture of DJ looks a lot like a pic of Jimmy Jackson from his early OSU days--not so much in terms of facial features but more so the confidence and attitude of a winner that's clearly conveyed (at least to me). Throw this kid in with Walker, Young, LeDee, Ahrens, Washington and the 2 athletic bigs in the '19 class, and suddenly Kaleb is surrounded by athletes which leads me to believe that (to paraphrase ZZ Top), the future's so bright WE ALL gotta wear shades!!
Spoken like a true sanitarian!
. . . and true point guard leadership!
Fortunately for coach Holtman, I'm fairly certain that the Carton, Gaffney, Liddell class will help end the dearth of interest in becoming Buckeyes that quality 'bigs' have shown over he last several years. Ironically, during the Fred Taylor era, our lone national championship team and several that followed, featured highly skilled bigs (Jerry Lucas, Gary Bradds) that would fit perfectly into the "small ball" versatility concepts that are popular today. It seems that over the Matta years OSU became a less attractive landing place for big men, and rightly so, given the lack of offensive focus on centers, and our seeming inability to develop bigs (with the obvious exceptions of Oden and Sullinger who were essentially "plug and play" guys from the rip). I'm confident that Holtman's solid fundamental approach will draw interest from B1G caliber post players and that Buckeye basketball will be back to the level we've come to expect real soon.
Dropping out of the top 25 is the best thing for the team right now, because without at least an Andrew Dakich caliber of point guard to provide on-court leadership, this squad is too wildly inconsistent and unfocused to bear the added pressures of a national ranking. IMO this team needs to take the blue-collar approach to becoming, first, a competitive B1G team before even considering where they sit nationally. I believe that guys like LeDee, Ahrens, Washington and Jallow will benefit from league experience gained this season, so that there's not such a skills and development dispairity when the influx of 4 and 5 star talents arrive next year. Those of us who jumped on the top 20 ranking bandwagon were victims of wishful thinking and media hype. I think that 20 wins (and a big-dance invite) is still well within reach, so that recruiting won't suffer much, and that realistic Buckeye fans can enjoy the growing up of our young pups as we prepare to feast on the carcasses of Spartans, Hawkeyes and Wolverines for years to come.
--GO BUCKS!!!!
Thanks for the correction on Russell's ENROLLMENT into OSU, but the rest of your post r.e. the Ahrens bros. addresses nothing that I said, so best of luck surviving the Sanitarium2.
I'm sure you were pissed off when D. Russell transferred in from just such an academy to provide OSU with it's first All-American since Sullinger, and Matta his last NCAA tourney team (if memory serves me correctly).
IMO, one Oak Hill or IMG transfer player could transform this year's team of sidemen into a B1G contender like Diop was able to do last year. Not to mention the 6' 9" elephant that was allowed to waltz out of the locker room (to Whisky), seemingly unscathed by local media scrutiny, or even a desire to offer a clear explanation to curious Buckeye fans. Maybe I'm the one guy who missed the memo regarding why wizard's apprentice, Micah Potter chose to pull his mid-season disappearing act, so please feel free to enlighten me.
So was it Schiano or the all-seeing Meyer who put White into the rotation?