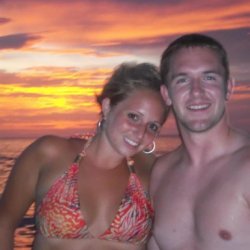 buckvolspar
---
MEMBER SINCE July 24, 2014
Recent Activity
Who gets Ebner and Simon?? Haha this would be awesome to watch.
Love it as well. Was worried he might bolt a la Warriner because he wanted a better title/money, even though he's clearly a phenomenal D-line coach and needs to keep doing that. Now he gets both and STAYS. Brilliant move.
Nice touch with the video game that the other recruits got. Still feel like this came out of the blue. Losing one QB to Georgia yet somehow getting a better one from them. It's like trading in a nice used car for a brand new one...and the payments don't even go up!
scUM fans seem pretty upset, so I'm guessing we got a decent coach.
I'm hoping both of the new co-coordinators can get us back to Fickell-ball. This team has struggled mightily to create turnovers since his departure. I don't know how he stressed/coached that, but it is clearly something that has lacked emphasis. Get our O the ball more often and I'll be good with the hire!
Yep, more than likely. Even through most of November I figured, despite how well he played, that he just didn't have enough experience to go high enough in the draft to warrant leaving. Then he absolutely torched scUM and, well, that was that!
Go get it #7, be cheering you on Sundays from now on.
If it ain't broke...
Also, always fun to score 52 and see your scoring average go DOWN. Tough to imagine anyone holding our Buckeyes under 35.
Actually a bit concerned that Martell led us rushing, particularly after Weber and Co. bulldozed the Beavers last week. But I'll take a 52-3 win and giving up less than 150 yards of total offense is insane. Was also glad I was on D-deck to avoid the rain after being soaked week one!
Agreed. Borland still doesn't look quite back to 100% yet so linebackers are still the biggest liability on the D. We'd been hearing about them trying to get Wade on the field because of his work in practice. Obviously it was mostly garbage time reps but he has some serious closing speed. Bodes well for the future at the very least.
I watched that ridiculous Purdue late hit like 4-5 times, thinking "maybe he stumbled trying to get back up or something" but nope. Outright stupidity.
I hate to bring linguistics into the argument, but he literally spells it Buck I Guy...I love my Buckeyes but the Buckeyes aren't mine, he literally changed the spelling to make it more about himself than the team/school.
Big Nut does donate a ton of money, as did Neutron Man. He was able to get the same seats every year because he donated a bunch of money every year for like the entirety of the 1970s. Buckeyeman (note the non-self-aggrandizing spelling) is asked by the university to attend Buckeye events regularly (and to the poster below a ways, he actually is in his 70s, I know him personally- always freaks him out when I call him by his real name when I see him at the stadium haha).
I don't get the superfandom in general, but as long as it's more about our beloved Ohio State than oneself, it's fine by me. Buckeye Guy (I refuse to spell it the way he wants it) took it too far, but the others are doing it the right way, IMHO.
This...Is...Awesome. Me and about 35 other Buckeyes re-started the club tennis team in 2003 after it had been gone for several years. We practiced from 10-midnight in the old Jesse Owens West. After just three years our A squad made it to nationals. At nationals you are put in pool play and then into "brackets" based on how well you did in pool play, so the gold bracket teams are the only ones that can win the title.
I was on the B squad at OSU, but got my master's at Tennessee and competed at nationals there 9 years ago. SO much good tennis. I've been an assistant and a head tennis coach at the NCAA Division III level and teams at nationals have, on average, more talent than a typical D-III team. It's full of really good tennis players that just wanted to go to a bigger school instead of compete for a smaller school's varsity team.
So incredible that they won the title, so proud to have helped start it. As always, Go Bucks!
J.T's measurements are almost identical to mine as I'm 6'1" and something (haven't had a physical in years, but it's around 1/4") and I weighed 226 pounds this morning. Unfortunately, I'm 34 and, though reasonably athletic, would likely pee my pants if Joey Bosa were hunting me down in the pocket.
Still a bummer about Billy Price. Hope he can recover by Ohio State's pro day and show out.
It was bizarre last year to see how well we covered punts and how horribly we covered kickoffs. I have to assume it's primarily due to the quality of the kicks, as Haubeil struggled a bunch but Chrisman was a bright spot, especially as a freshman. We definitely miss Andy Groom around these parts, but Drew could be just as good, if not better, by the time he's done.
Unbelievable that they will likely see Penn State a 3rd time. FINALLY avenge those losses!
I agree...except this year I can't remember hearing ANYTHING about non-conference strength of scheduling, which is a heavy theme in previous years. The Big Ten does everything right and the SEC does everything wrong yet somehow gets rewarded. The SEC plays 8 conference games, the Big Ten plays 9. The SEC so routinely schedules garbage opponents on the next-to-last-week of the year that it is known as cupcake week. The Big Ten does not allow its members to schedule 1-AA opponents. It's sad. So dichotomous and contradictory of themselves.
Oh, the clearly the committee has NO idea what the word "unequivocally" means. If you think Bama's body of work is "unequivocally" better than Ohio State's, you are either looking beyond this season alone, or you are on an absurd acid trip and you should get help immediately.
Agreed- at least post MSU loss. Bama does have some significant injuries on D though, we were pretty healthy throughout 2015, just shot ourselves in the foot.
I got my master's degree at Tennessee back from 07-09. They were still competent then, but rapidly declining from a national power since Tee Martin (not Peyton Manning, oh the irony) took them to a title in 1998. Most Vol fans are still old enough to remember their last glory days and desperately cling to them as a result...sound familiar anyone? #TTUN
2017 Alabama=2015 Ohio State, NOT 2016 Ohio State. I cannot stress this enough. 2016 Ohio State blasted a top 10 team on the road, beat another top 10 team at home, and their only loss was to a top 10 team on the road by a FG. 2015 Ohio State, meanwhile, loaded with talent but toyed with inferior competition for much of the season before it bit them late in the season. IF the committee values good wins over bad losses, OSU will have 3 top 15 wins if it beats Wisconsin this Saturday, Bama might not have any, depending on where LSU ends up.
With ALL that said, why did we have to lose to Iowa by 30-freakin-1? It's almost too much for Buckeye fans to get past, so I fear the committee holds it against us too :(
All this chaos above us this week, but they'll all be ranked ahead of us still :(
Assuming Clemson and ND win we'll still be #9 in the CFP poll. Ugh. Wrong chaos!
It was frustrating, we had to overcome ourselves (bad play-calling, jitters) before we could actually beat the opponent. Glad we managed to in time.
O'Korn couldn't even hit hilariously wide-open receivers, why even waste his time throwing at #12? Crazy.
The talent is indisputable. I think that big toss to Mack got rid of the jitters. The composure from there on out was nice to see. We're in good hands in the future!
Will definitely be dependent on the outco*e of "The Ga*e", but I think it'll shift to around 10 as well after a double-digit victory.
FOUND IT! They hid it in the OSU-Illinois game where ED-DIE went berserk. Check it at 1:14!
https://www.youtube.com/watch?v=CjtIU6TqD3c