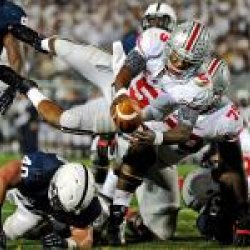 buckupnorth
---
from Columbus
Member since 28 October 2012 | Blog
Favorites
SPORTS MOMENT: Winning the '02 national championship
COLLEGE FOOTBALL PLAYER: Braxton Miller
COLLEGE BASKETBALL PLAYER: Aaron Craft
NFL TEAM: Bengals
NBA TEAM: Spurs
MLB TEAM: Reds
Recent Activity
How about this:
Mississippi State loses out (loses to Bama, Vanderbilt and Ole Miss), to finish with 3 losses (9-3)

Ole Miss loses to Arkansas, then beats Miss. State (finishes 9-3).

Bama beats Miss St, loses to Auburn (finishes 10-2)

Auburn Loses to Georgia, then beats Bama (finishes 9-3)
Georgia loses to Kentucky, beats Auburn (finishes 9-3, 3 losses in SEC play)
Missouri loses at A&M, beats Tennessee and Arkansas (9-3, 2 losses in SEC play)
So Bama wins the West at 10-2, all other west teams have at least 3 losses. Missouri wins the east at 9-3. Then Missouri wins the Championship game. So every SEC team finishes with at least 3 losses.
I think TCU being ahead of Baylor has been due to the fact that Baylor's schedule is a bit more backloaded. Before this week Baylor hadn't played Oklahoma yet, while TCU slaughtering OU catipulted them up the rankings. If Baylor wins out they have to jump TCU in my opinion. TCU's best two wins would be over Oklahoma and Kansas State, who Baylor will have also beaten. Baylor will be the Big 12 champ and they beat TCU head to head - no question they jump TCU in my opinion. So now we are looking at OSU vs. Baylor
OSU: Big 10 champ, wins over Nebraska (neutral site) and Michigan State (road) - both will have 2 losses and be top 15 or so. Loss at home to V. Tech.
Baylor: Big 12 Champ, wins over TCU at home (top 10 if they win out), Oklahoma and West Virginia (both unranked), and Kansas State (who will have 3 losses and be a top 20 team or so).
Comparison:
Conference Champ: Both
Record: 11-1 vs. 12-1, wash
Best individual win: TCU vs. Michigan State (wash or edge Baylor)
Overall quality of wins: at Michigan State, vs. Nebraska at Neutral site (hopefully 11-1 Nebraska), I think edge Ohio State
Quality of Loss: home vs V. Tech or at W. Virginia (edge Baylor)
Quality of Non-conference opponents: edge Ohio State
So I think the case can be made either way, but it should end up being a Baylor - Ohio State debate, not a TCU Ohio State debate because Baylor should represent the Big 12 if they win out in my opinion.
I blame Herman, this is 3 years now of very vanilla play-calling, where is the innovation we saw from Meyer at Florida? I understand that we have a freshman QB, but even last year there were games that they literally called 5-6 plays total. Most passing routes simply have everyone run straight down the field - no creativity or design. Maybe our QB's can't handle more complex passing combinations, but I thought Herman was supposed to be this QB whisperer, no?
Speaking of which, Herman has now had almost a year to craft JT from scratch, this isn't a true freshman. I think much of the offensive blame lies with Herman, and I've felt this way for a while now... Can't say I'd be bummed if he left after the season.
I think you can watch them online
These are the kind of guys other big ten teams need to start getting. He's from Maryland, tOSU was interested but he winds up in Kentucky... could have at least gone somewhere like Penn State, Maryland, etc.
Do they scrimmage or anything? what's the significance of these rosters?
Interesting, wonder if he plays WR at this camp? I don't exactly know how these things go
Are you still looking for somebody now that Jeremy has been hired?
How are our guys getting called for touch fouls on the perimeter (craft, scott) but then not getting any calls inside on shots? I can stand when they officiate so tight on the perimeter, also can't stand the inconsistencies
a little nervous about this game, Zona looked good the past couple games (albeit against bad teams) and was once regarded as a top 5 team, so the talent is definitely there. Bucks need to get out to a fast start and play lockdown d and keep rolling
Don't like these at all, someone already said it but I'll say it again they look just like practice jerseys. Saw Gonzaga wear these and thought they looked awful
Don't let them back in it, extend this lead to 20 bury them, I'd be lying though if I didn't say I was at least somewhat surprised with this start
valid point, it's tough because he is great on defense but not aggressive enough on offense. Now I'm not saying I want him to aggressively look for his shot, but aggressively push the ball up the court and push the envelope to get his teammates easy points
One other observation: Q and Sam are both very capable of getting into the lane and scoring easy buckets, but are often too quick to pass the ball right back to scott/craft. I think (and hope) that Q's finish to that half will help him realize that he can be very good at getting easy buckets when he's aggressive.
I really like craft but he is playing way too tentative right now, at least scott is aggressive and fearless on the court. Scott makes things happen and still doesn't turn the ball over, Thad needs to find a way to better utilize craft's skill set and craft needs to be more agressive on the offensive end like scott is. I really like how scott pushes the ball up the court and I wish craft would push it more often
Must win game tonight with scUM and MSU coming up. I'm gonna go out on a limb and say the Bucks get out to an early lead tonight and roll. We play well against less athletic teams and I expect that to continue.