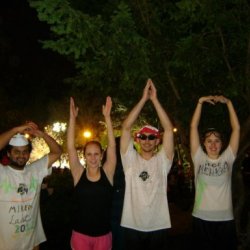 BuckU
from Reynoldsburg, OH
MEMBER SINCE September 07, 2014
Favorites
COLLEGE FOOTBALL PLAYER: Ryan Shazier
NFL TEAM: Pittsburgh Steelers
Recent Activity
Thanks for the throwback, Scooby! Love me some Carlos Snow
How could they expect to recruit better than Oregon? Do they even have alternate jerseys, bro?
Easy way to remember it, it's grAy in America and grEy Everywhere Else.
http://grammarist.com/spelling/gray-grey/
The rule states "former students (e.g. student atheletes)", not "student athletes". So as long as they enrolled in at least one class at OSU an one point in time, it would seem that they would be allowed to practice.
Did Utah lose and move up? They were 17 last week, lost to Washington by a TD, and are 16 this week. I know there was a lot of other crap that went down, but it just feels a little weird.
That's interesting, because I was going to say how I remember him destroying a DB downfield on a long run, and how I thought he seemed to be a very dedicated blocker.
#WellActually the probability of PSU losing at least one game is 82%, not 89%.
P(PSU losing one or more games)= 1-P(PSU winning out)
P(PSU winning out)=[1-P(lose to Purdue)]*[1-P(lose to Iowa)]*[1-P(lose to Indiana)]*[1-P(lose to Rutgers)]*[1-P(lose to MSU)]
=(.87)*(.88)*(.57)*(.97)*(.41)
=.174 =17.4%
Therefore P(PSU losing one or more games)=1-.174=.826=82.6%
And here I thought Stats class was never going to be useful
We say this now, but looking at a year like 2018, if we were to drop games to TCU and Oregon State while Penn State walks through their non-conference schedule of Appalachian St, Pitt, and Kent St, we sure as heck would be up in arms about our tougher non-conference games hurting us. It sucks you can't punish a team for early losses, but we saw last year how much a team can grow over a season.
#KerryCombsWantsToBeTheOffensiveCoordinatorButWouldStillBeOnTheSidelines
It started around 2013 if I remember correctly. It was a small pocket for most of that season. By midway through 2014, there was a pretty solid contingent including my group in 34A. I love hearing "and take his shoes" on the air. It comes out a little clearer than "Rip his f'ing head off", and it makes me think I had a little part in growing the traditions of the Shoe.
Edit: Dang, Quad, way to ruin my dreams!
Yes, Ruffin was tossed with ~2min in the 2nd quarter. USC already announced punishment- a one half suspension.
I remember correctly. $5 if Houston gets into any power 5 conference
Source: http://www.cbssports.com/college-football/news/tom-herman-has-5-million-reasons-to-get-houston-into-the-big-12/
I seem to remember he was in line for a big payday if Houston got invited to the Big12. It would be a shame for him to miss out on that.
couldn't happen to a more arrogant, pompous school/fan base
A certain team up north would disagree
#KerryCombsisveryexcitedaboutthatHookerkid
At least they realize the fan experience doesn't involve quality football
I was just thinking how there were more shots of students doin "the Bernie" than actual game footage. I also loved the shout out to that one time they split the B1G championship back in 2004
This isn't fair to James Franklin, Penn State has only had 2 coaches since 1936
I plan on driving down from Green Bay area for the game. Good call on the Alumni Association tailgate. I'll have to look into that