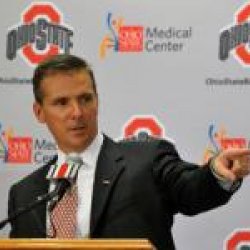 BuckToAsT
---
from Columbus, OH
MEMBER SINCE July 30, 2013
Favorites
COLLEGE FOOTBALL PLAYER: Joey Bosa and Braxton Miller
COLLEGE BASKETBALL PLAYER: Aaron Craft; Mike Conley, Jr.
NFL TEAM: Cincinnati Bengals
NHL TEAM: Columbus Blue Jackets
NBA TEAM: Chicago Bulls; Cleveland Cavaliers
MLB TEAM: Cincinnati Reds
SOCCER TEAM: Columbus Crew; USMNT
Recent Activity
You know what -- I think I would watch that.
I want to create a second 11W account just so I can this more up votes!
They were actually doing it to help out Northwestern fans, who all obviously root for the Cubs.
(Ryan Field is 8 miles away from Wrigley Field)
I disagree. You would know that the loser is not better than the winner. You would not know that the loser is not amongst the four best teams overall.
Hindsight is 20-20. All objective criteria in 2006 pointed to OSU and Mich being #1 and #2. You have to go with what you see, not on future possibilities. What I see thus far -- and mind you, it is just my personal observation -- is leading me to think that OSU/Mich are 2 of the best 4. Alabama is also there. Many weeks are left in the season, so this could all change. However, by the time the selection committee goes to pick the 4 teams, we'll all have a pretty good ideas as to which four teams are the best.
That's precisely my point. Each year will be different, but you should not be rewarded, at the expense of a better team, for simply winning your conference.
I see where you are coming from, but I disagree. In any event, the standard is not the four most deserving teams, it is the four best teams.
I don't disagree. 3-6 would have to fight it out, but that's why rankings and winning will arguably mean more during the regular season.
I consider WVU more of a rival than Penn St. :)
This is why I would love a 6-team playoff. The winners of the power 5 get automatic bids, with the 6th spot going to the best remaining team. Rankings would still matter for match-ups and the byes.
Why? If the goal of the selection committee is to find the BEST four teams, then why is not conceivable for a conference champion to get left out? Particularly if you are a 2-loss conference champion in a conference that was not that great during the regular season.
Winning your conference does not automatically make you one of the best four teams. What if Florida State ended up winning the ACC? Would you put them in over the loser of OSU/Mich?
This is a good take on the issue:
http://www.espn.com/college-football/story/_/id/17827382/college-football-playoff-scenarios-throw-things-chaos
If the goal of the committee is to find the best four teams, and if OSU/Mich enter the game undefeated with the victor pulling off a narrow win, then probably. While winning your conference championship is ONE factor, so are many others, including strength of schedule, margin of victory, etc. If the winner of the PAC-12 / Big12 is not the better team, then they should not leap frog OSU/Mich just because they won their conference. Why would they? Now, this argument is much easier to make if the PAC-12 / Big12 champion has a loss; even stronger with 2 losses.
Is a one-loss Washington, PAC-12 winner, a better football team than a one-loss OSU/Mich team that lost in a close game to the #2 or #3 team in the country? Despite winning the conference, I'd say no.
I've watched this 20 times already. Again...
North Market is a must for lunch! Eat at Hot Chicken Takeover and then get some Jeni's ice cream for dessert. You can also grab a few macaroons from Pistacia Vera and Stauf's Coffee.
That's FOUR COLUMBUS STAPLES, imo, on one trip.
I'd go Thursday, as it is usually not as busy.
No matter what jersey he wears, he'll bleed scarlet and grey.
Always a Buckeye! No matter where you play. Good luck!
Boot and crutches seems far fetched for precautionary, but what the hell do I know.
JT's Monday night call would also be interesting. "Coach, what do you got for me?"
You all lie. I don't make a habit on munching on them, but I'm sure one has managed its way down my throat once or twice in my 30+ years on this Earth.
MOD be like, "Yo post was too Basic"
OREGON. Chip Kelly had a nice thing going, and what Oregon did the last 6 or so year was "cute." They proved however, very beatable against the bluebloods. Moreover, real powerhouses are now after the speed demons, meaning Oregon-type recruits have more options today than they did in the past. I doubt they recover. They will remain a middle-of-the-pack Pac-12 team and will not win a national title in football.
Good thing they have cute uniforms... (Oh yeah; powerhouses also caught on to that trend -- we too have flashy alternative uniforms that bring all the recruits to our yard)