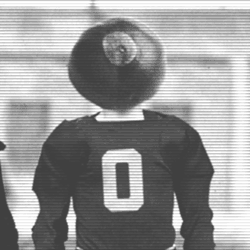 Buckster
---
Member since 25 March 2012 | Blog
Recent Activity
Jaxson Hayes was recently in for an unofficial visit at THE Ohio State University.
Let's look at this UNC situation this past year. The main reason UNC won the NC was because they had a senior and junior experienced college team. They were the most tournament experienced team in the NCAA Tournament. Kennedy Meeks and Isaiah Hicks were four year seniors, Justin Jackson and Joel Barry were three year juniors (Berry returning for his senior fourth year). Only Tony Bradley left after his freshman year and he was not in the rotation and not a factor in winning the NC. Theo Pinson was an experienced soph and he is returning for his junior year.
So don't provide all this garbage talk about how good UNC and Williams are. None of their starting players were good enough to be one and dones and go early to the NBA. This is totally unlike Duke, KY, Arizona, UCLA and others that lose players after their freshman season year after year after year. Meeks and Hicks went undrafted. Berry and Pinson had to return and go back after their NBA evaluations said not good enough for the NBA.
Also, let's see what the NCAA rules on their 30 plus years of academic fraud.
It doesn't matter, Holtmann and the Buckeyes will be fine as I said before. So do not provide all that stupid UNC garbage talk.
Jeremiah Francis needs to understand that what UNC and Williams have done is about the past. Everything in life is about the present and the future. The young man doesn't want to blaze a great trail and lead his home state school to National Championships and beat teams like UNC. He would rather leave and go where he thinks its going to be better. The young man can do what he wants,its his life and decision. He can be lifetime hero at Ohio State but instead just wants to be another OOS guy at UNC.
Going forward, Holtmann will identify young guys that want to make the Buckeyes National Champions. He is already in the process of doing this. It will be very soon where the Buckeyes are on top of the College Basketball World and the surprise to many will be how fast it will happen. Holtmann & his Staff are the real deal, excellent coaches and now they have the Ohio State muscle behind them. Elevator UP !!!!!!!!!!!!!!!!!

pull the offer. Can't have ACL tears (if that's the case) on anyone not on the team.
It's bad enough when that happens to players already on the team.
it's too bad for him and I feel bad for him. can't have a team of 85 ACL tears..
Sounds good to me.
Check that, sounds GREAT to me!!!!!!!!
The Cavs should go trade for DeMarcus Cousins.
Thompson & Shumpert for Cousins.
Good deal. Holtmann needs to bring his own people in.
This way he owns it in full 100 percent. Now go out and recruit your number 1 players with Ohio State as the destination.
Today is about a back surgery that went horribly bad several years ago. In this cut throat world of recruiting, opposing coaches turned to negative recruiting and used Thad's health against him when recruiting players. That was the only thing that could force Thad to relinquish the Head Coaching reigns.
Thad Matta has more Leadership skills and Basketball knowledge in his thumb than the vast majority of these opposing coaches will ever have in their entire body. Tough day for Thad, tough day for Buckeye Nation but Thad will make sure the next Head Coach is the right Head Coach.
Thank You THAD !!!!!!!!!!!!!!!!!!!
Braxton Beverly has 5 Star Basketball Intelligence, work ethic, teammate and solid 4 Star Basketball skills.
C.J. & Braxton should should give the team everything it needs at the Point Guard position this season.
Gonzaga gonna get a spankin by the Bucks.
Can't wait..
Juice Scruggs is a candidate for center.
The Buckeyes have two safeties leaving after this season in Damon Webb & Eric Smith so the playing opportunity is right there. Plus 2 DBs just transferred in Norwood & Burns.
MSU is the pre-season favorite and the rest of the teams have no advantage on each other.
The Buckeyes could be the big positive surprise team if the players step up their game.
05/17/2017
Ole Miss looks like it will not have the services of one of their signees.
For a while it looked like the Mississippi Rebels would have the services of one of the better long range shooters in the class of 2017 in Parker Stewart, but the three-star prospect has decided to change gears. On Wednesday Stewart asked for a release from his Letter of Intent.
Stewart confirmed the news simply informing Scout.com, "Yes I have asked for my release."
Initially Stewart committed to the Rebels over interest from Nebraska, Wyoming, and Kansas State.
If Parker Stewart gets his LOI release from Ole Miss, Ohio State should be interested.
Parker Stewart
Union City HS
Position: SG
Height/Weight
6'5"/185
Home
Union City, TN
Walker wanted to stay close to home and grew up in the warm weather.
His HS Coach said yesterday that geography and weather were going to be factors so he leaked that out yesterday.
Georgia Southern written all over this. it's the new destination nation. sound familiar.
All you peeps wanted this kid so bad and he can't play at Auburn. lol
FOXie Lady...C'mon...Bring it on. Oh yeah!
The replacement for Thad Matta is Thad Matta driven more than ever if that's possible.
Thad is in the process of bringing the program back to prominence but very few can understand and see this.
Cam Johnson is on his West Coast trip right now, already visited Arizona, and visiting UCLA and Oregon.
Kentucky just added Kevin Knox but he says that won't impact his decision.
When he returns, Thad may still get a visit from him.
Ohio State is closest to home and probably provides the best opportunity so we will see.
Thad has the sealant out and is sealing the deal right now.
Yes, Javon Pickett, Shooting guard, (Belleville, IL) Belleville East
Ht: 6'4"
Wt: 180 lbs
Class: 2017
.
The chances are very good.
When these guys watch the Buckeyes play this year they will see a really good team and how good the team can be going forward if they come aboard.