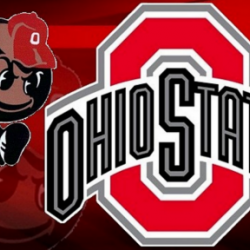 BucksRoger
---
MEMBER SINCE February 19, 2017
Life long Buckeyes fan. Sent both kids to OSU, both graduated.
Favorites
SPORTS MOMENT: At the Shoe, OSU v um 2012. Boren standing over Gardner. One of the 40 games I went to while my kids attended The Ohio State University.
COLLEGE FOOTBALL PLAYER: Griffin, Archie
SOCCER TEAM: Columbus Crew
Recent Activity
That is NOT happening this year. Carry on.
Does he know that he's a 3 star recruit at freakin Iowa?
I think we'll see Smith getting the bulk of the snaps early, with the 'other guys' rotating in. I also see where that could easily change later in the season. I agree with Hovenaut and Darksungm that we'll be tough up the middle. Teams are going to have to chip with TEs and keep their RBs in to block on our DEs, because the C and/or G are going to have hands full with our DTs. 3:41pm Eastern; *ichigan still sucks.
I think he stays longer than Urban. That way he will have finally have a 'win' against him.
BSG, I agree. Not so much our 'back 7' as much as our 'middle 3'. My biggest concern is short passes over the middle that are caught with no LB within 5 yards of the receiver. Really, really hope I'm wrong about that. GO BUCKS!!
I have liked Day's play calling. I think Urban giving him and Wilson the play calling duties just shows that one of the best college football coaches ever is always evolving and ready to change and do things differently if it benefits the team.
Elks, if this is their natty, it looks like they'll have something else to cry about for a few more years. Bucks 45, Toads 9.
I've been the woman who was kicked in the ribs so hard it sailed me out of bed
I'm 61. I forget stuff and I don't cry easy. I don't think I'll forget those words, and my eyes are sweating a little.
My God. You are amazing.
Just based on what we know so far, which includes that OSU would never have the testicular fortitude to tell this 'reporter' and all the haters to go play 'hide and go fk yourself', my call to the BoT Wednesday morning will be to tell them this:
Suspension: 3 weeks (time served), Fine: The equivalent of 3 weeks pay, Statement: "There will be no further statement."
Yes, also wears mom jeans and eats cat food.
McLovin, clearly you are sitting in on the OC meetings. Tell them to stop it, please.
It's not that hard to figure out.
Unfortunately, that's our offense with JT in. I love the guy -- the very definition of a warrior, winner. But I love The Ohio State Buckeyes even more, and I think with the Baggers defense and 4 years of film on JT we'll be predictable (again). UFM needs to be ready to make a change if we're getting stuffed on the read option with JT. I know this may sound crazy to that sorcerer of an OC we have, but the offense could actually run some counters to get our awesome RBs in the game, and open up some short passes (maybe the occasional long ball) to get their D to loosen up, then we can do what we want, when we want.
Go BUCKS!!! Crush the baggers!
We just might be wondering why Haskins didn't get more playing time this year. At least that's what I HOPE we're talking about. But for this week, JT: heal up, Haskins: be ready.
Agree. Is it safe to assume that you are also a survivor of the 1990's?
Coach Hairball has won a lot of games.....but no championships. He will probably win the off season again, though.
Is that a booger between those two fingers?
Yes, and let's use our running backs for the vast majority of those runs, not JT.
If Bama wins out, GA will be a 2 loss team.
We're all aware of what his suspension (if it happens) is for. UFM would never welcome that to his team. Carlos Hyde got suspended for less than Zeke is accused of.
JKoz,
Excellent points. It is, however, going to be awfully tough to stick with those reads when the guy taking the PA fake is Barkley. Hope they work on that a lot during the bye.
His balance is uncanny, also. I'm not sure who will compliment who, but having these two back there is a very good thing.
I would like to see 300 plus passing. We need to get Barrett out of the run game as much as possible, especially early in the season. Our O line is better, we've been told the receivers are better, we've been told Barrett's accuracy downfield (admittedly in drills) is top notch. Let it rip, complete a couple of deep ones, then we can run anytime we want. Let's go BUCKS!!!
Agreed. I can't wait to see what Dobbins can do in a real game. The guy's balance is ridiculous.
We can if we want. We're The Ohio State University.
Great point! Not only will they be better this year, they will continue to GET better as the year goes on (hear that ttun?). And wreaking havoc in their backfield while still having seven guys in coverage will cause wailing and gnashing of teeth.