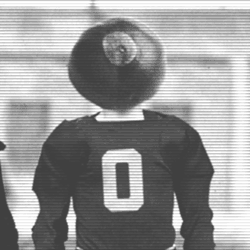 buckskin
---
Member since 19 February 2012 | Blog
Favorites
SPORTS MOMENT: Ohio State National Championship game in 2002. Beating down thugs is always fun.
COLLEGE FOOTBALL PLAYER: Antione Winfeild
COLLEGE BASKETBALL PLAYER: Jim Jackson
MLB TEAM: Cincinnati Reds
Recent Activity
I know this, his offensive line play will be excellent.
I'm tired of hearing about it. Glad it happened in a way, exposed Beck and Warriner and directly led to the hiring of Wilson. Really wish we could have held onto Warriner to help with OL, not sold on Strudawa yet.
I strongly disagree, with a group it makes it 899 times better. 900, jeesh.
I hear you, but osu played navy in 2014 and won the title.
They were and I believe they moved to Indy shortly thereafter.
Wasn't he the coach that said "I won't quit, even if Hugh Freezes over?" I'll show myself out.
Pete Carroll jr.
Right there with you game time. I also wish we could have found a way to keep Warriner on as OL coach.
Agreed and that is why I stopped paying attention to it. If he commits to the good guys, great. If not, good luck to him but this class will be more than fine.
Hope the NCAA doesn't find out about my 9 year old son playing a game at Ohio University this year.
I found this way more funny than I should have.
The one that knows whose nose is caved in, pay him.
My first thought.
Good info. Thanks for all the work BG. Remembered Lewis at BG, didn't know about his pro career. Hopefully he gets it worked out.
- I love JT and all he has done for us, but he is not the best QB on this team. - I think Meyer should not be involved at all in play calling. Totally give keys to Wilson and step back. Too many cooks in the kitchen and I guarantee this contributed to the Penn State loss. - I am not as high as Hubbard as others. He is good yes, but not 1st round good IMHO. Hope he proves me wrong this year. - I detest it when collegiate football players are referred to as labor. A breaking point will come in the future and the college game will never be the same. - I'm over the college uniform fad. Get one uniform and stick with it. I have always admired Penn State and Alabama for their stance on this (not 100% sure if either school has worn alts, just don't remember it).
Chris raises a great point. Use my image at will OSU football program or school in general, but don't attach any corporate sponsors to it. I also like how he gave the university time to respond. He presents a strong case.
Not all, but many types of evil.
Does uninstalling games my kids put on my phone count?
Yep. Less days off.
I agree and on a sarcastic note, why aren't the uncommitted prospects getting paid because sites are making money off of them.
Hmmm, never seen Curry without his pacifier.
Considering Holtmann just met Meyer recently, I highly doubt he borrowed from Urban, but I too see the similarities in the culture of their respective programs. Gene may have a grand slam on his hands.
Yep. That UA money don't hurt either.
My main problem with this issue is calling the players labor or workers. They are not workers or employees. They are student athletes with (most) a goal of making the NFL. This is a key fact that needs more attention. If they are employees, they should receive the same benefits as such: health insurance, 401k, disability pay, PTO and vacation time. Where does it end? In regards to Speilmans lawsuit, I feel the solution is simple. Get permission for the use of the former athletes name/image to be used BY an advertiser or remove the ad from the image and place it elsewhere. In the case of the Honda ad, move it to not conflict with Archie, if Archie so desires. The school should always be allowed to use the image to promote the program, no questions asked. I believe Speilman does ads for Subaru or another car company, so that may be the rub with Honda at OSU. I also think the NFL should institute a rule stating a player can go straight to the NFL from high school OR has to wait 3 years to enter. This gives the player control. If they're ready, let them go try and make a living. They can fight in a war and die for their country, give them this opportunity. Having said that, IMO hardly any, IF any, could make that jump straight from high school. At least they have the choice though.
This is getting away from the topic, but how big is Cameroon indoor? You don't need a huge stadium to create an aweseome environment.