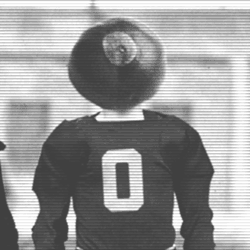 buckskin
---
MEMBER SINCE February 19, 2012
Favorites
SPORTS MOMENT: Ohio State National Championship game in 2002. Beating down thugs is always fun.
COLLEGE FOOTBALL PLAYER: Antione Winfeild
COLLEGE BASKETBALL PLAYER: Jim Jackson
MLB TEAM: Cincinnati Reds
Recent Activity
Shit Milk Steak, you just made my morning. Thanks for the laugh.
Yep. I believe he would be number one.
I like this type of idea because the focus will soon be on money (legally) for the student athlete in high profile sports.
Florida just upped the ante. Any state that has schools that want to remain competitive will need to pass this law soon. I'd they don't, recruiting will suffer. I'm sure Ohio is looking at the same type of law right now.
Online classes only!!
Cannot imagine taking the presidency and your 1st major decision is to drop a bomb that is going to kill thousands, yet save potentially millions. And then was forced to do it again due to stubbornness on the Japanese part. This was meant as a reply to the post above.
Great player from Clyde, where he was a state HW wrestling champ IIRC. He was always eating up double teams to let his teammates go to work. Really have to respect a guy who does all the work in the trenches and gets no publicity. Thanks and continue the series, it is appreciated.
My first thought as well. How does this guy handle a stupid question that is obviously inaccurate.
One only needs to look at the result of Narduzzi coming out of the booth to the sidelines in the B1GCG to KNOW that Coombs needs to be in the sideline. Of course we didn't give the ball to Hyde!! (Shakes fist).
48 Hours with Eddie Murphy and Nick Nolte when I was 9. Funny as hell and couldn't how much the F bomb was dropped.
Barry Sanders would dominate in any era.
The OSU brass needs to realize what this man could do for us as President. The rift between academia and athletics that has been there since Woody Hayes would never let that happen. Also they would never be willing to weather the PR nightmare hiring an fired coach would bring. I would love to see Tressel back here.
Touchdown off the board. Karma fuckers.
I gotta admit, that is funny Jack (assuming you're joking).
METEOR, METEOR!!
No, it was FLEX SEAL!! As seen on TV.
Short passing game is there. Nothing wrong with 5 to 9 yards at a time with occasional shot.
OLAVE!!!!!!!!!!!!!
Let's go Bucks!! Penalty free 4th quarter!!!
4th quarter is ours!!! Beat Clemson and the refs.
I agree they were great, but you must have missed Barry Sanders play.
Now more than ever, we need DJ...
I would really like to see Urban stay on the B1G show when it comes to issues like this. He has called for a 9 game conference schedule for all conferences and taking the "look test" out of the playoff equation. Although he doesn't try to be he's like E.F Hutton; he talks and people listen. Numerous analysts are starting to repeat his points and call for change also. He is so influential and as the B1G show continues to grow, I feel the tide could start to shift to a more level playing field between all conferences.
Like mom used to say, eat what's on your plate; and it better be clean.
I would say after watching the Bucks come out flat last night, it is definitely a blessing. Wisconsin had a good game plan, but that doesn't explain the control on the line of scrimmage. IMO the team heard all week about a blowout and how good they are and they lost their edge a little. Things changed at halftime, but we cant afford to come out flat against Clemson. With that motivation, we will be national champs.