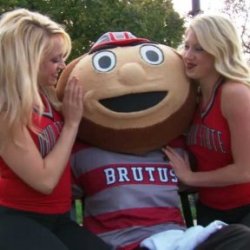 BucksHave7
---
MEMBER SINCE July 27, 2014
Recent Activity
Proudly brought to you by PURELL hand sanitizer.
"Whatever it is next year, it won't be the same as it was last year," Drake said Thursday,
Drake probably means that this season Buckeyes will be in the NC Game!
OfficerRabbit: I agree with you. The model is maximize revenues and that is being done with popularity and tv ratings and licensing revenues an all time high. The model is to not fill as many stadium seats as possible.
Im useless on Saturdays in the fall, because I watch pregames starting at night and end w a westcoast game. If I attended a local game, Id only see 1. Whereas Im watching throughout the day, 10 games.
LOL. OK. You realize acutal game attendance is a very small part of it.
Why attend games in person when HD TV is such a beautiful thing and you can watch an entire day of games? Its the growing popularity of the sport that has lowered actual attendance.
8 is it.
Winner of Each P5 Conf gets autobid.
The committee can all deliberate over shrimp cocktail to pick the other 3.
What am I missing here....
Also, 66 percent of the ADs said the highest-ranked non-Power Five team should receive an automatic bid to an expanded playoff.
There are 6 Non P5 FBS schools. Army, ND, BYU, New Mex St and UMASS. So be the best of these 6 and youre in the CFP? LOL
God Bless! Well done and Great job guys.
So close!
OR is our toughest game of the year, no doubt!!!!
But I feel pretty good about how we match up w the Ducks.
Que "James Franklin M—ther F—ker" gif!!!
Just curious, how does a team lose a top 10 draft pick QB, 4 starting O Linemen and loses same amount of games in 2020 (2) as 2019 (2)?
Nothing good happens in the offseason
Sounds right. Buckeyes are gonna light it up!!!!
This is nowhere near your grandfathers QuackAttack! Not even close.
WOW, some incredible games! Bucks vs Ducks! Huskers at Cincy!
Virginia Tech is ranked No. 6 in returning production across the country.
Virginia Tech returns 74% of their production on offense while they return 89% of their defense, which ranks fifth in the country.
Herbert is a top 10 first round pick and OR is replacing 4 starters on the O line. Their defense should be pretty good, 8 returning starters. But so is our offense.
But, Larry Johnson is already drooling!
Actually Buckeyes have won the last 9 of 11, not 11 out of 11.
1) 2016 game was the game we dominated up until last 4 minutes and lost due to horrible, bonehead special team mistakes.
2) 2011 game was the Fickell HC experiment w QB true freshman Braxton Miller.
Say the really wierd circumstances that have to happen for PSU to win a game vs tOSU?
Incredible MODs....
So you agree or disagree w Dabo on we have college football this year?
My friend, as long as our beloved Buckeyes are in the AP top 25, I'm taking the house vs James Franklin every single time!!!'!
You wouldn't my friend????
We're running the table!!!
Anyone, anywhere!
Best O line in the country and a Heisman Fav QB w an assassin as HC.
You gonna tell me we don't travel well???
I see it that way too. Dabbo Sweeney said yesterday, Ain't happening, we're playing college football this year!!!!
Why did this site not cover that???