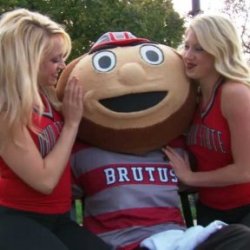 BucksHave7
---
MEMBER SINCE July 27, 2014
Recent Activity
Play hard, focused and healthy! No stupid penalties (especially targeting!)
Damn, and we gave up the 2 pt conversion too.
Yeah, thats good, because PSU will score 30 and we will score 50 anyway.
LOL....gotta love the media hype, a better PSU team without:
-Trace McSorley: all time PSU wins, completions and passing yards.
-Sequon Barkley: all time PSU most rushing touchdowns leader
-Desean Hamilton: all time PSU reception leader
They cant just say PSU is a paper tiger or kitty.
We gotta make sure we stay disciplined and no late hits (or targeting) on Clifford.
UFM said this morning, we have 1 rival.
Thank you for your service. Wow time flew by. Let's send him out w a football NC!
based on who we have played, as in past tense, and in chronological order.
Even ESPN says the Buckeyes are dominating in a way college football hasnt seen since FDR was President. But we know you are a PSU fan. All good. http://www.espn.com/espn/wire/_/section/ncf/id/28080446
Talk to me when Penn State's safely in the rearview mirror, too.
LOL RIGHT...Because then you will be telling us all how great TTUN is and how worried we all should be about TTUN.
Interesting that you want to go back to as far as the Buckeyes first game of the season and discredit this team.
Yet, you cant even acknowledge how PSU this year has been a house of cards all season (winning by less than 7 pts to every opponent w a .500 record). And even 6 days ago PSU looking bad and needed 2 IU special teams blunders to win at home. When we hammered IU at IU 58-10.
I think back to last year's PSU game and how so many times Dwayne Haskins could have taken off running, but it wasnt his game.
On this Saturday in the Shoe. ALL DAY LONG WITH FIELDS!!!
This one is at home. 18 points. We beat IU 58-10 at IU. PSU was lucky to win v IU AT HOME.
.....They wish they went to Ohio State.
About how I see it. From a popular analyst....
the Nittany Lions are struggling to tackle in space. They got away with it against Indiana but didn't against Minnesota. If that is no better this week, Ohio State will shred them. Penn State does not have enough offense to keep up. Pick: Ohio State (-18)
Welcome Back CHASE YOUNG!
There are a lot of qualifiers there, and we should be wary of "they're 4-1 ATS against teams with names that start with T when the temperature is below 50 degrees at kickoff" territory. But I think this batch of games makes a lot of sense for comparisons
What about where the dominate favorite is playing at Home?
Talk about missing the point, but ok.
it's free enterprise.
Also, how does monopoly fit into free enterprise?
Fifth smallest pointspread on Sat this year. Gonna be a blowout unless we play sloppy.
I feel PSU is lost. And Seeking approval from somewhere. Is it because their Rival Pitt has more NCs?
We have to be disciplined and we cant have any targeting or late hits.
This game is going to be a blow out, unless we make dumb mistakes and penalties.