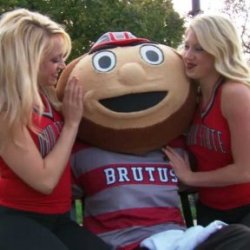 BucksHave7
---
Member since 27 July 2014 | Blog
Recent Activity
Best coaching staff, best damn band and best recruits...
tOSU is not a 4 year decision, it's a lifetime decision!
Concerns?
Were the #2 team in coaches poll and Vegas odds. We have an experienced QB, awesome Defense and best staff in the country. It's like saying my Rolls Ghost has a nick in the paint!
I freaking love THE Ohio State Buckeyes!
Our front 7 are hailed as THE best front 7 in all of college football. And we are replacing 3 1st rnd draft picks w 4 and 5 star recruits. Not worried at all.
Seems some of this should be CLASSIFIED!
This team will be scoring 50 pts a game. And no way our defense will give up anything close.
This stuff is like flipping a coin. The coin doesn't remember what came up last flip.
We got Urban! Anyone who wins two NCs out of SEC is special.
TTUN has a great coach, but too many Sr.s gone.
PSU has the music city Bowl and Poinsetta Bowl winner.
Lets put this into perspective.....
I heard last week that last year our O line was 68th in nation for sacks given up. Horrible.
But, we had THE #1 OFFENSE last year in B10 with 459 yrds/game. (btw: PSU 432).
With Kevin Wilson, how freaking good can this team be???
Think USC has to do w the hype of the west coast. They need a team (out there to root for) and they know Wash is going to be down this year w loss of seniors.
Cowherd nailed it!!!! as always. Saw that and glad you guys posted it here. Thanks.
-tOSU has Best d line, best coach, strong QB and no wisky, 9 days before Ok, no b2b road games and bye week before the kitty cats.
Watch it if you haven't already.
How high is the bar at tOSU? I love it.
We have the best OC we could possible have,
We have the most decorated B10 QB by seasons end and
We made the playoff last season by not even winning the fake B10 championship.
Not sure I follow the WONT'S. You tried really hard didnt you to come up w them.
1. There's Alabama? what your kidding, they are fielding a team this year that might make it to the playoff? Urban has proven he can beat Saban.
2. Uncertainty at OL? .....K-E-V-I-N W-I-L-S-O-N. He will call a gameplan to address this it becomes an issue.
3. No clear deep threat? Sorry we have a potential 2 or 3, out of our 4 and 5 star WRs, really? Can you please tell me if their 40 time is slower than 'other clear cut deep threat WRs' before you make a unsubstantiated statement?
4. How many coaches that have a legitimate shot at making this playoff have 2 or more undefeated seasons? And Urbans 2 undefeated seasons arent enough to assume he can have another one this year?
5. No margin for error: We're running the table baby!!!! This years buckeye team would beat last years buckeye team. Thats how I judge if my team is legit. Brutus coming yo!
And who is PSUs backup????
Site staff please tell us.
Hence the reason why Mike Webber has more yards than Sequon Barkley and why Bucks by 21 plus vs PSU!
Gonna be a special year Gents. Control the D line and you do amazing things.
They must have had a major that tOSU didn't have.
Huh???? PSU will be worried about beating TTUN week before and Buckeyes will only be worried about resting and beating PSU.
Honestly not even our 3 toughest games. Bucks by 21 pts.
Stop. They backdoored into a B10 championship.
Last year tOSU dominated PSU in that game except for last 4 minutes of the game.
Last year PSU finished bottom half of B10 defensively and return only 6 defensive starters.
USC proved that PSUs offense can't keep up w how many points it's defense will give up.
I'm gonna need more liquor!
I was hoping you would have showed statistically how Indianas offense improved w Kevin Wilson calling plays while there w 2-3 star recruits.
Kevin Wilson is THE biggest hire in all of college football!!! You guys completely under estimate our staff.
Spread at kickoff will be 12 pts and Buckeyes willl win by 21pts.
I've said before this game is like the 4th or 5th toughest game I'm worried about this year. For some reason, this site homers PSU.
You are right. We Dominated (last year) all but last 4 minutes of that game w 2 of the worst special teams mistakes of Urban's career.
Buckeye beat down!
-Both our offenses are high powered.
-Our defense will be way better, theirs will be worse than last year and they finished in 2nd half of B10 last year.
-Our coaching staff is way better.
-Bucks by 21 pts and any chance of a Barkley Heisman is ruined w this game, since we have the best front 7 in all of college football.