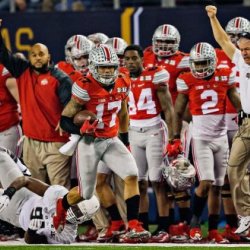 BucksFan2000
---
Member since 11 December 2013 | Blog
Favorites
SPORTS MOMENT: The whole 2002 season.
NFL TEAM: Steelers
NHL TEAM: Penguins
NBA TEAM: Cavs
MLB TEAM: People still watch baseball?
Recent Activity
Kind of debatable to refer to Browns v. Colts as an NFL game.
Depth is great, but as with the DL, there need to be some difference makers. Not sure we have those weapons right now. Saying we need one of the true freshman to step up is accurate, though maybe more than one.
E+R=O shit Zeke f'd up again
I guess we see why Stacy moved to Columbus when Zeke came here. Maybe he needs to move to Dallas now.
Tressel was great, but you also can't ignore a game that made OSU and the Big Ten the butt of many jokes for a very long time. Losing to an LSU team that was anything but great, then getting destroyed by USC - that was a pretty tough stretch. I'd replace with Pace.
Meyer has to go on there though - short tenure at this point, but also has a case for best college coach ever.
I think Tatum is safely #1 on this for the rest of history.
No love for Zeke in honorable mention though? I know this is more of a defensive thing, but that's a pretty bad dude in my book.
Maybe use the regular season to work on things like defense and moving the ball?
Yeah, people should just watch games and not comment at all. That would make sports fun. Actually, why does this site even exist?
All those excuses you just made for him are part of the job. Players leaving for the NBA? This happens everywhere - deal with it. Family life? No one cares - deal with it. Needing to revamp things? Yeah, that's the college game - deal with it.
Making excuses for him because he's a great guy off the court is why the program is currently a disaster. Sorry, but only results matter.
The last few years count, but he did have a great run. OSU bball isn't the blue-blood we want it to be, but for a time he got us close.
I'm surprised he never got more heat after the 2011 season though. That Kentucky game was a mismanaged disaster. Josh Harrelson was clearly giving Sully trouble, yet Lauderdale barely plays. And at some point someone needed to tell Buford to stop shooting. Conley/Oden was Thad's best team, but this roster was stacked too, with no Florida in their road.
LeBron won a title in Cleveland. That's worth 20 in Chicago.
Also, don't forget those Bulls had to wait for the Pistons to get old before finally taking over the East.
For those thinking ND will win a natty one day, consider that they never even won a BCS bowl game. Hell, even Kansas won one.
I've solved this problem for myself by no longer buying NBA tickets.
I only drink domestic beers. But it's actually beer.
If you consider Miller Lite to be beer, re-evaluate your life.
It's been a long time since this team was any fun to watch. Unfortunately, that's directly coincided with the Loving era. Not bashing him, but that's the reality.
Hopefully Funderburk can provide some help next year. I would say Wesson needs to play too - some have mentioned on here that a 'freshman don't play' card is being used against OSU in recruiting.
The problem I see is Cincy, Dayton and Xavier currently have better programs. OSU is the 4th best option in Ohio? That's not acceptable.
I wouldn't like their chances against Akron right now either.
He's not going to stay there, but I was surprised to see him still second team as well.
I'll take LeBron over this tool...
At the end of the article it states the point of these programs is to reduce the risk of sex re-offending.
Reduce? How about eliminate it by leaving these scumbags locked up.
MJ was great but people seem to forget all those times the Pistons whipped the Bulls. LeBron has losses in the finals, but MJ took plenty of losses in the playoffs too.
Anyway, LeBron won a title in Cleveland. That's worth 10 titles anywhere else so LeBron is the goat.
While we're piling on Tennessee, let's not forget they beat Nebraska, one of our (allegedly) premier B1G programs.
I felt like Dallas should have played more that game - to come in and be an enforcer since they weren't calling anything. Sully needed some help inside.
He may be a bit light for it, though with Sprinkle back and so much more experience with our d-line, maybe it won't matter.
Regardless of where he plays, Baker needs to see the field every down. Great play-maker.
I had to look up the stats, but I think most people are over-valuing the two Heismans for Archie. I'm not discounting them, but Zeke was the best player in college football his two years as a starter. His not having a Heisman is a joke.
Griffin - career average 6.0 yards per carry, 27 total TDs
Zeke - career average 6.7 yards per carry, 44 total TDs
Eddie - career average 5.5 yards per carry, 45 total TDs
Clarett's one year puts him at 5.6 and 18 TDs. All of these stats are great, but when you factor in Zeke's pass blocking, I say he's our best ever.