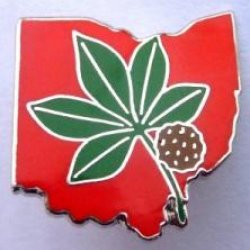 Bucksfan
---
Member since 30 August 2010 | Blog
One day I changed my icon, and the entire internet almost collapsed in on itself and destroyed the known universe. Good news is that we're all still here and can laugh about it. Many Shuvs and Zuuls knew what it was to be roasted in the depths of the Slor that day, I can tell you!
Favorites
SPORTS MOMENT: My friends and I getting our picture taken with Brutus Buckeye on the field after beating Michigan 14-9 in 2002 to finish 13-0 with the scoreboard in the background.
COLLEGE FOOTBALL PLAYER: Craig Krenzel
NFL TEAM: Trying to give up the NFL. Entering a 12-step pro
NHL TEAM: ?
NBA TEAM: ?
MLB TEAM: Cincinnati Reds
SOCCER TEAM: No. Just...no.
Recent Activity
Another cash grab by Ohio State. I do not approve. Quit being a bully.
This list makes no sense.
Obscene. When the hell does this money start offsetting tuition costs for average students? When does it start paying for their room and board, which is now mandatory for your first 2 years at Ohio State?
That's just a complete and utter lie.
Sorry, dude...4 of your top 5 are soccer....but I might allow you #2 so long as you're talking about the women's team.
There's a whole world of awesome live sporting events out there. If you're hard up for some diversity in experience, try the Indy 500, maybe the Kentucky Derby. Playoff baseball is quite badass as well.
My first thought was the concussion risk. You bring up an excellent point about specializing.
Member when Kirk Cousins was available and the Browns drafted Brandon Weedon?
Would you have wanted to play for a new coach by the name of John Cooper, who led the mighty Buckeyes to a 4-6-1 record, with a loss to Michigan, in his 1988 debut...Griffey's senior year in high school?
I don't blame him.
You damn kids with your love of hideous black unis. Whatever shall we do with you?
I honestly cannot name a current WR. I just looked it up, and and figured out why...our leading receiver was Curtis Samuel, 865 yards, led the rest of the receivers by a factor of 2...and he's a running back.
Oh man, that's really sad. Such a shame. Best wishes to everyone, especially his wife and son.
Exactly. 5 seasons...1 Big Ten title. Given the state of the conference and how many games the Buckeyes win every year, the 1 conference title is probably the most unexpected result so far.
6th is generous. I could see them ranked as low as 9th based on just how weak they looked in the Fiesta Bowl.
The Big Ten always craps the bed in bowls...you could go back way before 2000. And Ohio State hasn't done much to help matters all time (22-25). Because it has always been this way, you could consider it part of the conference's identity as much as any other tradition. No reason at all to think it will ever change. Bring in Harbaugh, bring in Meyer...nothin' changes.........f'ing Nazis.
What planet do you live on? The one I live on is pretty clear that Urban Meyer's offenses require you to run the football. I don't care if it's Mike Weber or Zeke Elliott, or someone as bad as Lydell Ross was...if they don't run it, they struggle mightily, and that is a common factor in all of their losses.
I've never seen an Urban Meyer team pass its way to victory. Have you?
Just totally and completely unacceptable.
"I've never heard of half these guys. And the ones I do know are way past their prime."
I like that Savage Tiger guy... he funny.
Headline on January 3rd: "McSorely Mistaken"
The long ball is my biggest concern regarding our playoff chances.
There's only one coach out there who can do what it takes to beat Alabama, and we already have him. As long as we have him, we have a chance to beat Nick Saban. So, I'm not complaining for a long, long, long while.
Look at all those tasty steak dinners, Deshaun. Eat up!
The only team Penn State has an argument for replacing in the playoff is Clemson...who also lost to Pitt. Ohio State beat Wisconsin at their house. Ohio State beat Oklahoma at their house. Ohio State beat Michigan, who annihilated Penn State. Ohio State was beating Penn State by double digits deep into the 4th quarter, and lost it on a series of fluke plays.
It is a strange set of circumstances here, but Penn State didnt just lose once in the early goings of the season where it can be forgiven...they lost twice. Too many other 1-loss teams out there to consider over a 2 loss team that plays in a division with michigan state, rutgers, and maryland. They won a tie-beaker. Had Michigan not lost to Iowa on a last second field goal, Ohio State would be your division champ.
We didn't get into the playoff because of our brand. We got into the playoff because we beat #9 and #6 at their houses, and beat #5 when they were #3. The only loss was to #7 due to an improbable series of events. Ohio State played one of the toughest, if not the toughest, schedule in the country.