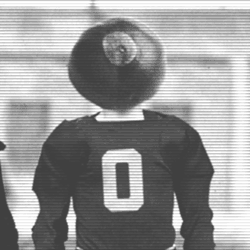 BucksAndBourbon86
---
Columbus (via Warren)
MEMBER SINCE November 02, 2018
Favorites
COLLEGE FOOTBALL PLAYER: Braxton Miller/Troy Smith/Ted Ginn
NFL TEAM: Here we go Brownies!...here we go!!
NHL TEAM: CBJ
NBA TEAM: CAVS
MLB TEAM: Indians
SOCCER TEAM: Crew
Recent Activity
Most dominant game of football I've ever seen in person or otherwise! We were planning to go to the game for a few weeks. JT gets hurt in the Xichigan game, and we're all sitting there shocked at the shoe deciding if we should still buy tickets. Only knew that Cardale was from Glenville, nothing else. Decided to make the trip. "It'll be fun even though we might lose". LOL. Best decision ever!
Thanks Colin! This weekly write up and the film session are both awesome!
Sometimes kids just have a "not great game". Look at Beanie Wells against Youngstown State in 2007. 16 carries; 46 yards. No one remembers that game. They remember Beanie being a beast all season. Not "what was wrong with Beanie in the first game?". Perspective and expectations need to be adjusted in general. Also 92 yards and 1 touchdown per game leads to an 1100 yard season with 12 touchdowns. Go Bucks!
Teague seems like he could develop into THE guy next year at RB (if JK leaves of course). Makes the whole losing out on some RB recruits in July/August seem like not too big of a deal anymore. Need to recruit a quality back for the future obviously, but I'll take Master as the starter for 2020 and 2021.
Urban on Fox sports college football shows >>>>> ESPN shows
Good luck 5! One of my favorite Buckeyes playing for my pro team would be awesome! I hope he makes it. Definitely deserves it. Was always very team oriented and selfless during his time at OSU, especially for someone so talented. Interesting to think about where OSU football would be right now without Braxton sticking with us after 2011...maybe no Urban Meyer era.
That's how it has to be in college football now. You can't just say this our defense against every team/personnel. That's where most of the defensive struggles stemmed from last year. A few motions, and all the sudden you have Pete Werner in man coverage on Rondale Moore on the outside. We're losing that battle 9 times out of 10 (and I like Pete Werner as a player, unlike some commenters).
I noticed that too. I thought it was a national vs local thing as I've seen articles on 11W suggesting he could be only the second player in OSU history with 2 seasons of double digit sacks. So...I'm confused
OSU has signed two 5* RB since the Internet recruiting era starting in 2000. Beanie Wells and Mo C. Every single other RB has been 4* or lower (including Pittman, Boom, Saine, Hyde, Zeke, Webber, Dobbins). We'll be just fine. Also if you look at each year's recruiting rankings, there's only a small handful of 5* at the RB position. USC signed five 5* RB over the span of two years a few cycles ago and none of them have really panned out. Give me the RB who was player of the year in the state of Florida (Marcus Crowley 2019 class) or the hungry wrecking ball who's ranking is low because he couldn't afford to go to a lot of national camps (Master Teague 2018 class).
I was at that Indiana game. Sure OSU didn't play that well, but we still got the win with a hell of a passing game performance. We were in the student section, and people weren't really cheering at the beginning ("I hate watching us blowout these crappy teams"). Then that same "crappy" team is actually giving us a competitive game, and people still aren't cheering. Make up your damn minds!
I've heard it's because he plays 2 different positions (safety and outside linebacker) but can only be ranked at one position. This will make him perfect for the hybrid bullet position at OSU, but his recruiting ranking suffers.
I definitely agree that ticket prices have become outrageous, especially on the resale market. People are taking advantage of the situation. I also think it's great watching games at home with a huge TV and my own bathroom. But that being said, I've gone to 52 Ohio State games from 2009-2018, and there's no better experience. I've been to games with large groups of friends in the student sections, and to others just my wife and I. We make a whole day of it. Out before, after, or both and just enjoy the campus/Columbus atmosphere. I would honestly go to every game if it were more affordable (yes, that includes MAC and FCS opponents). It's sad that people who want to watch the games at home buy up all the tickets then resell them for the triple the price.
We've got barbecue back here...you're all invited!
"Hit the tight end so hard, his girlfriend dies" lol
Under appreciated for sure! Multiple passing records (for a guy who can't throw), and in the top 10 in some of the rushing categories at a university that has always been prideful of its ability to run the ball. Most importantly 38 wins as a starter! Don't forget loyal. In today's college football world he would've entered the transfer portal after not being named the starter for Va Tech in 2015.
Terry seems like a great dude. I'm really happy for him, and the other two OSU WRs who'll also be drafted. They all benefited greatly staying for their 5th year. Hopefully after an awesome season we'll be saying the same about KJ Hill next year.
I definitely love the mix of experience and talented youth the offense has. It all starts up front of course. Hopefully the O-line has that mentality. We know how steady Dobbins (hopefully) and KJ Hill will be. I think finding a guy who's explosive/dynamic will be important. A guy like Campbell who can take a jet sweep or screen pass to the house. Demario and/or Gill are the X factors.
Both Alabama and Clemson have won national championships running some zone read. And Oklahoma (and Ohio State) has been to multiple CFP's running it. While it shouldn't be the ONLY thing you run, it's still pretty effective. Maybe we should run the ole "3 yards and a cloud of dust"? After all, we won the most national championships running that.
I hope to see Demario loose in the open field off that Y-counter play all year! Also the zone coverage and pattern matching schemes in the secondary are a breath of fresh air.
Definitely agreee with you. I meant just because the last Buckeye QB we've seen was Dwayne in mid-season form. Here's to hoping they both put in the work to look just as good in the fall!
Awesome to hear that he's coachable. All the talent above him can only help him get better as a player. With his natural ability he'll get on the field plenty this year. With that experience, continued learning from the older guys (and Hartline), and a full year with Coach Mick he may be our #1 WR for 2020 and 2021.