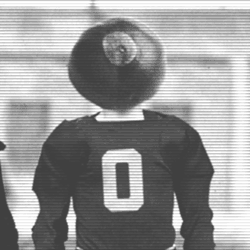 Bucks62
---
MEMBER SINCE January 10, 2015
Recent Activity
"He doesn't fit with us."
We are looking more for someone who doesn't mind losing regularly.
Say what you want about the air monarchs, but they are some comfortable shoes!
Terrelle Pryor and Braxton Miller were both good passers.
Take away the ESPN bias and we are number one.
I hope he does well. I met his cousin last year, and he was very proud of Marcus. It is nice to know that even the guys that don't get a lot of playing time have people at home that think they are great.
Not every college student does whatever he did, or he wouldn't have gotten suspended.
It's always good news to see West Jeff have bad news.
Bin Victor looks a lot taller and skinnier on the field.
I think that looks like Ben Franklin, not Lincoln.
Maybe that is what we should start calling Joey Lane.
I can't go back to listening to dumb and dumber talk about how fat they are. Jackson and McCoy actually talked sports. This is a sports city and the only "sports" option we have for the drive home are those geniuses on 97.1. Even Craig Krenzel's IQ dropped about 50 points every time he would go on that show.
That was funny. Like we needed the arrows to find the guy who is 3 times bigger than everyone else.
You don't kick on 3rd down in this situation. You are already winning and need to run as much clock as possible. You definitely kick on 4th down. Even if you have a bad snap, you ran the clock almost all the way down.
Somebody forgot to delete the template on the first paragraph.
He's thinking of Boston Market.
More like the Illinois game proved it.
Reread Ramzy's tweet. He is saying the same thing you are.
The bridge over Oak Run is a sight to behold. It actually used to be cool- before they moved the football field you could see games from the bridge.
Merry Christmas Kevin. Appreciate the hard work in taking over for DJ, and for the Skull Session every day, even Christmas!