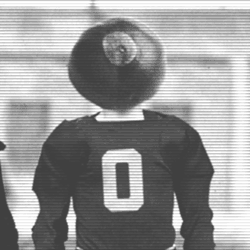 Bucks62
---
MEMBER SINCE January 10, 2015
Recent Activity
It was obviously Eddie George.
Also, the degree is the same. My MBA that I got 100% online looks the same as if I took all the classes on campus.
I think Miami would beat Vanderbilt.
Yes, even during the Roethlisberger years it was Ohio State first, Miami second.
ESPN will put us on "upset alert" if we're not winning 50-0 at halftime.
Miami does some terrible scheduling. Why schedule Iowa and Ohio St. (other than money)? They play Cincinnati every year, but there is no need to play 2 Big 10 schools. Even in Roethlisberger's last year they got beat by Iowa. They'll start out 1-3 and have to go 6-2 in the MAC just to make a bowl (6-6 last year did not make a bowl).
#1 criteria: giving Alabama the best chance to win it all.
Hey, we all want Ohio State to win, but saying Miami is like OU? That is going too far!
Storie's in Greensburg, IN has some excellent tenderloin sandwiches.
I hope you young people are taking notes. My wife mentioned getting married on a bye week. I told her that was fine as long as she didn't mind watching football on our anniversaries. And the next 2 Saturdays during our honeymoon. We got married in May and are still going strong after 11 years.
Thanks for bringing back the chart with everyone on it!
Yeah Fields! 4 TDs in 6 minutes is not good enough! Take off the training wheels and score 6 TDs in 4 minutes!
I never saw Barry Bonds in person, only on TV, but I could tell he used PEDs.
Excellent series! I enjoyed it every day.
I did recover 9/10 onside kicks kicked right at me. It's that 10th one that bounced right off my facemask that was embarrassing.
Right on! Andy deserves a promotion and raise. Or at least the rest need a demotion. And Jake needs fired.
I heard they just want to see how good the DJ is.
Those people should be fired immediately.
I can't believe he's made enough progress to be his own coach!
Well written. Nice to hear someone else who understands who Robert E. Lee was- a traitor to our country.
What are you thinking, 10-15?