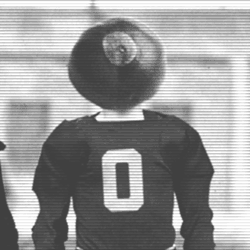 Bucks62
---
MEMBER SINCE January 10, 2015
Recent Activity
I can't believe he's made enough progress to be his own coach!
Well written. Nice to hear someone else who understands who Robert E. Lee was- a traitor to our country.
What are you thinking, 10-15?
I wish someone would let everyone know how much college costs beforehand. And loans- it would be nice if they would explain you have to pay those back.
I know Kilbourne was good in 97 & 98 when I played them. Which seemed like not that long ago, but now I feel old since that was over 20 years ago...
It's like the Cardale Jones/Tyvis Powell joke. His "son" is also coming to OSU.
Troy had a good defense so he didn't have to play the entire game every game, which cut down on his stats. He ran an impressive offense for a usually conservative coach.
No offense, don't take this the wrong way, I'm just saying... all things to say before (or after) you insult someone.
Ramzy, no offense, but you should have gone with your first idea.
Pajama pants that don't match your shirt? I need to tell my wife that I am not lazy, I'm stylish.
No, that is the last sentence of his "professional announcement".
I went to that Hawaiian Chick Fil A while visiting Georgia, and it was good.
Hey Awlin, I don't know how long you've been out of the country, but we generally call Wednesday hump day here in America.
Likes
Causing
Trouble
Knowing that is what a comment like this will do.
Probably because this is a common stereotype, even if it is incorrect or unfair.
I think Burrow was John and Haskins was Ross.
"He doesn't fit with us."
We are looking more for someone who doesn't mind losing regularly.
Say what you want about the air monarchs, but they are some comfortable shoes!
Terrelle Pryor and Braxton Miller were both good passers.
Take away the ESPN bias and we are number one.