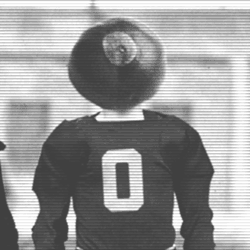 Bucks62
---
MEMBER SINCE January 10, 2015
Recent Activity
This year that's the criteria. What will it be next year?
The I fell asleep while typing excuse probably won't work.
Yes- they make changes to "make the game shorter", like running the clock when they go out of bounds. In reality, they want to make the game last just as long while cramming in more commercials.
That Minnesota game is also the last one I've been to. I love being at the stadium with the atmosphere, but it is so convenient and comfortable at home. Plus, you can watch it with the whole family instead of choosing who to take with me.
Wisconsin should count twice
You weren't kidding about posting this one early.
We beat 4 teams that are in their conference championship games. None were even close.
London, Ohio, with my sons, my brother, my dad, my uncles, and my nephews.
Seriously what happened to Drue Chrisman? He has been struggling.
Fields is the best QB in college football!
The committee can come up with some reason for them to make it. They always do.
He was just looking for Boston Market.
I think he plays less because our defense is much better. Also the running game, including his running, is better.
No kidding. I realized earlier this year that I was born closer to the moon landing than my boys were to September 11. And growing up I always felt like the moon landing was ancient history!
Kevin- a decade is 10 years. I know you're young, but a think you mean you're a quarter century old.
$5 million and I will turn into a huge high school football fan.
It was obviously Eddie George.
Also, the degree is the same. My MBA that I got 100% online looks the same as if I took all the classes on campus.
I think Miami would beat Vanderbilt.
Yes, even during the Roethlisberger years it was Ohio State first, Miami second.
ESPN will put us on "upset alert" if we're not winning 50-0 at halftime.
Miami does some terrible scheduling. Why schedule Iowa and Ohio St. (other than money)? They play Cincinnati every year, but there is no need to play 2 Big 10 schools. Even in Roethlisberger's last year they got beat by Iowa. They'll start out 1-3 and have to go 6-2 in the MAC just to make a bowl (6-6 last year did not make a bowl).
#1 criteria: giving Alabama the best chance to win it all.