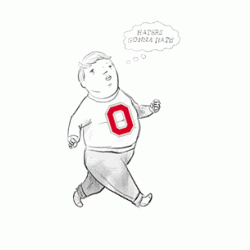 bucks4nuts
---
MEMBER SINCE September 03, 2013
Favorites
SPORTS MOMENT: The 2002 and 2014 national title games
COLLEGE FOOTBALL PLAYER: Teddy Ginn / Troy Smith/Zeke
NFL TEAM: Lions
Recent Activity
Just as I was putting the game to bed.. this pops up on the internet .. Damnit - even two check downs too.

After see the all 22.. the safety wasn't going to get there .
Oregon Replacing their whole Ol? Next year ? And QB..
Probably a no brainer . Knows the system and has the trust of the QB room. Past and present- hiring within too. Great move
It will be a two back / back field . Crowley is a Melvin Gordon type - Master will be the hammer
The big plays from Clem hurt .

As for the red zone — one one run play on 1st down - after the Wilson overturn catch - was shocked JK didn't get the ball.. Also, before they buzzed down I think Day had a play dialed up. JK on a stretch run to the left .. you saw Day mouth Fuck- It was open
Wonder is running on 1st goal/ 10 when getting inside the 15 would've been better idea ?
Listening to Chris and Kirk last night .. was awful.
Going to the inexperience card ...
A lot of ill will towards wade nationally ... lol
A lot of ill will towards wade nationally ... lol
Lots of ass kissing- onto Saturday
Agree .. you make him fit .. for all the reasons above
Game plan is in.. it's just going through the motions now.
Both teams had option to go indoors .. osu picked the outdoors .. Clemson didn't
Sooo he plays for Oregon ? And osu plays em next year .. okay
here's the think Ohio State ( the fans ) have to stop being : thinking about the competition..
Can that punter focus on punting ?
Easy to fly their son wherever from cinci .. / fly in. Tho I'm pretty sure the oldest daughter helps or / owns a business in Cbus .. the second daughter has maybe moved to Florida ?!?
V Minny.. Minny won.

anyway.. i was young
V Minny.. Minny won.

anyway.. i was young
Ted Ginn still returned that KO! Thanks Roy hall
Ya might want todo some research... pal
On defense.. I believe the Bucks have to do what they did v Mich and Wis in the second half's of both games. The D line wasn't getting home in both 1sts so Hafley and Co went to blitzes.. I would be shocked if they didn't mix in blitzes to start the game v Clemson.

on offense roll out Fields and pass block better.

go bucks